Torrid IPO could spur more investment in plus-size apparel market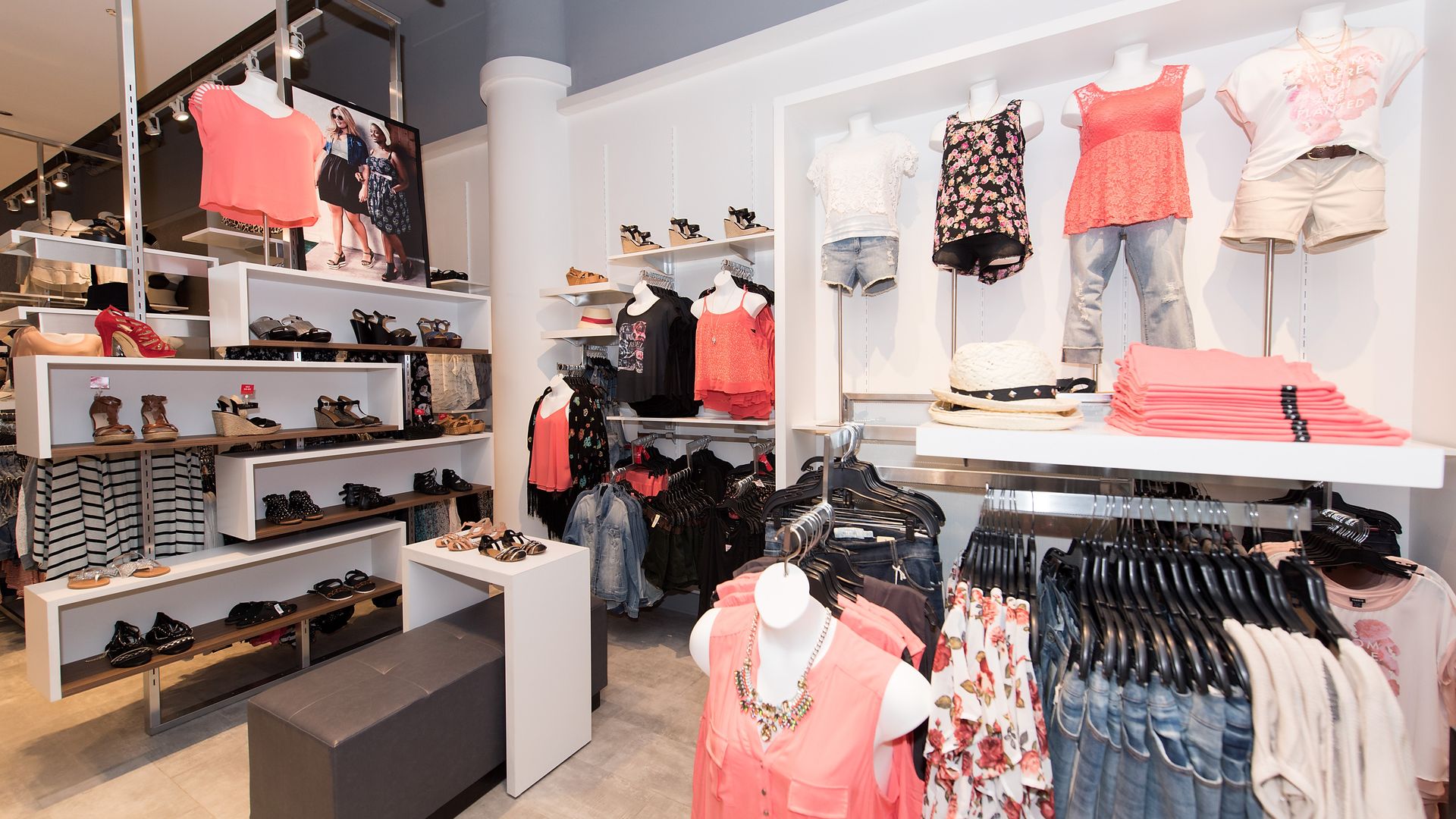 The fashion industry has been notoriously unfriendly to body sizes and shapes outside the slim standard seen on the catwalk.
Driving the news: Plus-size apparel retailer Torrid's IPO last week may help thaw those attitudes, at least from an investor standpoint.
Why it matters: While recent social movements have pushed mass market brands to become more inclusive, there still seems to be a lack of sustained commitment.
As a listed company, Torrid's performance will be public for competitors in the industry to consider.
By the numbers: Torrid is the largest direct-to-consumer plus-size apparel brand in North America by net sales, which in 2019 reached more than $1 billion, and for the 12 months ending May 1 exceeded $1.1 billion, according to its S-1.
The market for plus-size apparel and intimates was $85 billion in 2019, or 89% of the straight-sized market, Torrid says.
What they're saying: "There's still some hesitancy for retailers to fully embrace this market," Kayla Marci, market analyst for retail market intelligence platform Edited, tells Axios.
But there's a commercial opportunity.
Consumers don't necessarily want to be excluded or labeled differently from their peers because of size, Marci says.
Torrid's IPO is "hard evidence of the demand for plus-size fashion" — and retailers should be motivated to compete, she adds.
The company's stock is up 16% from its IPO price, and its market cap is $2.7 billion.
State of play: The mean weight, height and waist size of an American woman is 171 pounds, 5'3 and 38.7 inches, according to the CDC, which translates to a U.S. size 16 at Torrid and H&M, 18 at Athleta and 20 at Old Navy.
So while "plus-size" actually encompasses average American sizes, more than 90% of clothing sold by major retailers like Macy's and Net-a-Porter are under size 16 — the point at which the plus-size labeling starts.
Over the last few years, retailers like Old Navy and Forever 21 and apparel brands like Adidas, Nike and Reformation have started to offer (or relaunch) additional sizes in stores and online, while new brands continually pop up.
But Loft recently announced it would stop offering plus sizes 3 years after the first rollout. 
Torrid itself was once part of retailer Hot Topic, which spun out the concept to an independent private company in 2013.
Luxury designers have started to experiment with more sizes. But critics point out the sizes aren't inclusive enough and certain partnerships feel like a marketing ploy.
Yes, but: The lack of larger sizes isn't the only issue — there's also a lack of sizing consistency across brands due to a variety of factors including vanity sizing, as well as a lack of styles people want to wear when larger sizes are available.
The big picture: Designers and retailers see a clear path to growth is to offer more sizes, designer Cynthia Vincent tells Axios. "My hope is that it is done with some care and understanding and not just as a box checked to chase a dime."
"This community is vocal and strong, [and] they can spot inauthentic or pandering and are quick to rally and point this out."
Go deeper: Got to be "two-something to do something" at this Charlotte boutique, courtesy of Axios Charlotte.
Go deeper