Sha'Carri Richardson left off U.S. Olympic team after marijuana test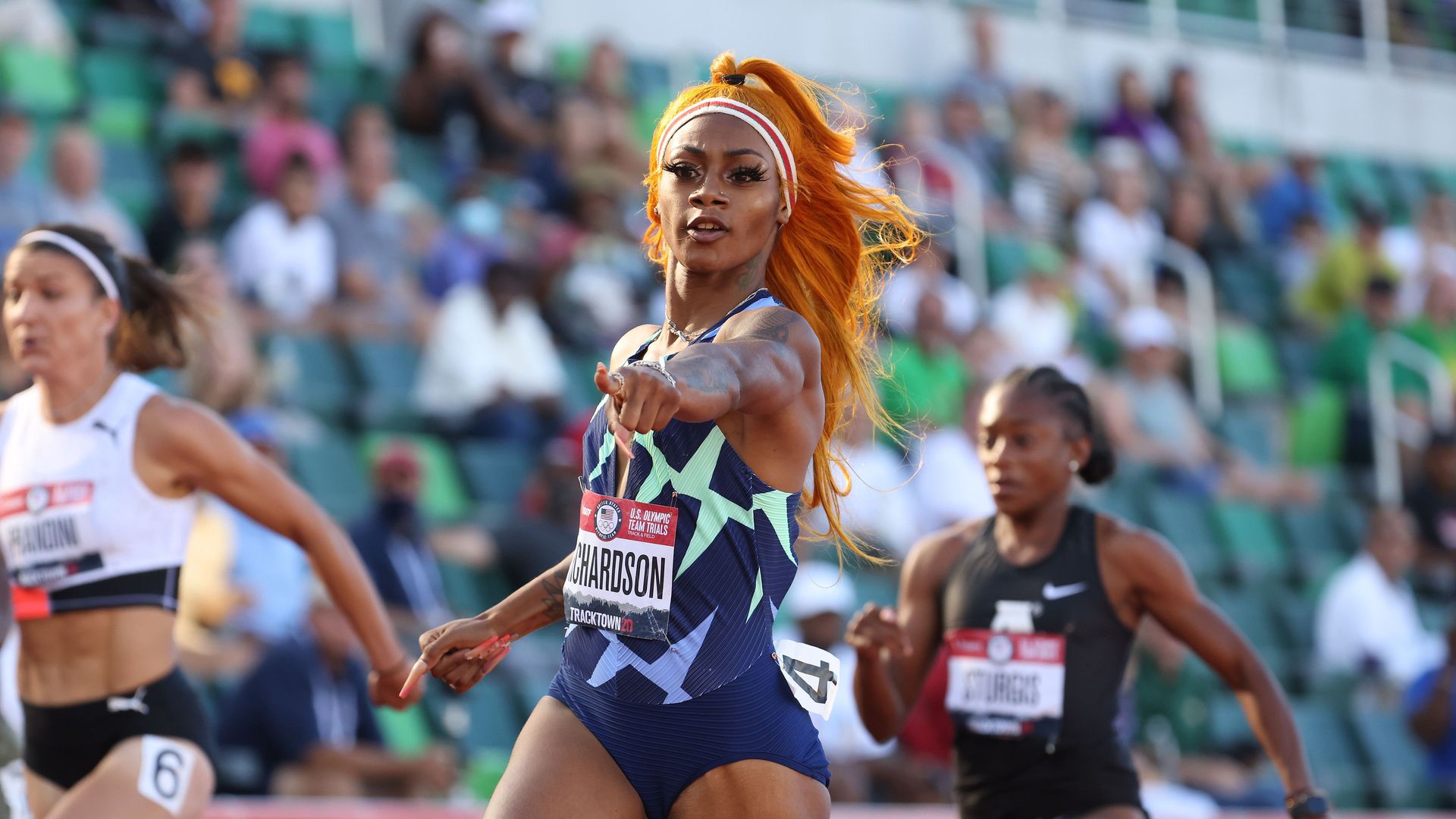 Sprinter Sha'Carri Richardson, who was suspended last week for a positive marijuana test, was left off the U.S relay team and won't compete in this year's Olympics, USA Track & Field said Tuesday.
Why it matters: While Richardson had accepted a one-month suspension, there was still a chance she could return in time to race in the women's 4x100-meter relay in Tokyo on Aug. 6. But USATF declined to add her to the team, saying it wouldn't be fair to the other athletes.
What they're saying: "While USATF fully agrees that the merit of the World Anti-Doping Agency rules related to THC should be reevaluated, it would be detrimental to the integrity of the U.S. Olympic Team Trials for Track & Field if USATF amended its policies following competition, only weeks before the Olympic Games," USATF said in a statement Tuesday. 
"So while our heartfelt understanding lies with Sha'Carri, we must also maintain fairness for all of the athletes who attempted to realize their dreams by securing a place on the U.S. Olympic Track & Field Team."
Richardson said last week she had been coping with her mother's death, as well as the pressure of participating in the trials, which led her to a state of "emotional panic."
"Don't judge me, because I am human. ... I just happen to run a little faster," she added.
The big picture: Richardson's suspension has highlighted U.S. Anti-Doping Agency's rules regarding marijuana use, which Reps. Alexandria Ocasio-Cortez (D-N.Y.) and Jamie Raskin (D-Md.), among others, called "unnecessary."
"Their decision lacks any scientific basis. It's rooted solely in the systemic racism that's long driven anti-marijuana laws," Ocasio-Cortez tweeted last week.
The World Anti-Doping Agency claims marijuana can enhance an athlete's performance because it "reduces anxiety, allowing athletes to better perform under pressure and to alleviate stress experienced before and during competition."
The suspension has also again put the spotlight on mental health in sports.
Several star athletes in recent years have said U.S. sports leagues and organizations lack resources to support their mental health.
While research on the role of marijuana in mental health is still inconclusive, patients have reported it has been beneficial for helping them treat mental illness, including post-traumatic stress disorder, Axios' Oriana Gonzalez writes.
Editor's note: This story has been corrected to reflect that Sha'Carri Richardson would have possibly run in the 4x100-meter relay, not the 4x400-meter relay as previously stated.
Go deeper