Why rising oil prices matter — and what comes next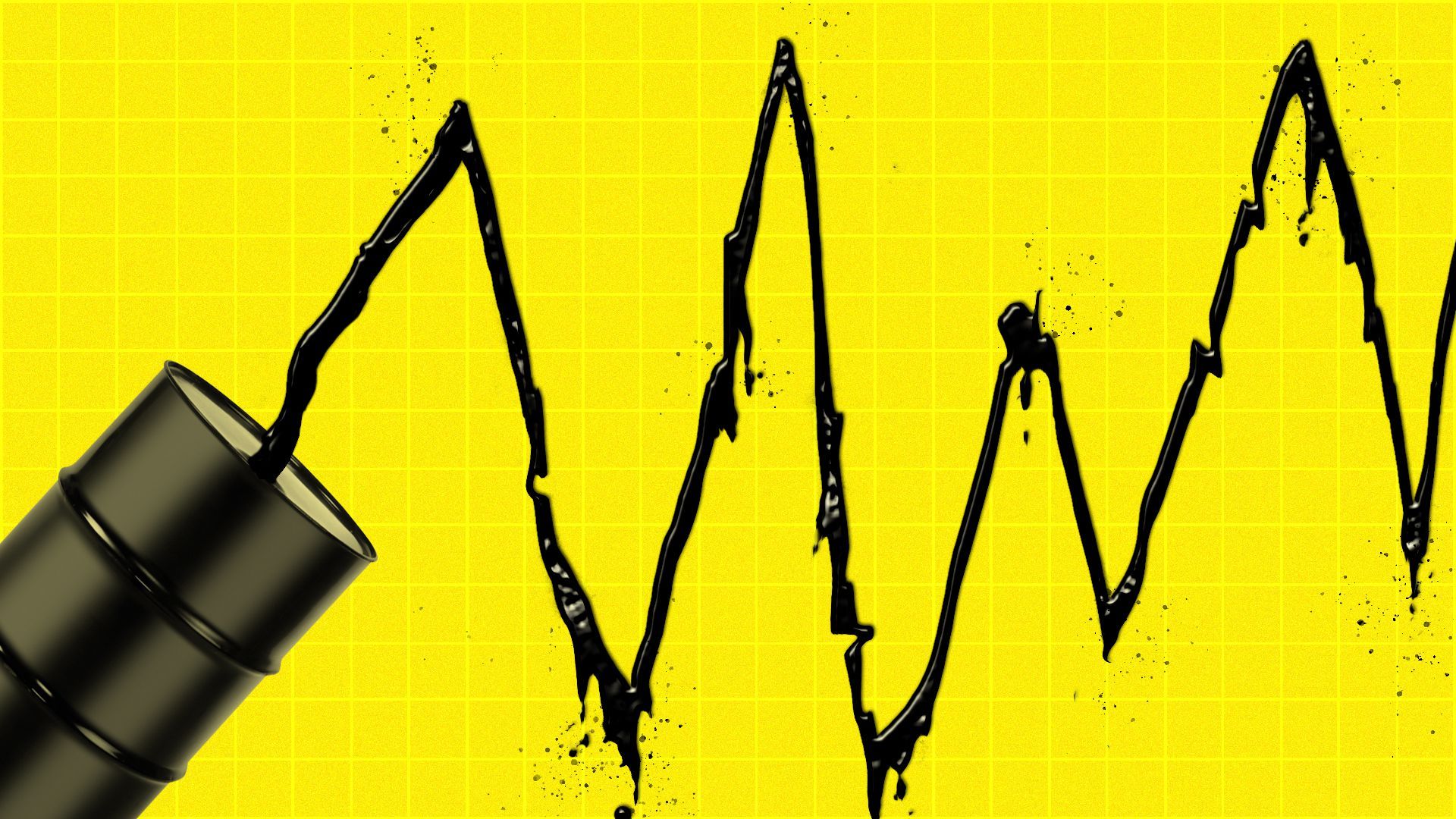 Oil prices are on the rise, which could mean costs are going up for almost everything. And experts tell Axios that tight capacity means prices have much higher to go.
Why it matters: Gasoline, diesel and jet fuel come from oil — which is also used widely in the chemicals industry. Climbing oil prices mean higher costs for consumers and businesses at a time when prices for many goods and services have already been rising.
Driving the news: On Thursday, WTI crude rose above $75 a barrel for the first time since October 2018. This, as OPEC+ meets to discuss how much to increase supply.
What they're saying: "The global reopening is driving very strong oil demand at a moment when U.S. production growth remains relatively muted and OPEC has close to 6 million barrels sitting on the sidelines in a coordinated production cut," RBC Capital Markets' head of global commodity strategy Helima Croft tells Axios.
"US demand has been exceptionally strong as motorists get back on the road."
The big picture: What's happening with oil can be explained simply by how supply and demand drive industry cycles, says Dan Dicker, founder of The Energy Word webinar.
Since around 2014, drillers pumped and pumped oil, leading to an oversupply that kept prices very low. This in turn forced hundreds of producers to go bankrupt in the years that followed.
Meanwhile, the oil companies that survived became much better about not overreacting to rising prices by pumping too much.
Similarly, OPEC and its allies have been "surprisingly pretty firm" about not overproducing as it's been in their financial interests to keep supplies under control, Dicker says.
And then the pandemic hit, causing demand to drop and prices to crash, triggering another wave of bankruptcies.
State of play: Oil prices are rising now because the delayed demand from the economies moving past the pandemic is being addressed by an industry that has cut way back on production capacity.
Threat level: "The pent-up demand for oil that's happening now only is a small degree of what will happen in a much larger degree as many of these countries come out of the pandemic," Dicker says.
"$75? You better enjoy it because you'll see maybe twice that by the middle of 2022."
What's next: The OPEC+ meeting continues this morning. Ministers are expected to announce a coordinated effort to increase oil production. But Dicker and other experts agree that they'll be wary of increasing so much that prices fall.
"Maintaining price stability at high levels, while on the same time increasing its output, could be in the best interest of OPEC+," Rystad Energy oil markets analyst Louise Dickson wrote.
Go deeper