Biden visits Surfside as search efforts paused over "structural concerns"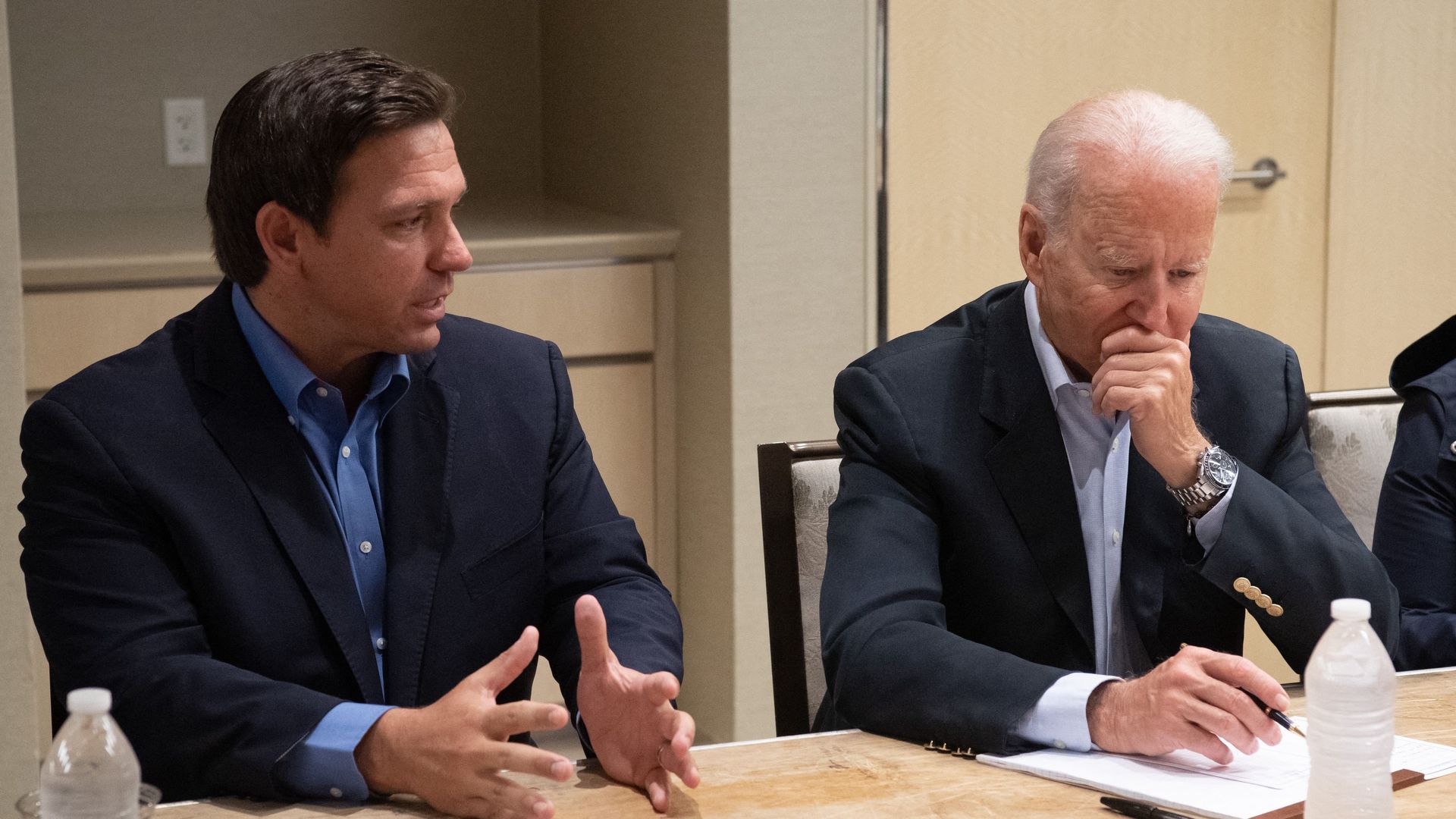 Search efforts have paused at the site of the condo collapse in Surfside due to "structural concerns about the standing structure," Miami-Dade Mayor Daniella Levine Cava said at a press conference Thursday.
Driving the news: The halt in rescue efforts began at approximately 2 a.m. Thursday morning due to concerns that the remaining portion of the residential building could fall, per Miami-Dade fire chief Alan Cominsky.
The latest: President Biden thanked first responders who are working on rescue efforts Thursday afternoon.
"What you're doing here is incredible, having to deal with the uncertainty," Biden said to a group of individuals who have been working at the site, AP reports.
"Until we need you, no one fully appreciates what you do. But I promise you — we know. We know," Biden said.
Biden, in a meeting with Levine Cava, Florida Gov. Ron DeSantis (R) and other officials at his first stop at the site of the collapsed building, told reporters: "We're letting the nation know that we can cooperate."
"When it's really important ... we come together. This is life and death," he added.
Biden also said he believed the federal government has "the power to pick up 100% of the cost" of the rescue search and cleanup, per AP.
President Biden is currently meeting with family members of individuals who are missing in the building, CNN reports.
What they're saying: "We're doing everything that we can to ensure that the safety of our first responders is paramount," Levine Cava said. "Engineers are continuing to monitor the structure as we've paused the operation."
"I want to stress that President Biden's visit today will have no impact on what happens at this site," Levine Cava added.
"You all know it, because a lot of you have been through it as well," Biden said during his meeting with Florida officials. "There's gonna be a lot of pain and anxiety and suffering and even the need for psychological help in the days and months that follow. And so, we're not going anywhere."
State of play: One week after Champlain Towers South collapsed, 18 people have been confirmed dead and as many as 145 people remain missing.
This story is developing. Please check back for updates.
Go deeper