Israel and U.S. in talks on first Biden-Bennett White House meeting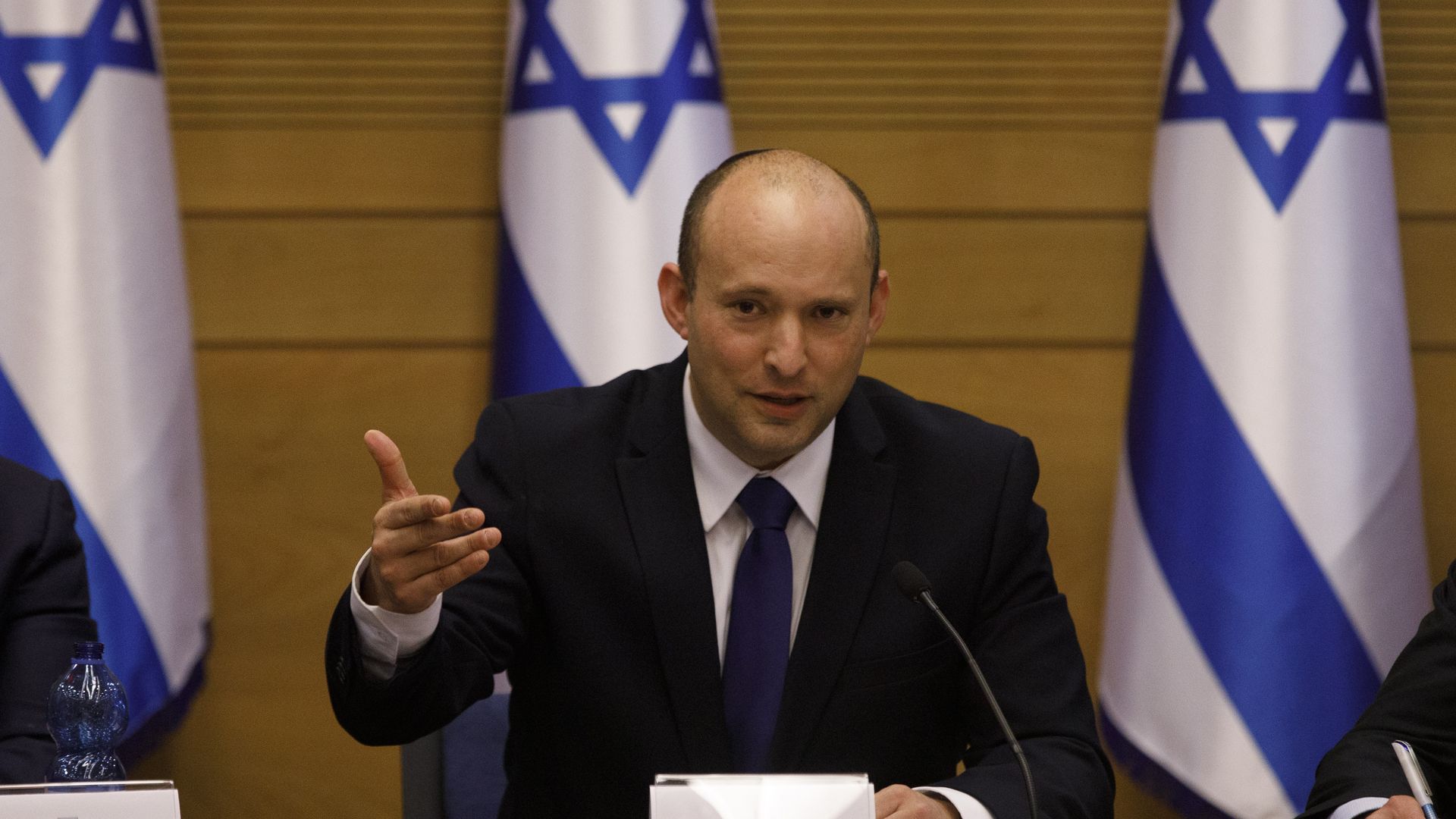 The U.S. and Israel are working to coordinate a White House visit for new Israeli Prime Minister Naftali Bennett in July, three Israeli officials and two U.S. sources told me.
Why it matters: It's another sign that the Biden administration wants to help stabilize the new and fragile Israeli government.
Biden called Bennett two hours after he was sworn in, a move that reflects his desire to have a strong working relationship with Bennett, according to a source familiar with the White House's thinking.
The White House believes the new Israeli government, which consists of a broad spectrum of parties with different views that agreed to work together, could set an example for other countries that are going through political crises, the source told me.
Driving the news: The talks on the possible visit are being held between Bennett's foreign policy adviser Shimrit Meir and Biden's top Middle East adviser Brett McGurk. Israeli Ambassador to Washington Gilad Erdan is also involved in the discussions.
The Israeli officials and the U.S. sources said both the White House and the Prime Minister's Office want the visit to take place as soon as possible. Israeli officials told me a possible time frame is right after July 18, when Congress is back from recess.
The Prime Minister's Office confirmed that talks on a possible visit to the White House are taking place and stressed that a final date will be determined soon.
Biden will meet on Monday with Israeli President Reuven Rivlin, who will be the first Middle East leader to visit the White House since January.
A source familiar with the preparations for the meeting said Biden is expected to explain to Rivlin why the U.S. thinks diplomacy is the best way to get Iran's nuclear program "back in the box."
Biden is expected to tell Rivlin that the U.S. recognizes Israel's right to defend itself against Iran and to make clear that the U.S. is ready to use other measures to stop Iran's potential pursuit of a nuclear weapon if diplomacy fails, a source familiar with the preparations for the meeting told me.
On Sunday, Secretary of State Antony Blinken met in Rome with Israeli Foreign Minister Yair Lapid. This was their first meeting since the new Israeli government was formed.
What they're saying: Lapid hinted at the start of the meeting that former Prime Minister Benjamin Netanyahu harmed Israel's relations with the U.S., saying "mistakes were made in recent years and Israel's bipartisan status in America was damaged. We will fix it together."
Lapid said Israel has reservations about a possible return by the U.S. to the 2015 nuclear deal with Iran, but he stressed — in another jab at Netanyahu — that "the proper way to discuss them is through direct and professional dialogue and not through press conferences."
Blinken told Lapid: "We will have occasional differences. We have the same objectives. Sometimes we differ on the tactics. We are very clear and direct with each other when that's the case.  And that's exactly the way it's supposed to be."
Go deeper