McConnell demands Schumer, Pelosi delink infrastructure deal from spending plans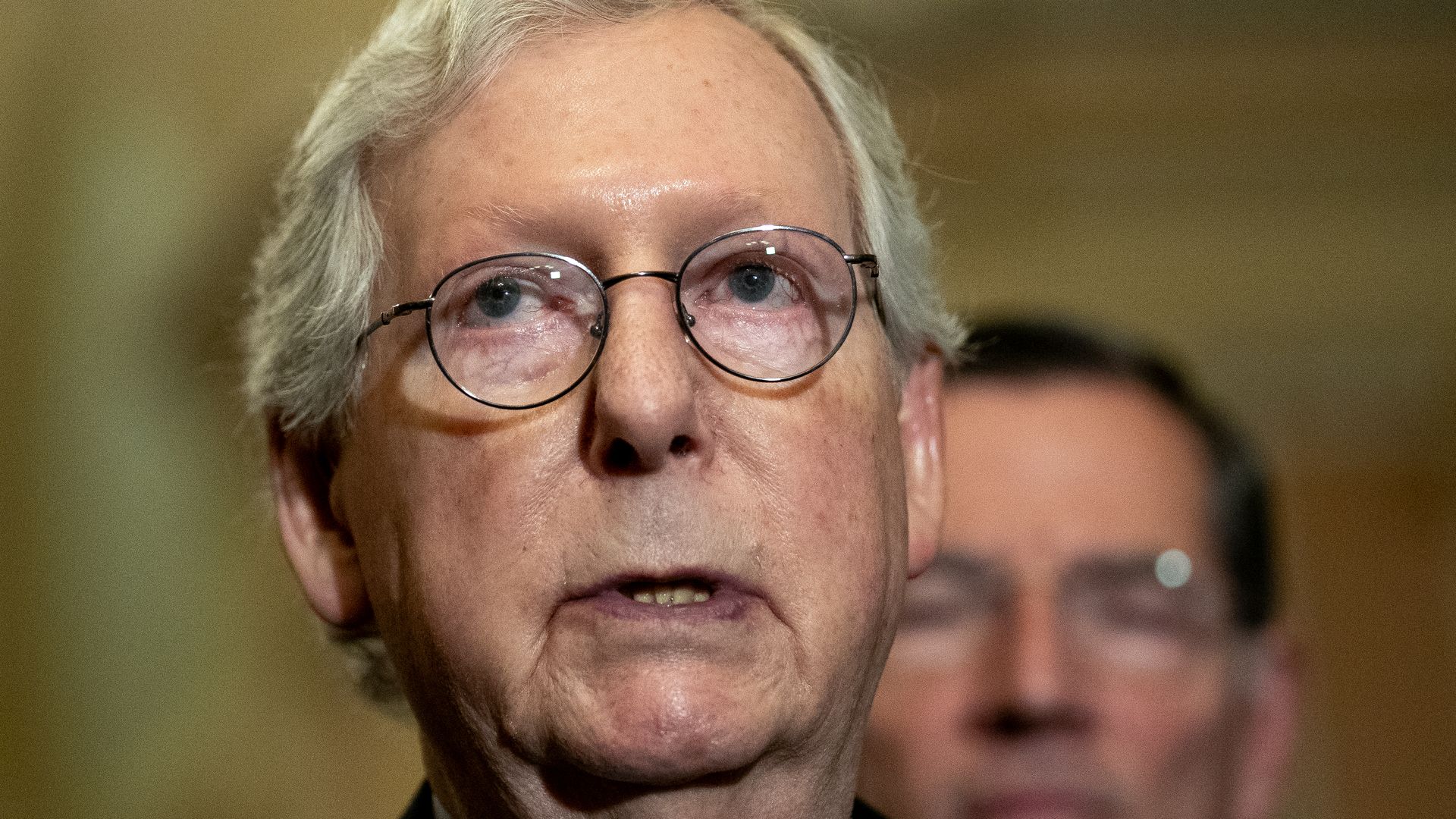 Senate Minority Leader Mitch McConnell (R-Ky.) called on President Biden Monday to ensure Senate Majority Leader Chuck Schumer (D-N.Y.) and House Speaker Nancy Pelosi (D-Calif.) follow his lead on delinking the bipartisan infrastructure deal from plans to spend trillions more on Democratic priorities.
Why it matters: McConnell has not yet endorsed the $1 trillion bipartisan deal, which Biden struck with five Republican and five Democratic senators last week. His potential opposition could sway other Republican senators and prevent the legislation from winning the 60 votes it needs to pass the Senate.
The big picture: Biden, Schumer and Pelosi all indicated last Thursday that the bipartisan infrastructure deal would not become law unless Congress passed a separate package — via a simple-majority budget reconciliation process — that included Democratic plans for family and climate spending.
Senate Republicans claim that Biden's remarks left them "blindsided," putting the bipartisan bill in jeopardy.
On Sunday, the president walked back his implied veto threat, but he said Republicans should have "no objections" to him pursuing his agenda on the American Families Plan while also agreeing to the bipartisan infrastructure deal.
Pelosi, however, has not clarified her position that the House will not take up the infrastructure bill unless the Senate also passes a reconciliation bill, a massive package that could total in the trillions.
What they're saying: "The President has appropriately delinked a potential bipartisan infrastructure bill from the massive, unrelated tax-and-spend plans that Democrats want to pursue on a partisan basis," McConnell said in a statement.
"Unless Leader Schumer and Speaker Pelosi walk-back their threats that they will refuse to send the president a bipartisan infrastructure bill unless they also separately pass trillions of dollars for unrelated tax hikes, wasteful spending, and Green New Deal socialism, then President Biden's walk-back of his veto threat would be a hollow gesture," he added.
"Republicans have been negotiating in bipartisan good faith to meet the real infrastructure needs of our nation. The President cannot let congressional Democrats hold a bipartisan bill hostage over a separate and partisan process."
Go deeper: Senators welcome Biden's infrastructure walk-back
Go deeper