First look: New coalition forms to fight GOP legislature in Texas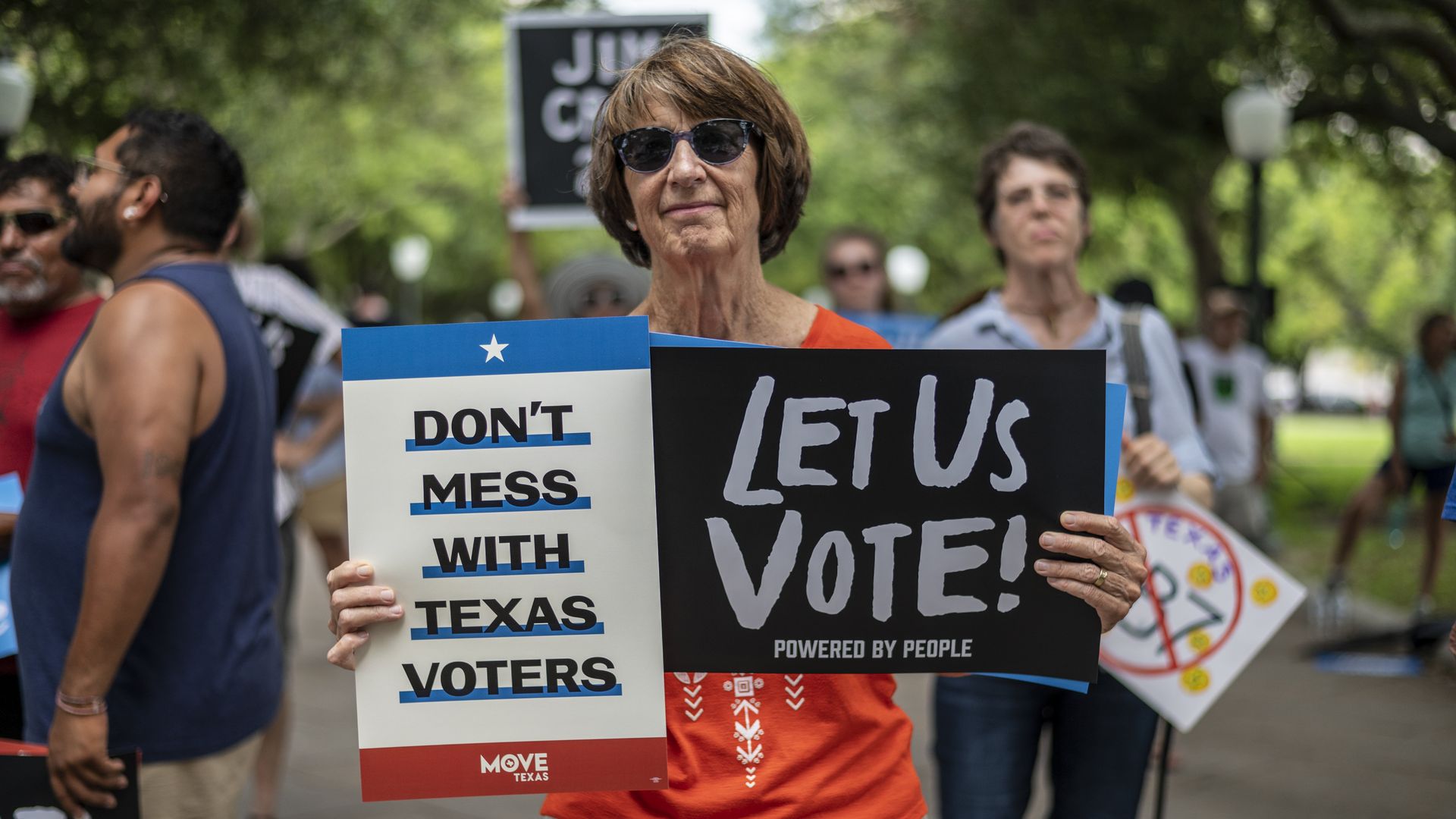 Texas advocacy and political groups will launch a new coalition Monday to fight Republican efforts to change voting laws in their state and support Texans in need after the pandemic and last winter's paralyzing storm, Axios has learned.
Why it matters: While Democratic lawyers are fighting proposed or enacted changes in voting laws in battleground states, a grassroots response will be critical if the party and its backers hope to have any effects on the 2022 midterms and 2024 presidential election.
Driving the news: The Republican-controlled Texas state legislature will start a special session July 8, when its leaders are expected to take another crack at passing what advocates say would be one of the most restrictive voting bills in the country.
The "Texas for All" coalition trying to thwart that effort includes state-based groups like the Texas Freedom Network, Workers Defense Fund, Texas Organizing Project, Texas Civil Rights Project, Planned Parenthood Texas Votes, the Texas Democratic Party and almost 30 others.
The launch includes a $2.5 million fund, most of which will be used for $1,000 direct grants for Texas households, including those still struggling after the power outage caused by the snow and ice storm this year.
"Texas for All stands together as allies and friends to take care of one another — because our government simply refuses to care for Texans," the coalition writes in its first letter, which addresses voter suppression efforts in the state.
Funds also will be used for digital ads and organizing tools targeting Gov. Greg Abbott and other state Republican leaders.
Between the lines: Many of these groups have already worked together to advocate for voting rights and other issues; now they're formalizing the alliance and plan to meet regularly.
They've also taken inspiration from coalitions elsewhere.
"Being able to come together and align our strategy really allows us to align our power, our ability to galvanize people, to reach more people together," Texas Freedom Network executive director Val Benavidez told Axios. "And I think that those are definitely things that we've seen in other states like Georgia."
Republican lawmakers passed a restrictive voting bill in Georgia this year.
Reality check: Advocates and Democrats have managed to slow-roll the passage of the bill that some say would make it harder for people of color to vote, and lawmakers' decision to boycott and block a vote last month was seen as an important victory.
But Texas Democrats have few options for stopping Republicans from ultimately passing the bill, and with the filibuster still intact in the U.S. Senate, they're unlikely to get help from Congress.
Go deeper