Death toll reaches 9 from Florida condo collapse, 152 people missing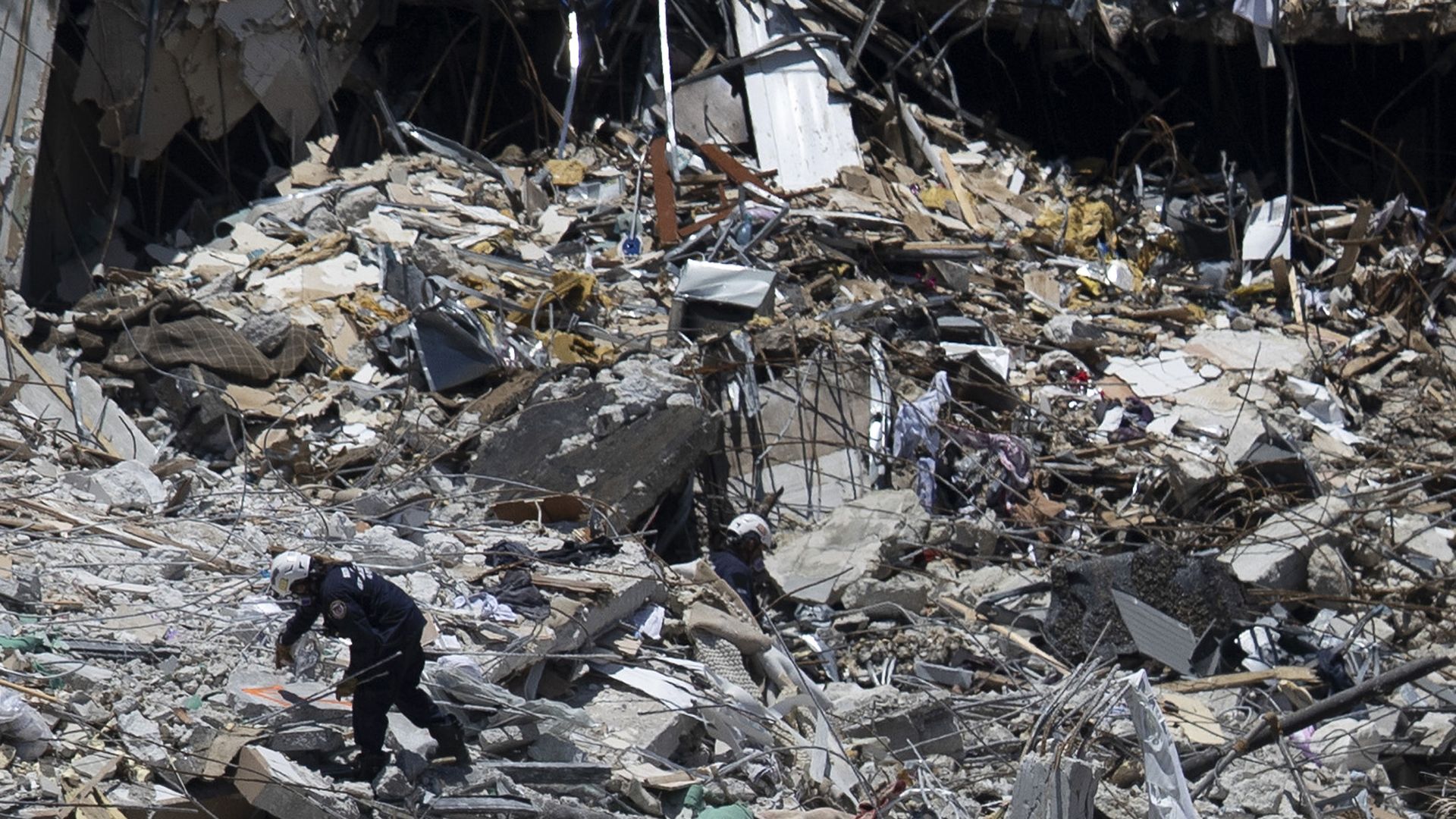 The death toll from the Surfside, Florida, building collapse rose to nine, as rescue and recovery efforts continued amid the rubble of Champlain Towers South on Sunday.
The big picture: Four more bodies were found Sunday along with "additional human remains," Miami-Dade Mayor Daniella Levine Cava said at a news conference. Levine Cava stressed at a briefing later Sunday confirming 152 people were still missing that the count was "fluid and subject to change."
Levine Cava said rescuers were still still searching for survivors of the partial collapse, which happened about 1:30a.m. Thursday. Surfside Mayor Charles Burkett made arrangements for loved ones to gather nearer to the rubble in order to pray and grieve, per the Miami Herald.
Dozens of family members arrived at the scene through buses escorted by Police officers.
Victims identified: Police released the names of four more victims on Sunday: Leon Oliwkowiicz, 80; Luis Bermudez, 26; Anna Ortiz, 46 and Christina Beatriz Elvira, 74
Four other victims identified between Friday and Saturday night were named as Stacie Dawn Fang, 54; Antonio Lozano, 83; Gladys Lozano, 79; and Manuel LaFont, 54.
Of note: Officials were engaged in "very frank conversations" with loved ones about the chance that no more survivors would be found, Levine Cava said.
"The firefighters and others who've briefed them are very direct about the situation, that we are continuing to search," the mayor said.
"We do continue to hope that we find people, but certainly they're aware that we're finding remains and even that we're finding body parts so they're preparing for that," Levine Cava told the Herald.
More than $1.2 million has been donated for the loved ones of those impacted by the collapse, Levine Cava confirmed in a statement Sunday afternoon.
State of play: The City of Miami Beach on Sunday declared a state of emergency, noting: "a significant portion of the staging for the emergency response efforts is taking place within Miami Beach."
Champlain Towers North, the sister condo, won't be evacuated after building inspectors agreed it was structurally sound, a member of the Condo board told the Times on Sunday.
FEMA Administrator Deanne Criswell said Sunday that representatives from the Army Corps of Engineers have arrived to provide technical assistance.
Debris from the wreckage will be moved to a warehouse for analysis, Florida Gov. Ron DeSantis (R) said at a news conference Sunday.
"The debris that gets out does have forensic value, and so that's going to be parsed," DeSantis added.
What they're saying: President Biden said in a statement that his administration was continuing to "coordinate closely with officials on the ground throughout this terrible ordeal" and was "ready to provide any support or assistance that is needed."
FEMA Administrator Deanne Criswell told him during a call after visiting Surfside Sunday that "words can't describe the scene on the ground," Biden noted.
"I am grateful for the heroic first responders, search and rescue teams, and all FEMA, state, county, local, and volunteer personnel who are working around the clock to try to save lives and for those who are dedicated to helping survivors with many needs, including temporary housing," he added.
"This is an unimaginably difficult time for the families enduring this tragedy."
Editor's note: This article has been updated with new details throughout.
Go deeper