Biden orders U.S. airstrikes on Iran-backed militias in Iraq and Syria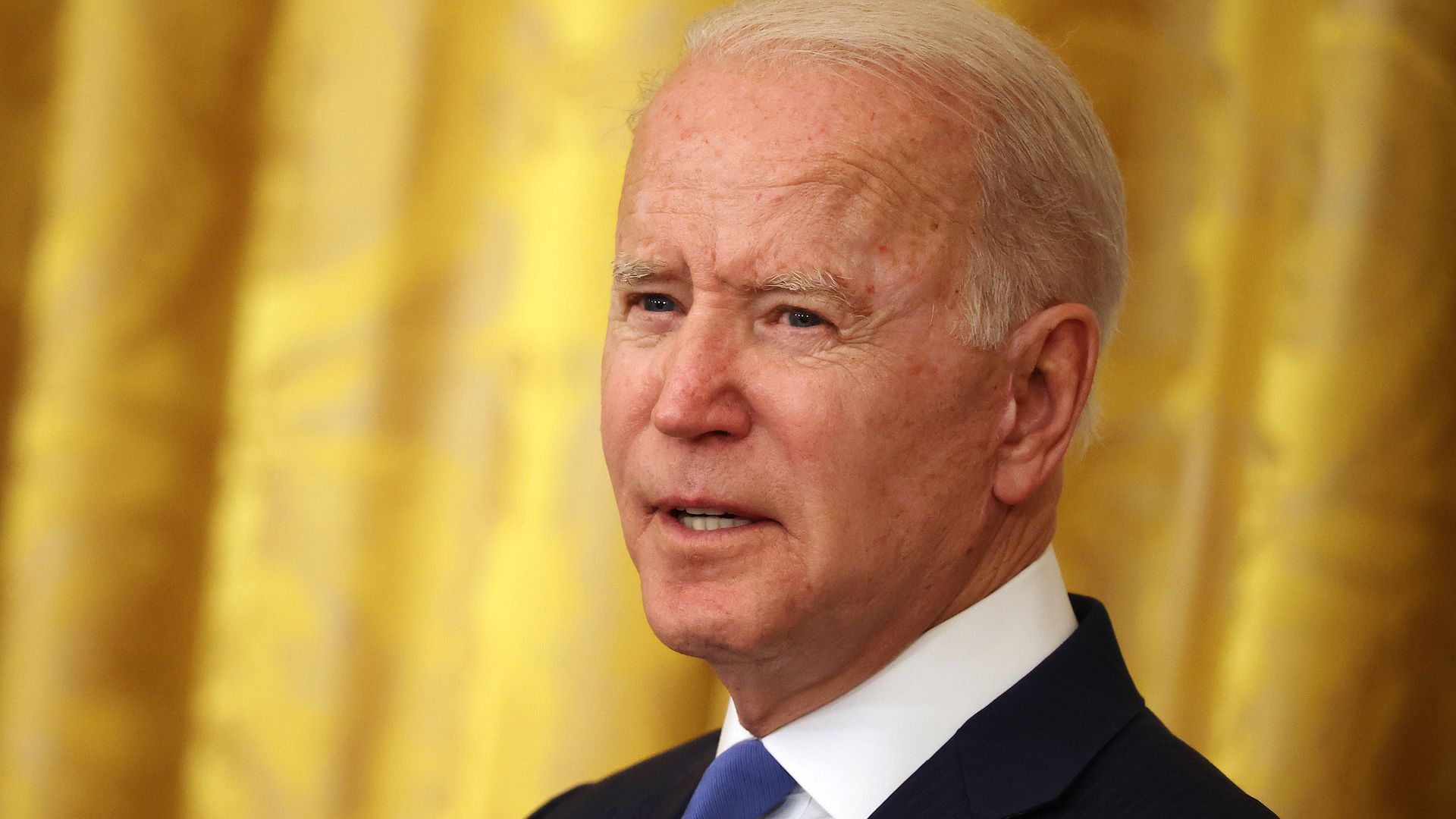 President Biden directed airstrikes on Iran-backed militia groups in the Iraq-Syria border region in response to unmanned aerial vehicle attacks, Pentagon press secretary John Kirby said in a statement Sunday.
Details: U.S. military forces conducted the "defensive precision airstrikes" against facilities used by Iran-backed militia groups in the region on Sunday evening, said Kirby, who stressed the U.S. strikes were legal and in self-defense.
"The targets were selected because these facilities are utilized by Iran-backed militias that are engaged in unmanned aerial vehicle (UAV) attacks against U.S. personnel and facilities in Iraq," he added.
"Specifically, the U.S. strikes targeted operational and weapons storage facilities at two locations in Syria and one location in Iraq, both of which lie close to the border between those countries. Several Iran-backed militia groups, including Kata'ib Hezbollah (KH) and Kata'ib Sayyid al-Shuhada (KSS), used these facilities."
Driving the news: Pentagon spokesperson Cmdr. Jessica McNulty said in an emailed statement that Iran-backed militias "have conducted at least five one-way UAV attacks against facilities used by U.S. and Coalition personnel in Iraq since April as well as ongoing rocket attacks against U.S. and Coalition forces."
"The strikes were necessary, appropriate, and deliberate action designed to limit the risk of escalation," she added.
"Through these and other means, we seek to make clear to Iran and Iran-backed militia groups that there will be serious consequences if they continue to attack, or to arm, fund, and train militia groups that attack our people. We will take necessary and appropriate measures to defend U.S. personnel, partners, and allies in the region."
— McNulty
Biden said in February when he directed U.S. military forces to strike Iran-backed militia groups that he wanted to warn the Iranian government that it "can't act with impunity."
Of note: McNulty said it's too early to assess whether there had been any casualties.
British monitoring group the Syrian Observatory for Human Rights said "at least five Iran-backed Iraqi militia fighters were killed and several others were wounded in an attack by U.S. warplanes" on Syria's side of the border, per AFP.
The big picture: The airstrikes come at a time of heightened tension between the U.S. and Iran, as the two nations hold talks on returning Tehran to the 2015 nuclear deal.
What to watch: Senators will consider repealing the 2002 Authorization for the Use of Military Force (AUMF) in Iraq after the House backed the action earlier this month.
Biden declined to comment to reporters on the latest airstrikes after returning to the White House Sunday evening from a weekend at Camp David, telling reporters: "I'll talk to you tomorrow," CNN notes.
During a press briefing Monday, White House Press Secretary Jen Psaki said that the administration was "confident" in its legal justification for the airstrikes, pursuant to Article II of the Constitution, which allows the president to authorize the use of force to defend U.S. personnel.
Psaki added that prior to the strikes the White House notified appropriate members of congress and staff, and are "in touch" with partners in the region.
The strikes were intended to "limit the risk of escalation" in the region, Psaki added.
"The president takes legal authority and justification for military action quite seriously. And certainly we consult our legal teams to ensure we have that justification. And we certainly feel confident we do," Psaki said.
Editor's note: This article has been updated with new details throughout.
Go deeper