Capitol Police officers meet with McCarthy, demand "accountability and justice"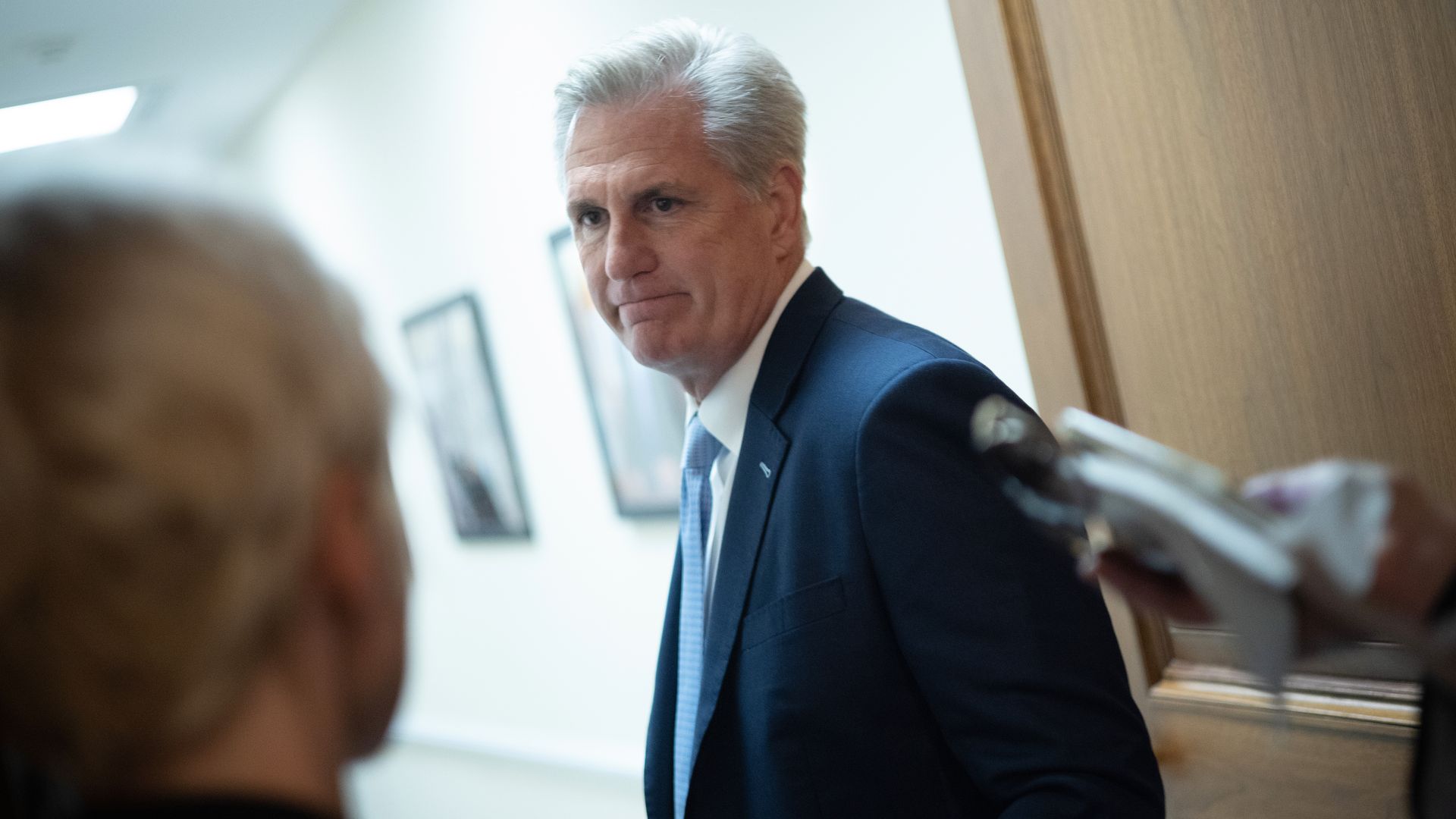 Capitol Police officers asked House Minority Leader Kevin McCarthy (R-Calif.) to publicly denounce some members of his delegation for their comments on the Capitol insurrection in a meeting Friday, the Washington Post reports.
Why it matters: Officer Michael Fanone, who suffered a heart attack and traumatic brain injury after being attacked by Trump supporters during the Jan. 6 riots, has wanted to meet with McCarthy and other Republicans since they opposed the creation of a 9/11 style commission to investigate the attack, according to AP.
Driving the news: Fanone and Harry Dunn, another Capitol Police officer who was on the scene that day, asked McCarthy to publicly denounce the 21 House Republicans who voted against awarding the Congressional Gold Medal to officers who defended the Capitol.
The two officers also asked the GOP leader to publicly condemn Rep. Andrew Clyde (R-Ga.), who compared the insurrection to a "normal tourist visit," and condemn conspiracy theories that the FBI was behind the attack.
They pushed McCarthy to seriously consider House Speaker Nancy Pelosi's (D-Calif.) recently announced select committee, which will investigate the riots.
What they're saying: The two officers called the meeting "emotional" and a "meaningful discussion."
"We want accountability and justice," Dunn told reporters after the meeting, per the Post. "That's what we're looking for — and recognition for every officer that day."
"As the leader of the House Republican Party, it's important to hear those denouncements publicly," Fanone added.
McCarthy said he would speak to his members privately, the officers said.
A spokesperson for Pelosi released a statement shortly after the meeting, calling McCarthy's resistance to publicly condemning his members "troubling."
"McCarthy's behavior in Friday's meeting is just the latest example of House Republicans' growing contempt for police and law enforcement officers who keep us safe," the statement read.
The big picture: Some of McCarthy's colleagues have sought to downplay the severity of the riot by suggesting that Trump supporters were not responsible for the rampage.
While Republicans would have had equal control over the blocked commission, it's unlikely they will have the same leverage over the House select committee investigation.
Go deeper: First person receives sentencing in Jan. 6 attack on U.S. Capitol
Go deeper