Infrastructure's remaining potholes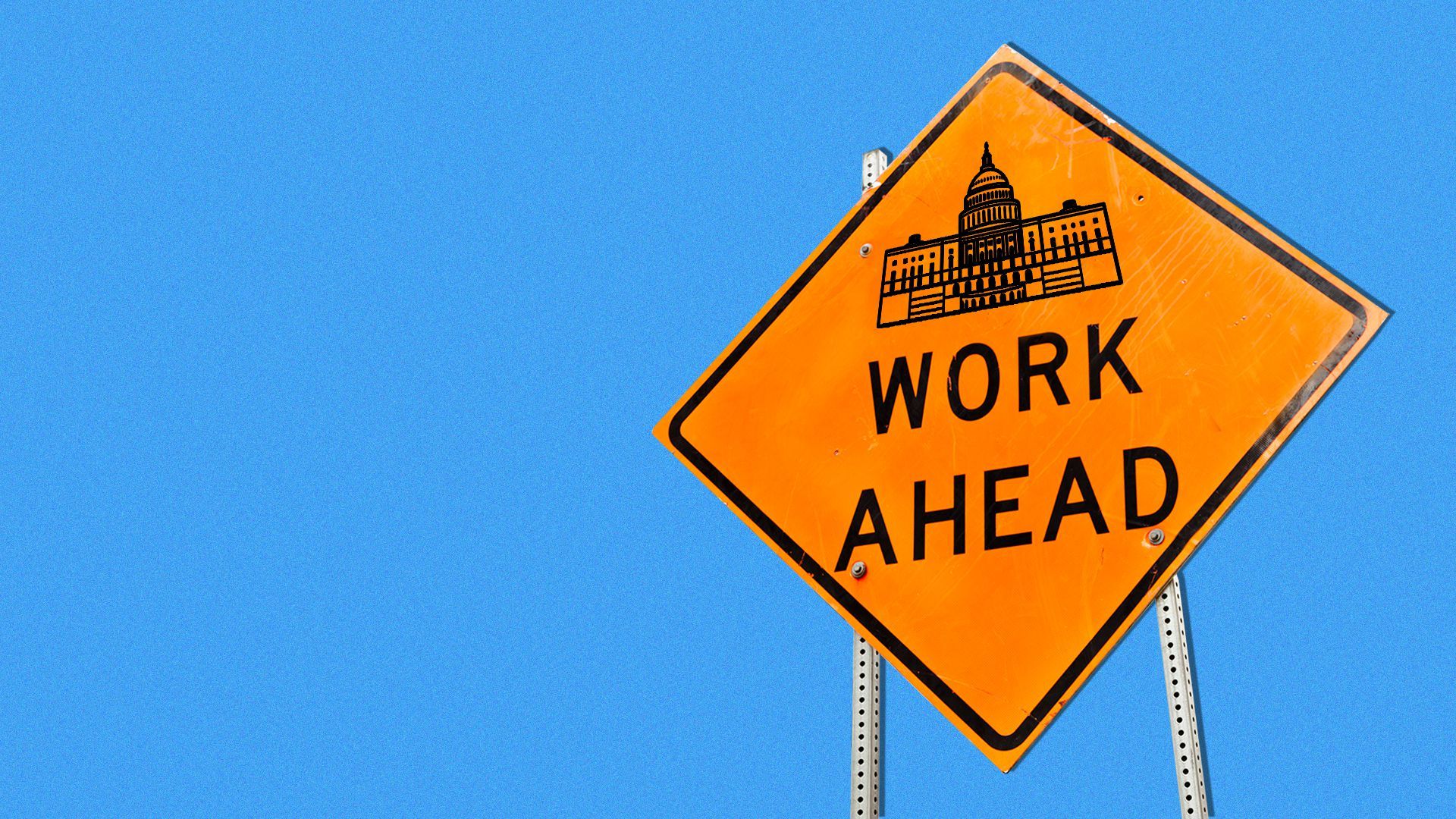 President Biden declared victory in announcing the bipartisan infrastructure package. Now comes the hard part: negotiating with his own party on the separate reconciliation bill.
Why it matters: By trying to simultaneously pass two massive spending bills, Biden and congressional leaders are attempting a legislative feat that will likely require Congress to work through its August recess — and potentially well into the fall, according to lawmakers and senior staffers.
Even then, the prospects for success are long.
What they're saying: "We have to be prepared to be here for as long as it takes," Sen. Chris Murphy (D-Conn.) told Axios' Sarah Mucha.
"We're not doing one step unless we've done the other. We need to be willing to put in the time to get that done."
Driving the news: Biden, House Speaker Nancy Pelosi (D-Calif.) and Senate Majority Leader Chuck Schumer (D-N.Y.) all indicated Thursday that the bipartisan agreement won't become law unless a separate reconciliation bill is assured.
"If this is the only thing that comes to me, I'm not signing it," Biden said. "It's in tandem."
"There ain't no infrastructure bill without the reconciliation bill," Pelosi told reporters.
"Everyone in our caucus knows you can't do one without the other. We don't have the votes for one, unless you have the votes for the other one," Schumer said.
The big picture: White House officials have been working the phones to ensure the bipartisan agreement — which would spend an additional $579 billion in a package priced at $1.2 trillion over eight years — will survive challenges from progressives in the House and Senate.
While key House transportation leaders haven't agreed to the bipartisan deal, administration officials are confident they have the votes, according to people familiar with the process.
But all sides are bracing for a brutal battle about what will be included in the reconciliation package, its total price tag and how much money it will raise with new revenue from corporations and individuals.
Congress also will have to increase the debt ceiling, which is set to reach its limit on July 31.
Go deeper: While progressives are talking about a potential $6 trillion budget resolution, Sens. Joe Manchin (D-W.Va.) and Kyrsten Sinema (D-Ariz.) will likely set the cap below $2 trillion.
That will put pressure on progressives to winnow and agree on their priorities.
That's not the only challenge.
Moderate House Democrats are threatening to vote against any tax bill that doesn't eliminate the $10,000 limit for an exemption on state and local tax payments, which costs $70 billion to $80 billion per year.
By the numbers: The White House is privately pleased it convinced Republican senators to accept a more expansive definition of infrastructure, with $266 billion for projects that aren't traditional roads, bridges and airports.
Broadband is set to receive $65 billion.
Waterways are allotted $55 billion.
The power grid is slated for $73 billion.
And for environmental remediation, there's $21 billion.
Between the lines: The White House also is claiming victory because Biden reached a deal without violating his two redlines.
No tax increases on families making less than $400,000.
Inaction was not an option, Biden frequently said.
Be smart: The pending legislative battle will serve as a full-employment act for Democratic lobbyists on K Street.
They'll be in play for debates about everything from the corporate tax rate to Medicare expansion to billion-dollar issues that won't make headlines.
Go deeper