The fraught and delicate Beltway climate path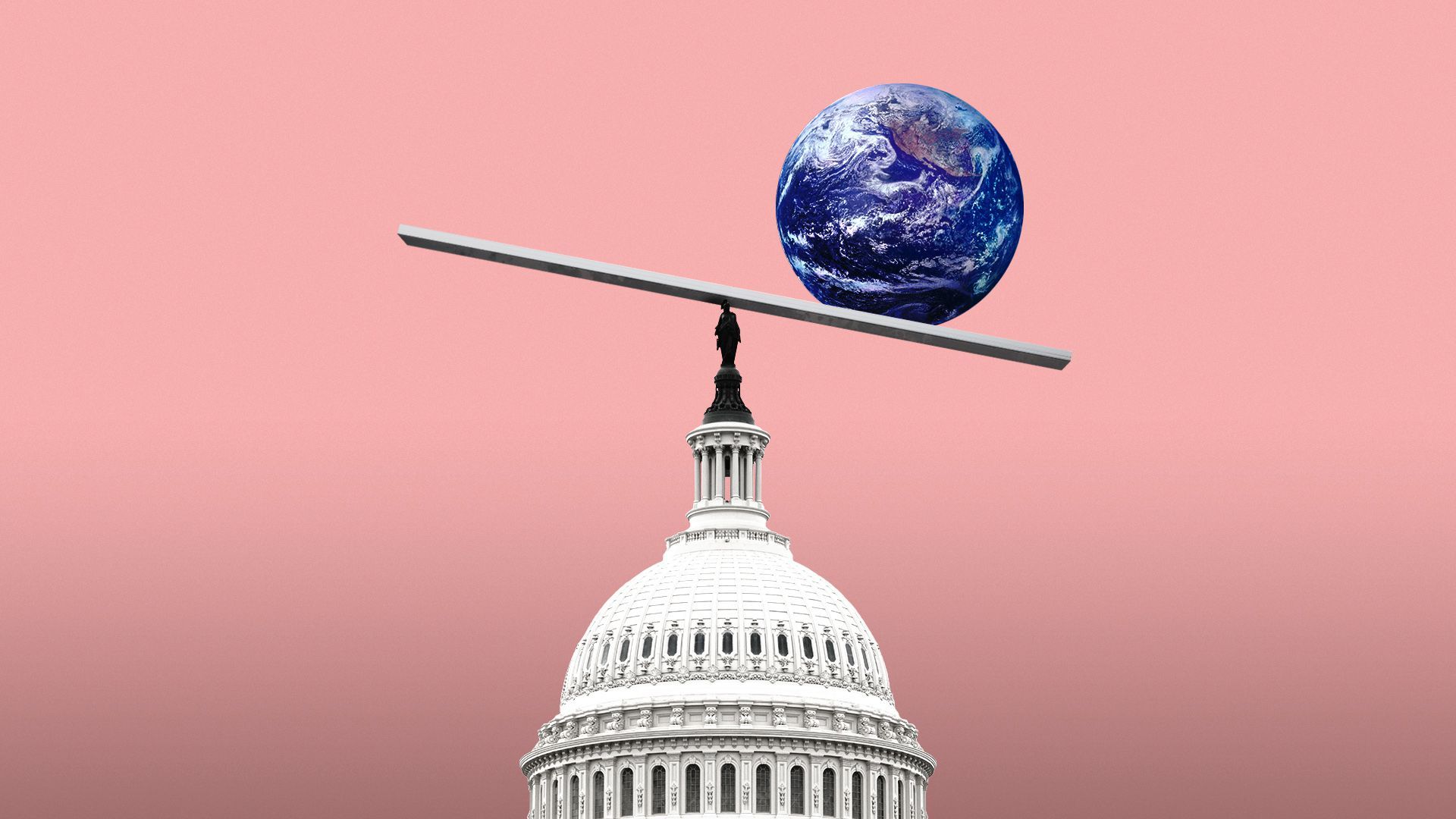 Capitol Hill infrastructure negotiations have taken on a complexity that matches their planetary and political stakes.
Driving the news: President Biden and a bipartisan Senate group yesterday unveiled the bare bones of an eight-year, $1.2 trillion infrastructure package that includes energy and transit provisions.
But its fate is tethered to a larger package, with bigger climate investments, that Democrats hope to write and move under the filibuster-proof reconciliation process.
"If this is the only thing that comes to me, I'm not signing it. It's in tandem," Biden said of the bipartisan plan.
House Speaker Nancy Pelosi similarly said the House would only act on it if Senate Democrats can move a reconciliation plan.
Why it matters: Fraught and intricate two-track negotiations will be needed to achieve anything close to the hundreds of billions of climate-related investments — and separate additional tax incentives — Biden first pitched in March.
The big picture: The bipartisan outline, per a White House summary, includes:
$73 billion for grid-related measures that would provide the "single largest investment in clean energy transmission in American history."
$15 billion for electric vehicle initiatives — including charging and bus electrification — and $49 billion for public transit.
$47 billion for "resiliency." That's vague but the White House calls it the largest investment in physical and natural resilience ever.
But, but, but: It omits massive chunks of Biden's and other Democrats' proposals, such as a "clean energy standard," Biden's $174 billion vehicle electrification goal, major spending on new efficient homes and more.
"Climate leaders in Congress should reject this deal unless it's accompanied by a reconciliation bill with bold climate investments," Evergreen Action executive director Jamal Raad said.
Progressive lawmakers like Sen. Ed Markey (D-Mass.) have rallied around the "no climate, no deal" slogan.
But the challenge for Democrats is that reconciliation also needs to corral moderates while satisfying progressives demanding unprecedented climate investments.
What we're watching: What exactly the White House and Democrats want in energy portions of the reconciliation plans that would also have provisions on child care and other "family infrastructure."
For instance, Biden yesterday discussed $300 billion in tax incentives. He didn't get specific.
The White House has previously proposed new tax credits for transmission, extended renewable power credits and expanded EV purchase incentives.
A note from Capital Alpha Partners' James Lucier lays out the many hurdles for the bipartisan and Democrats-only efforts.
The big picture: One question, he notes, is whether Democrats can even agree among themselves on a top-line budget resolution that enables the subsequent reconciliation effort.
"We don't think the House and Senate can pass the $6 trillion outline that Senate Budget Committee Chairman Bernie Sanders...has been floating," he notes.
And with respect to the bipartisan infrastructure framework, "Republican Senators are not going to be interested in a deal that assumes the rest of the president's agenda moves on budget reconciliation."
Go deeper: Infrastructure's remaining potholes
Go deeper