Key House committee clears antitrust bills in middle-of-night blitz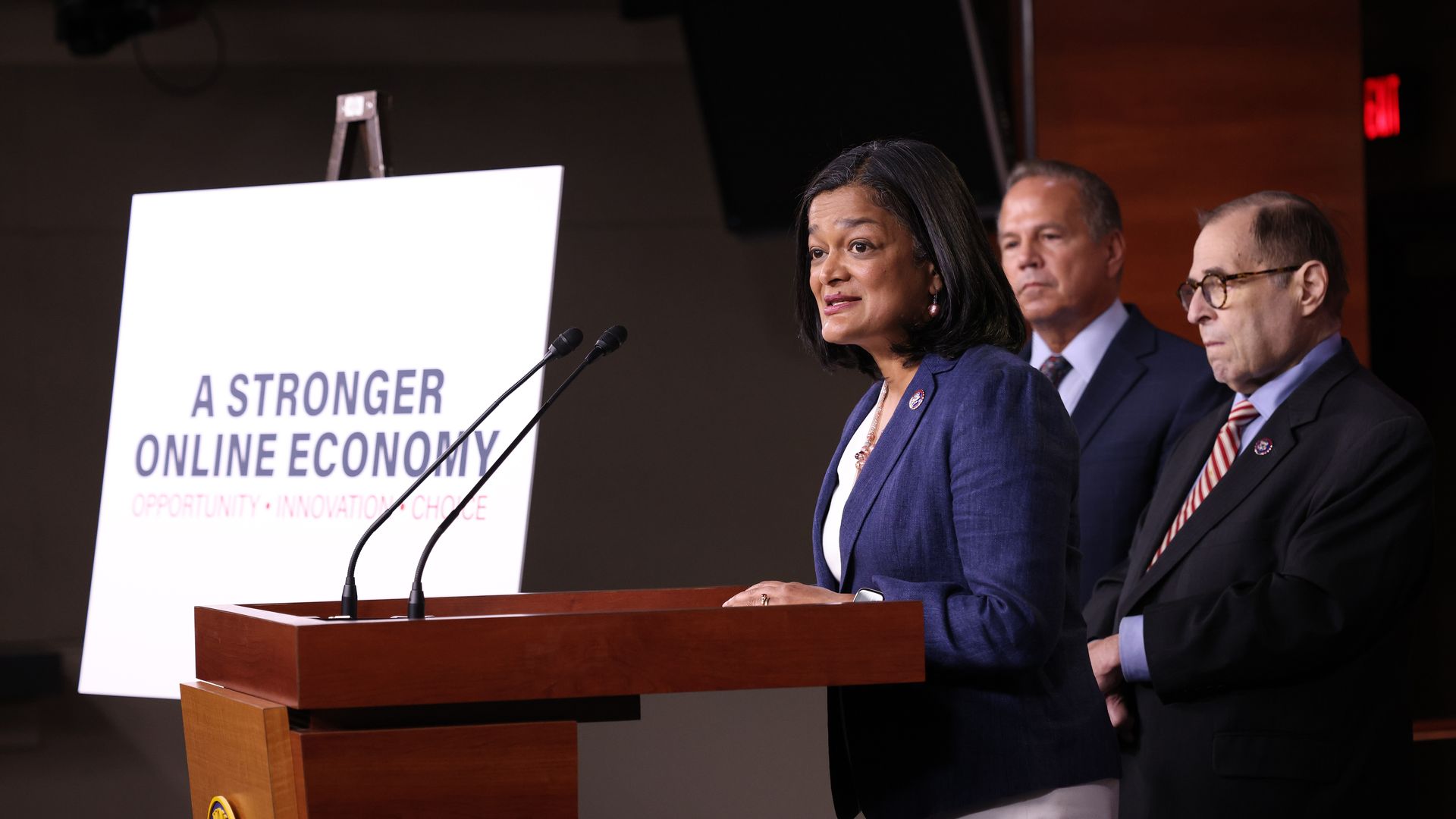 Major legislation aimed at reining in the power of tech giants advanced to the House floor Thursday after marathon debate that extended through the night.
The big picture: The House Judiciary Committee approved a package of six bills, blocking most of a blizzard of amendments and beating back a wave of lobbying from the affected companies — Apple, Google, Facebook and Amazon.
Why it matters: The bills aim to limit future acquisitions by the four largest tech companies, prevent them from favoring their own products on their platforms, and require them to make their services interoperable and their user data portable.
A final bill approved Thursday afternoon would allow antitrust enforcers to break up companies that both own a platform and offer a competing service on it.
If the measures become law, they'd represent the largest expansion of U.S. antitrust powers in generations.
State of play: The ranks of both Democrats and Republicans showed splits on the proposals.
Moderate Democrats raised questions about the breadth of the bills and their impact on innovation, even as the measures were largely propelled by Democratic support.
Meanwhile, a handful of Republicans joined Democrats in backing the proposals, while most GOP members said they failed to address the party's biggest beef with tech — its alleged censorship of conservatives' speech.
Between the lines: The Democrats' split was especially notable in the California delegation, whose members represent three of the four targeted companies.
Rep. Eric Swalwell, a Democrat, said he couldn't support three of the bills, and noted in a statement that he represents thousands of employees who would likely be affected.
Democratic Rep. Zoe Lofgren warned about the possible practical implications of the bills — such as banning Amazon Prime shipping or breaking up Apple. She also warned of unintended consequences the bills may have on smaller companies like Reddit.
Rep. Karen Bass, another California Democrat, said she would support to move the bills out of the committee, but believes more work on them needs to be done before a vote on the House floor.
House Speaker Nancy Pelosi (D-Calif.) and Minority Leader Kevin McCarthy (R-Calif.) will also be key to passing these bills in the House.
Pelosi has not said specifically whether she supports or rejects the bills, but has had issues with Big Tech.
McCarthy has accused Big Tech of being biased against conservatives, but generally does not support the bills.
Meanwhile, California Republicans also found a lot to hate in the legislation.
Rep. Darrell Issa called the bills an "unprecedented expansion of big government" with a "grab-bag of anti-business provisions." He and Lofgren found common ground opposing a bill that gives state attorneys general more power to choose the venue for antitrust actions, arguing that it would result in repetitive cases in multiple states.
Yes, but: Rep. Pramila Jayapal — the Democratic sponsor of the final bill under consideration, which could lead to the break up of Big Tech companies — hails from Amazon's home state of Washington.
"I probably have about 60% of my constituents who work for one of these big four companies, you add in Microsoft, maybe it's more," Jayapal said during the hearing. "So, this is not something that we do lightly."
The intrigue: Lawmakers expressed concern that the bills would only apply to Apple, Amazon, Facebook and Google and not other large companies like Microsoft, or even Walmart.com.
Rep. Tom Massie (R-Ky.) repeatedly asked Cicilline if Microsoft lobbied its way out of being covered by the bills, which Cicilline repeatedly denied. (A Microsoft spokesperson told Axios the company did not seek to be excluded from the bills.)
The committee approved an amendment from Lofgren that expanded the definition of platforms covered by the bills to include "operating systems" rather than just "mobile operating systems."
Critics had argued that under the mobile operating system definition, Microsoft would not be included.
What's next: These bills have moved quickly and decisively so far. But the California delegation's hesitation to fully support them may foretell some trouble for them in the full House, and their future in the Senate is likely to be even rockier.
Editor's note: This story has been updated to reflect the committee's Thursday vote in favor of the final of six bills.
Go deeper