Exclusive: New app will help employers verify workers' vaccine status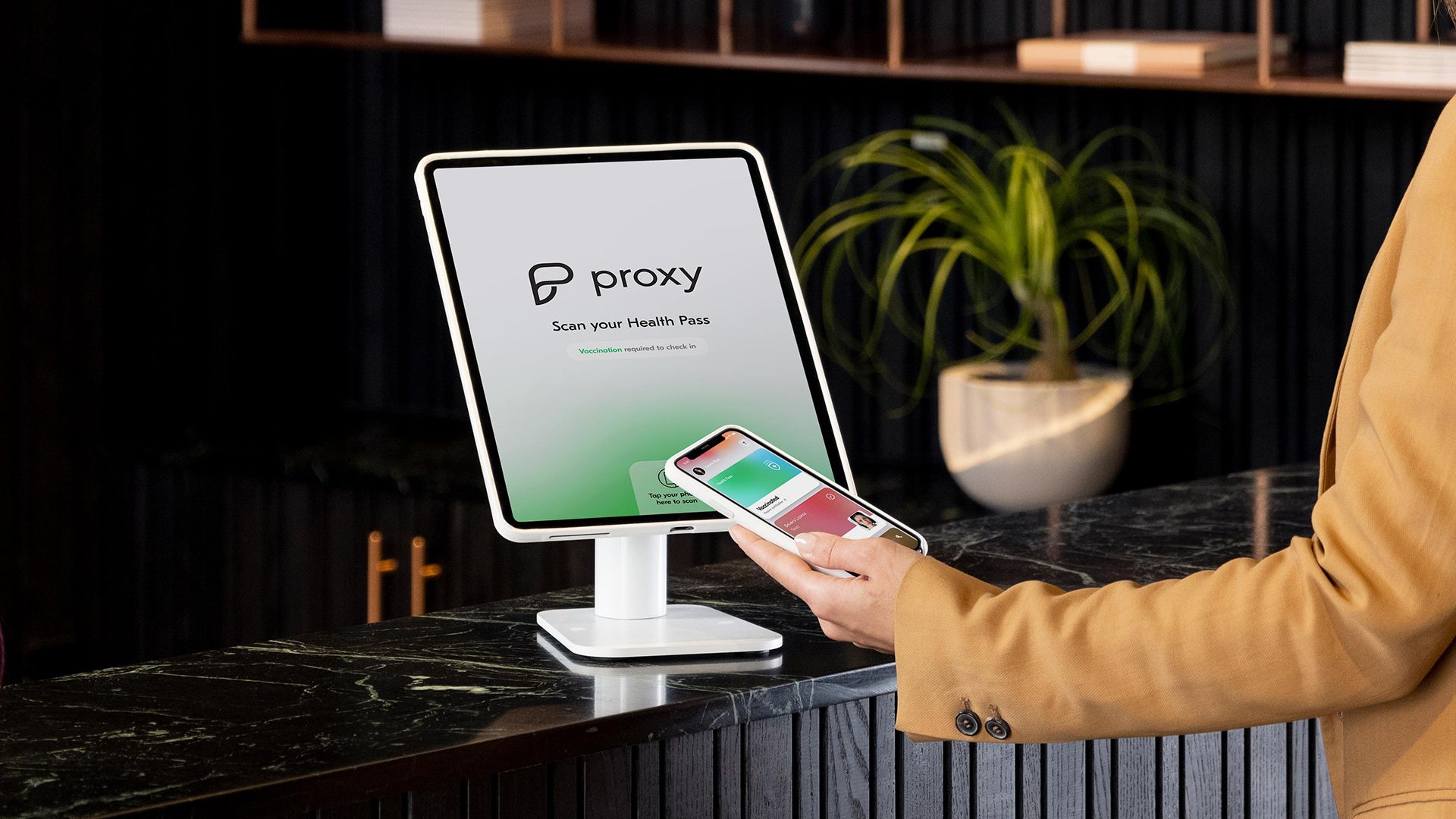 A tech company is announcing a new health app Thursday that it says will help employers bring their employees back to the office safely by verifying their COVID-19 vaccination status.
Why it matters: The app, or others like it, could be a sign of how employers can enforce vaccination requirements without relying on the honor system or hand-checking CDC vaccine cards.
The big picture: Most employers aren't requiring or planning to require employees to be vaccinated against the coronavirus before entering the workplace, per a recent survey by insurance company Willis Towers Watson.
But among the 28% of respondents that said they are or are considering some kind of vaccine requirement, more than half will require proof.
In addition, some businesses are trying other approaches that make their preferences clear, like giving vaccinated employees certain workplace privileges that fall short of mandates, per the WSJ.
How it works: The new app is being offered by Proxy, a company that sells identity technologies. The app will allow employees to verify their health status before entering the office — without sharing personal health information.
Employees download the app on their smartphone, upload photos of their vaccine cards and government-issued identification, and then tap their phone to an iPad serving as a check-in kiosk in the lobby or entrance to their office.
The idea is to prevent employers from having to hand-check vaccine cards as workers enter, which could be especially beneficial for large businesses with multiple offices.
The app also allows employees to upload their coronavirus test results or a health scan, if employers choose to seek this information.
What they're saying: "People want to get back to normal, they want to get their businesses back to normal, but they also don't want to be increasing the risks to their employees," said Denis Mars, Proxy's co-founder and CEO.
"Every HR person or every person who's responsible for an office is asking themselves, how do we do this safely and responsibly?"
He said Proxy Health is the first vaccine verification app targeted specifically to businesses, "at least from this perspective of a privacy-first approach."
What we're watching: It's unknown what the market for an app like this is, and how employees react to it.
It's easy to foresee employers' handling of return-to-work falling along the same geographical and political lines as the rest of the country's pandemic response.
Go deeper