Aviation hopes inclusivity can help fight gender bias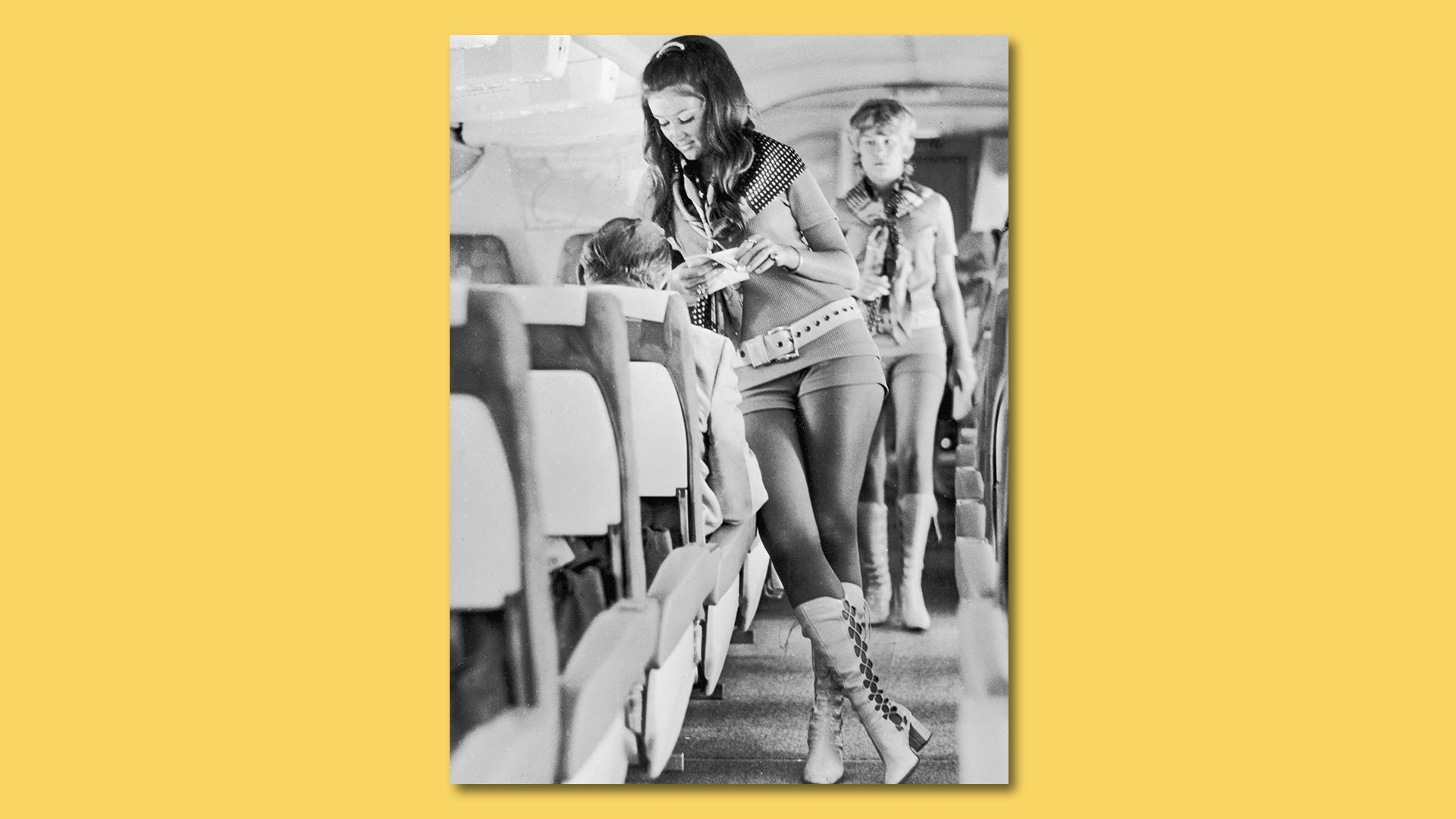 "Stewardesses" became flight attendants decades ago. Now an FAA advisory panel is urging the rest of the aviation world to be more inclusive by adopting gender-neutral language.
Why it matters: Women and others in marginalized groups are underrepresented in aviation, contributing to a shortage of pilots and other professionals. Avoiding exclusionary language can help create a work environment in which all people feel welcome.
Plus, as drones and other new types of aircraft become more widely used, there's a growing opportunity to attract newcomers to the industry.
Flashback: Sexism has been prevalent in aviation for decades.
Women had to be young, attractive and unmarried to qualify as flight attendants during the 1950s and '60s. At Southwest Airlines in the early '70s, flight attendants even wore hot pants and go-go boots.
Pilots were mostly groomed in the military. When the first class of female cadets arrived at the Air Force Academy in the mid-'70s, they were greeted by a huge sign over the entry that said, "Bring Me Men." (The sign was removed, then-cadet and now FAA administrator Steve Dickson noted in a recent speech.)
It wasn't until 2006 — 23 years after astronaut Sally Ride became the first woman in space — that NASA adopted non-gender-specific language in references to the space program.
Where it stands: About 94% of aircraft pilots and flight engineers are white men, according to federal data.
Driving the news: As part of a Biden administration push for more equity in the industry, the FAA in February asked its drone advisory committee for recommendations on how it could shift to gender-neutral language.
Among the changes they recommended Wednesday:
"Airman" should become "aviator."
"Cockpit" should become "flight deck."
"Manmade obstacles" should be "structural obstacles."
"Repairman" should become "technician."
"Unmanned aerial system" should become "uncrewed aerial system" or — better yet — "drone system."
"Unmanned traffic management" should be "UAS traffic management."
Yes, but: The drone industry is younger, so breaking the "unmanned" habit could be easier, notes the advisory committee.
"Language outside of the drone industry may be more entrenched given the comparative maturity of the rest of the industry, but that also means that there is a potential for even greater benefits."
What to watch: United Airlines recently launched a program called Aviate Academy, which is designed to train 5,000 new pilots by 2030.
It promises that 50% of each class will include women or people of color.
Go deeper