Scoop: Pandemic's "wake-up call" for restoring industry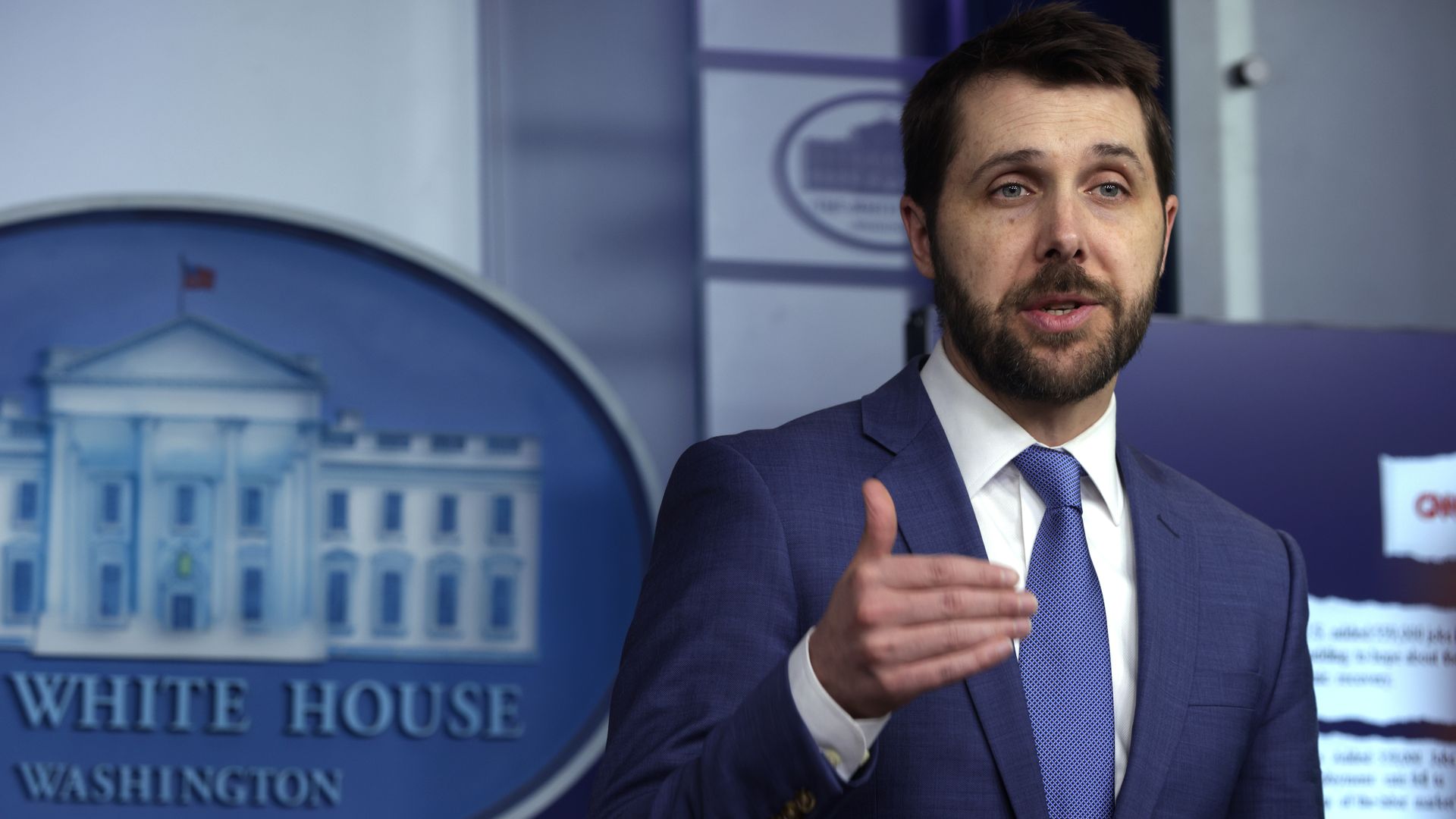 National Economic Council director Brian Deese will label the coronavirus pandemic a "wake-up call" to bring manufacturing jobs back to America in a speech Wednesday unveiling the Biden administration's industrial policy, Axios has learned.
Why it matters: President Biden's campaign was predicated on providing well-paying jobs for millions of Americans who've seen the country's industrial heartland hollowed out by automation and competition for lower-cost labor from other countries.
"Our private sector and public policy approach to domestic production prioritized low, short-term costs over security, sustainability and resilience," Deese is expected to say in a speech to the Atlantic Council Wednesday morning.
"Markets — on their own — will not make investments in the technologies and infrastructure that would benefit an entire industry."
"These failures require a different role for government, one where public R&D lays a foundation for breakthrough technologies, and government pulls forward the deployment and dispersion of innovation."
The big picture: Early in the pandemic, the shortage of personal protective equipment for medical workers raised awareness that America didn't produce many basic items to protect its citizens.
Deese will note that "nearly 90% of generic active pharmaceutical ingredient facilities are located overseas and have been moving offshore for the last 50 years."
The rest of his speech articulates Biden's approach to reversing those trends and lays out the administration's long-term strategy for how America can compete with China and other global challengers.
Driving the news: Deese's speech comes as he and other White House officials work with Congress to try to pass a bipartisan infrastructure deal, which includes roughly $580 billion in new spending.
But that effort is just a sliver of the more than $4 trillion in new spending the president has proposed as part of his "Build Back Better" agenda, another cornerstone of his campaign.
This month, the White House announced a new task force to focus on solving the supply chain disruptions created by the pandemic.
That dovetails with Deese's advocacy for the public spending on research and development, as well as a bigger role for the federal government in the procurement process.
By the numbers: Manufacturing jobs reached their peak in 1979, at 19.6 million.
Forty years later, the number declined to 12.8 million, down some 35% from the all-time high, according to the Bureau of Labor Statistics.
Under President Trump, the economy added roughly 500,000 manufacturing jobs, before the pandemic wiped them all away.
Trump ended his term with a loss of some 240,00 manufacturing positions.
Between the lines: As the economy has shed manufacturing jobs, it's added positions in other sectors that typically don't pay as well. The Midwest has been particularly hard-hit.
For example, between 2001 and 2019, Indiana lost over 72,000 jobs in the manufacturing sector, while adding 228,000 in the hospitality, administrative services and health care sectors, according to a study from the left-of-center Brookings Institution.
Go deeper