Gaza ceasefire under strain as Israel and Hamas feud over rebuilding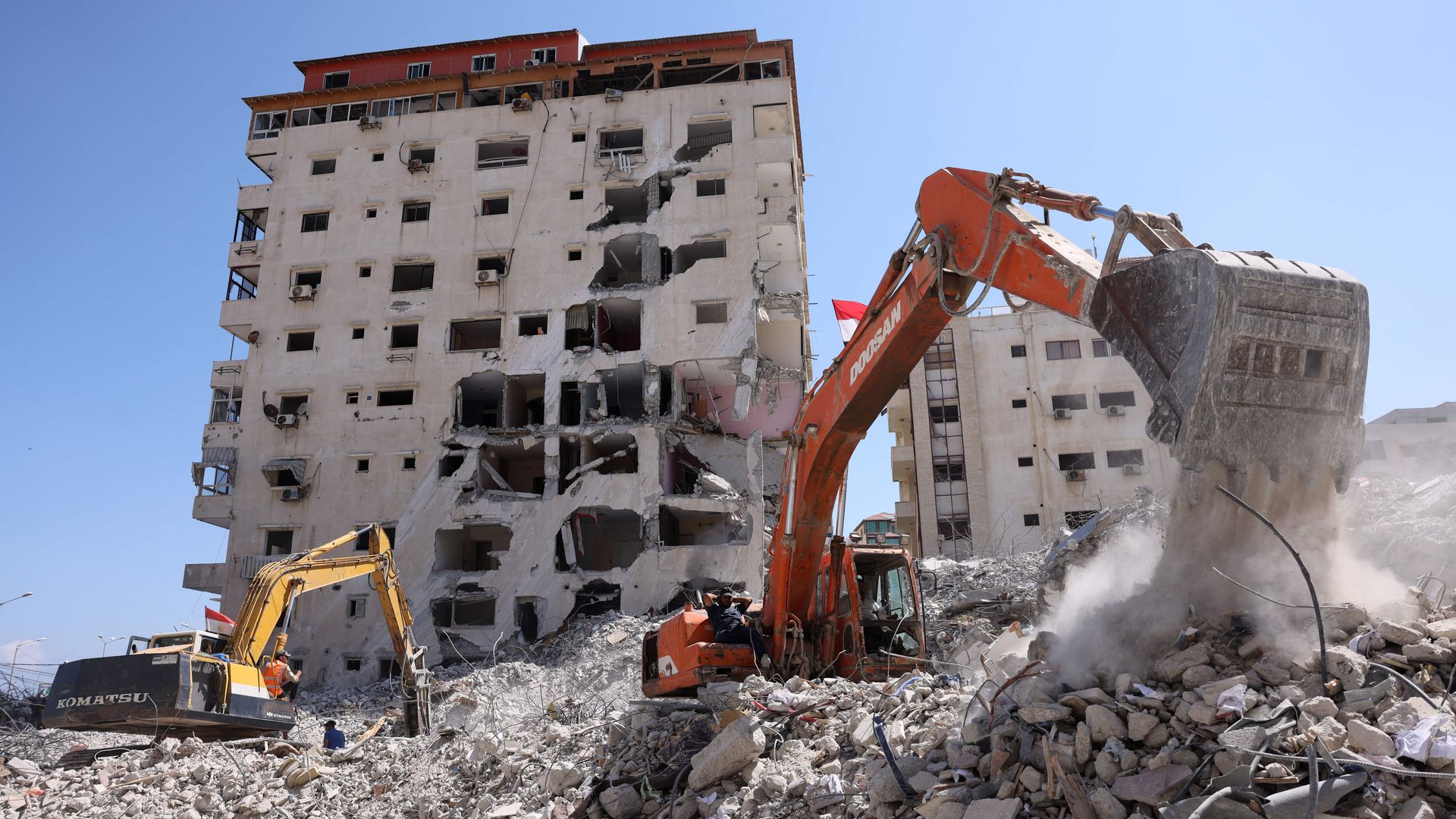 The indirect talks between Israel and Hamas to stabilize the ceasefire in Gaza and begin the reconstruction process have made little progress, raising concerns of renewed violence.
State of play: Five weeks on from the ceasefire, Israel is threatening to hold up the reconstruction process, and Hamas this week rejected a UN plan to fund it, Israeli officials and Western diplomats tell me.
The backstory: After the ceasefire, both Israel and Hamas committed to engage in longer-term stabilization and reconstruction talks mediated by Egypt and the UN.
But the violence threatened to escalate again last week when incendiary balloons were launched toward Israel, which responded with air strikes on Hamas targets in Gaza. There were no casualties.
There's also Israel's vow to block the reconstruction process in Gaza unless progress is made on the return of two Israeli prisoners and the remains of two Israeli soldiers held by Hamas.
An Israeli delegation reiterated that position to Egyptian intelligence officials in Cairo last Thursday, Israeli officials tell me.
But the main stumbling block at the moment is the transfer of Qatari funds to Gaza.
Since 2018, Qatar has been providing $30-60 million in cash each month to Hamas to fund the governing of Gaza. Qatar has also pledged $500 million for the reconstruction.
After last month's fighting, Israel asked the UN to develop a mechanism to ensure the funds go toward humanitarian purposes and not to re-arm Hamas.
Behind the scenes: On Monday, UN envoy Tor Wennesland met with Hamas leader Yahya Sinwar in Gaza and presented him with the new mechanism.
Sinwar rejected the proposal and the meeting grew contentious, Western diplomats briefed on the meeting say.
What they're saying:
Afterward, Sinwar called the proposal unacceptable and said Israel was using the humanitarian situation in Gaza to blackmail Hamas.
The Western diplomats say Sinwar rejected the proposal because he wants to continue controlling the Qatari money and to receive it in cash.
"Sinwar thinks he won the war and is making demands. He will not get control of the money and, if he continues rejecting the proposals he gets, he is at risk of getting Israeli F-35s again."
—
Western diplomat to Axios
What to watch: Israeli officials are concerned that the current deadlock is making a renewed conflict more likely every day. Hamas officials, including Sinwar, have issued similar warnings.
The Egyptians are trying to convene indirect talks between Israel and Hamas in Cairo next week to buy more time for diplomacy, Israeli officials say.
Worth noting: The Israelis have agreed to an Egyptian confidence-building proposal to allow the export of goods from Gaza to Israel and the West Bank for the first time since the conflict.
Go deeper