Parties pounce on China as midterm issue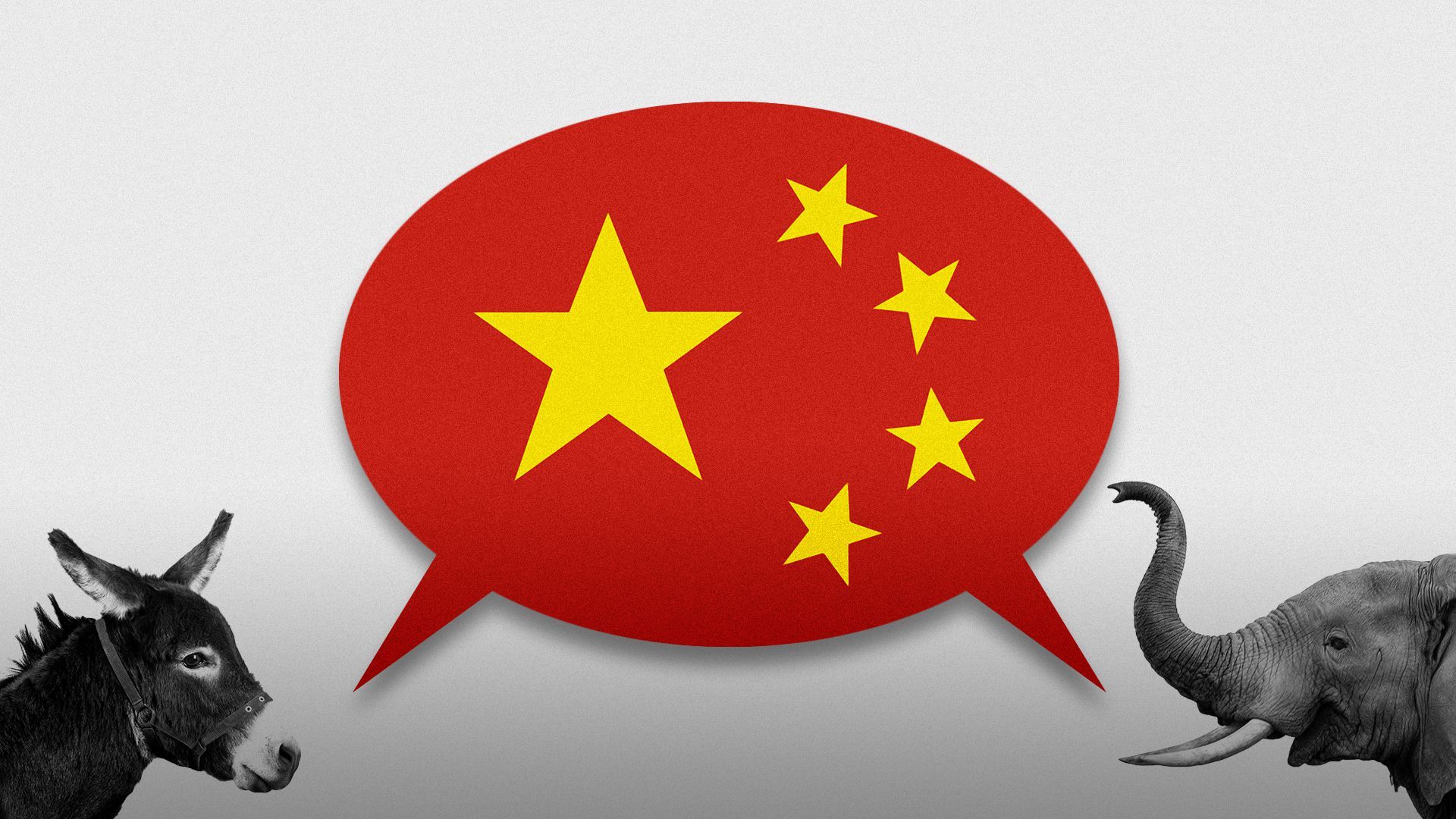 Democrats and Republicans in purple states are already leaning into U.S. competition with China as a key issue in the fight to control the Senate in 2022.
Why it matters: American voters hold increasingly negative feelings toward the Chinese government, particularly around bilateral economic relations and following the nation's handling of the COVID-19 outbreak.
President Biden also has made it clear that confronting China remains a foreign policy priority.
Possibly vulnerable Democratic senators are capitalizing on the passage of the U.S. Innovation and Competition Act, a sweeping global competition bill focused on China that recently passed by a rare bipartisan vote.
Sen. Raphael Warnock (D-Ga.) visited Kia's West Point factory in Georgia to address how the bill could address the recent semiconductor shortage and avoid future plant shutdowns, like one the factory experienced.
Sens. Maggie Hassan (D-N.H.) and Mark Kelly (D-Ariz.) wrote op-eds in their local news outlets highlighting the bill's benefits.
The Democratic Senatorial Campaign Committee and state Democratic parties are calling out Republicans like Sens. Ron Johnson (R-Wis.) and Marco Rubio (R-Fla.), both of whom voted against the bill.
They've also targeted Republicans running in open Senate seats who have expressed opposition to the bill.
Meanwhile, Rubio has been making a play for China hawks in Florida, Axios' Lachlan Markay reported last week.
Rubio, who is up for re-election next year, has been sending campaign emails with subject lines such as, "Dems <3 China," and, "Is it time to stand up to Communist China?" to a list maintained by a nonprofit group called Stand Up to China.
In Arizona, Republicans latched onto Kelly's ties to a Chinese tech firm last year, and it's likely they'll continue to use that strategy.
The senator's team has argued he isn't beholden to Chinese authorities.
Republicans have long branded Democrats as "weak" on China as a line of attack. Expect that to continue through the campaign cycle, as Democratic candidates tout the passage of the U.S. Innovation Act and reframe the narrative.
They plan to focus on increasing the United States' competitive edge with China as a policy priority.
What they're saying: David Bergstein, a spokesman for the DSCC, said the campaign committee will be "reminding voters that any Republican who refused to back this critical bill was too weak to stand up to China in order to protect and grow good-paying jobs."
Chris Hartline, spokesman for the NRSC, said in a statement that "no one believes that Joe Biden and Senate Democrats will do what it takes to confront the geopolitical and economic threat posed by (President) Xi (Jinping) and the Chinese Communist Party."
Go deeper