Health insurers leery of Aduhelm, but don't know how to cover it yet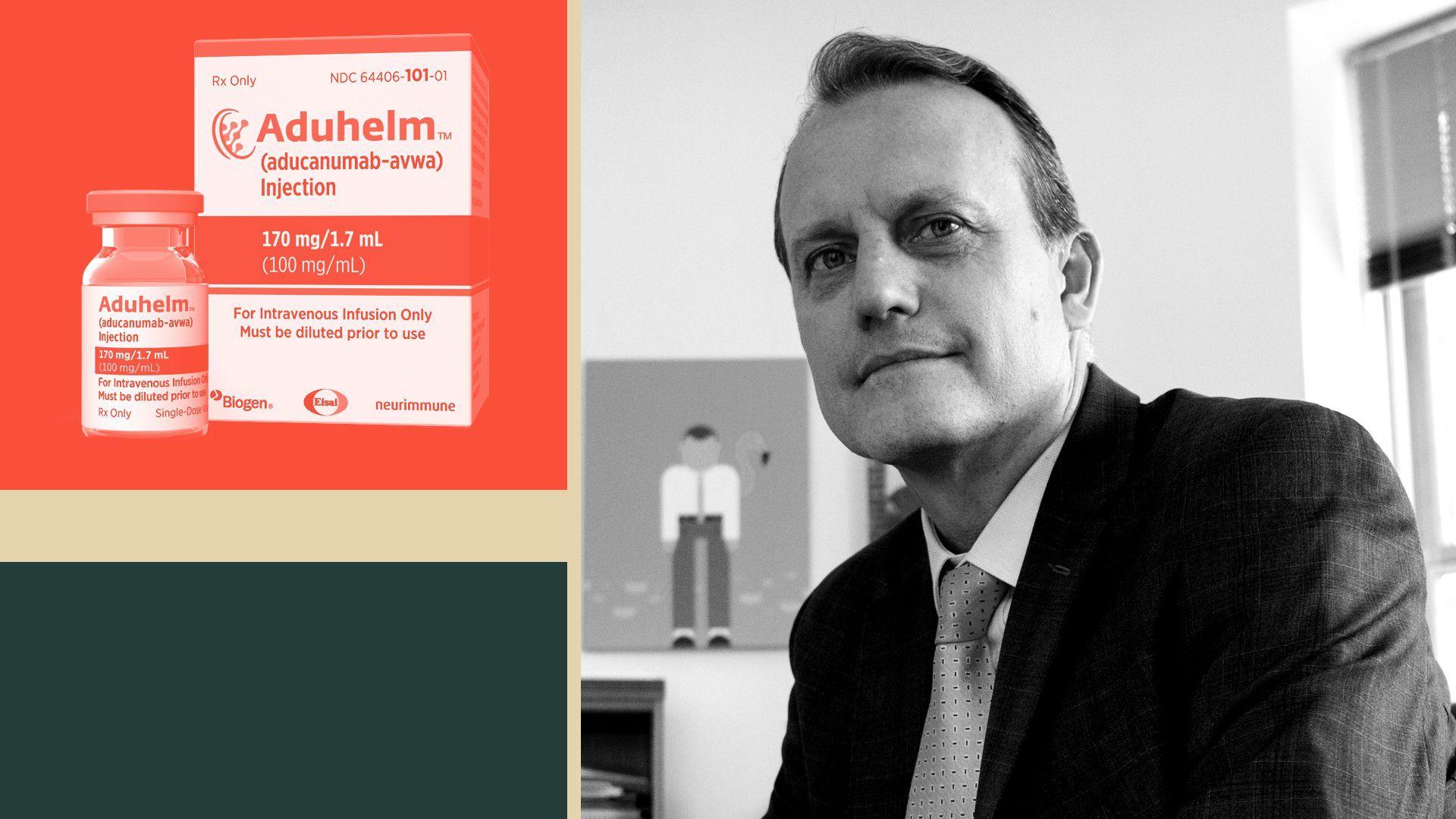 The head of the health insurance industry's main lobbying group doesn't think the $56,000 annual price tag for Biogen's unproven Alzheimer's treatment, Aduhelm, is justified, but the group won't call on insurance companies to deny coverage of it.
The big picture: Instead, insurers are relying heavily on Medicare and an independent drug pricing group for their coverage decisions.
This interview was with Matt Eyles, CEO of America's Health Insurance Plans, and has been edited for brevity and clarity.
Axios: What are your thoughts on the FDA approval of Aduhelm?
Matt Eyles: We were surprised like many were, especially given what the advisory committee came out with. Just listening to the experts and those who do focus on FDA and the reaction by some of the organizations, like the American Geriatrics Society and others, it certainly raises questions about the process and the whole notion around accelerated approvals. How would we feel if the advisory committee had recommended against approval of the COVID vaccine, but then FDA went ahead and approved it? I think we'd be having another very different conversation.
A: What do you think of Aduhelm's $56,000-per-year list price?
ME: The interview that you had done with the Biogen executives was really telling, with respect to a price for current and potential future benefits that are clearly unknown and unproven. I don't think the company has really done a good job in explaining how to get to $56,000 a year. Then there's an administration fee in Medicare Part B that's currently 6%, and then there are all the other associated costs (PET scans, MRIs, infusion centers, etc.). There's really not any good explanation for it.
A: Medicare, and by extension Medicare Advantage insurers, will be paying the lion's share for this drug. Based on everything we just talked about, will you call on your member companies not to cover Aduhelm?
ME: No, no. We have clinical experts who operate in this world. It will be important for [the Centers for Medicare & Medicaid Services] to look at this through things like a national coverage determination. One of the challenges we face is just the breadth of the label. We know based on the clinical trials that were done, it was a much more narrow subset of people [who were studied], and we know there are significant safety issues that need to be monitored.
A: CMS could possibly reject coverage of this drug, based on the agency's legal interpretation of what's "reasonable and necessary"? Should CMS decline to cover this?
ME: I'm not expert enough to know. They need to look at it for sure and do a national coverage determination. I don't know if wholesale rejection is the right approach or something that's more narrowed to focus on a patient population where there's both the highest likelihood of some sort of efficacy and also making sure that we're keeping safety in mind.
A: The health care industry continues to peddle "value-based care." Based on the evidence that's out there, shouldn't a value-based price be zero dollars? How can any other price be justified right now?
ME: If you're able to identify clinical outcomes that represent improvement, there's a value there. I don't know what that is here. In the instance where there is no clinical benefit, then you're right, the price should be zero. This is not a cure, unlike what we had seen with the hepatitis C treatments. There are significant questions about efficacy, and I think that's why so many people are scratching their heads and figuring out what's the best path forward.
A: So what is an acceptable price?
ME: The best information we have is what [the Institute for Clinical and Economic Review] puts out. They estimated a fair price is in the $2,500-$8,300 range. It's just the best benchmark that we have.
A: Will you recommend insurers use ICER as a guide?
ME: Our members are pretty sophisticated, and they need to make their own independent business and clinical decisions. But I think people will be looking at what ICER puts out there.
Go deeper