Facebook doubles down on audio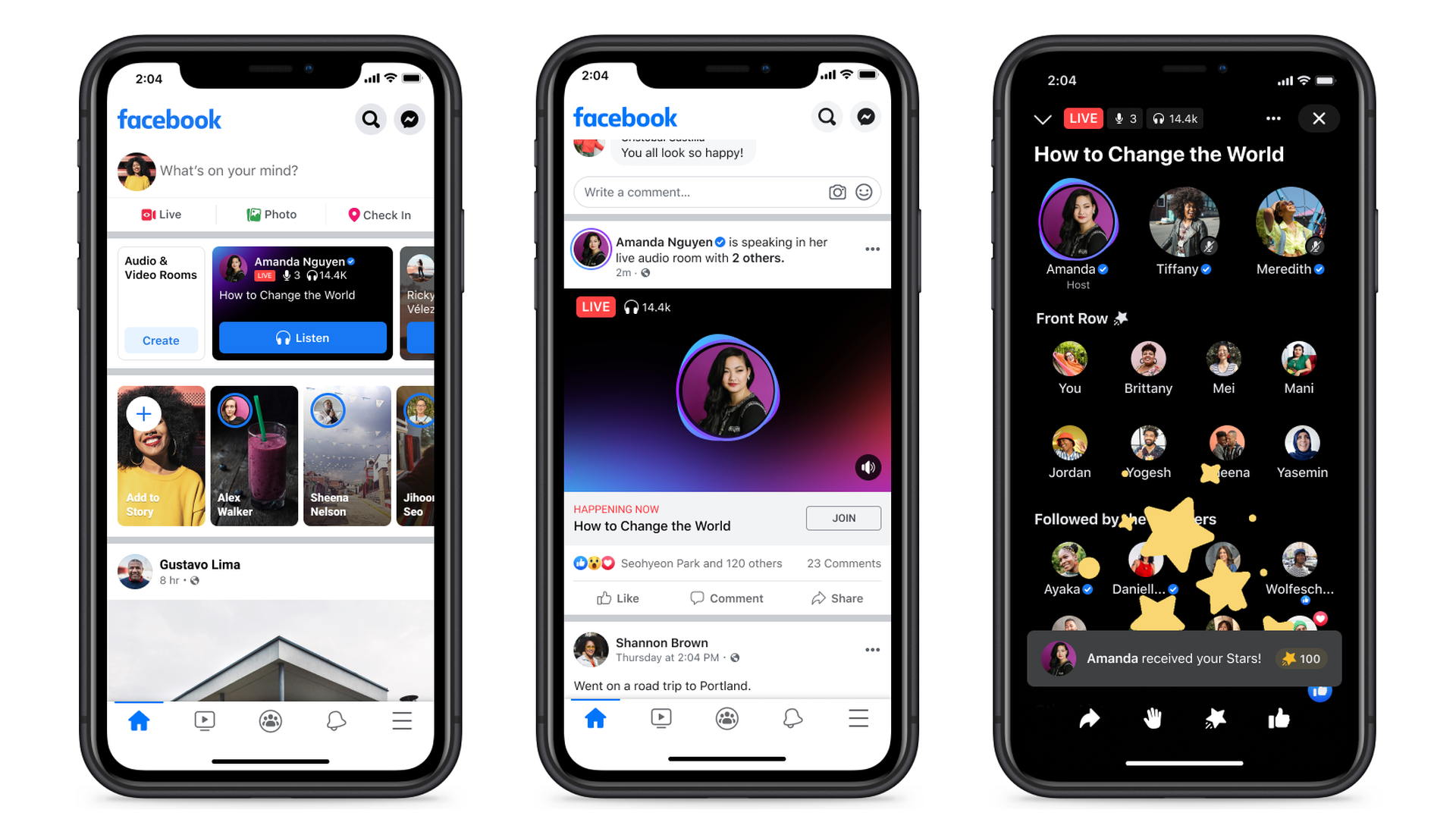 Facebook on Monday rolled out long-awaited audio features, including a live audio product and a new tool that allows users to listen to their favorite podcasts while browsing its app.
Why it matters: Facebook is in a race with several of its peers for creators' attention in the audio space, including Twitter, Spotify and Clubhouse.
Details: Facebook's new "Live Audio Rooms" feature debuted Monday in the U.S. users to connect with their friends or public figures via real-time audio chats. It closely mimics the app Clubhouse or Twitter Spaces.
For now, public figures and select Facebook groups can create Live Audio Rooms on iOS. They can invite anyone who follows them, other public figures with a verified badge, and listeners in the room to join as a speaker. 
Live Audio Room hosts will be able to select a nonprofit or existing fundraiser to support during their conversation that listeners can donate to in real-time. The rooms can hold up to 50 speakers and an indefinite amount of listeners.
If a listener enjoys a conversation, they can offer support to speakers by sending virtual "stars" to public figures, who are paid acknowledgments. Listeners who buy stars can be bumped to the "front row" of a conversation, so their name displays first among the list of people tuning into the conversation.
Between the lines: Facebook is also rolling out a new podcasting feature. It includes an initial slate of podcasts from podcasters like Joe Budden and Nicaila Matthews Okome. It says it will add more podcasts in coming weeks.
Users can listen to select podcasters on their Facebook Pages, as well as in News Feed. They'll be accessible while users are browsing Facebook via a miniplayer that will still work even if the phone's display is turned off.
The big picture: Audio has become a table stakes feature for tech giants, following an audio explosion during the pandemic.
Go deeper: Big Tech moves in on the creator wars
Go deeper