Afghanistan's president coming to Washington on Friday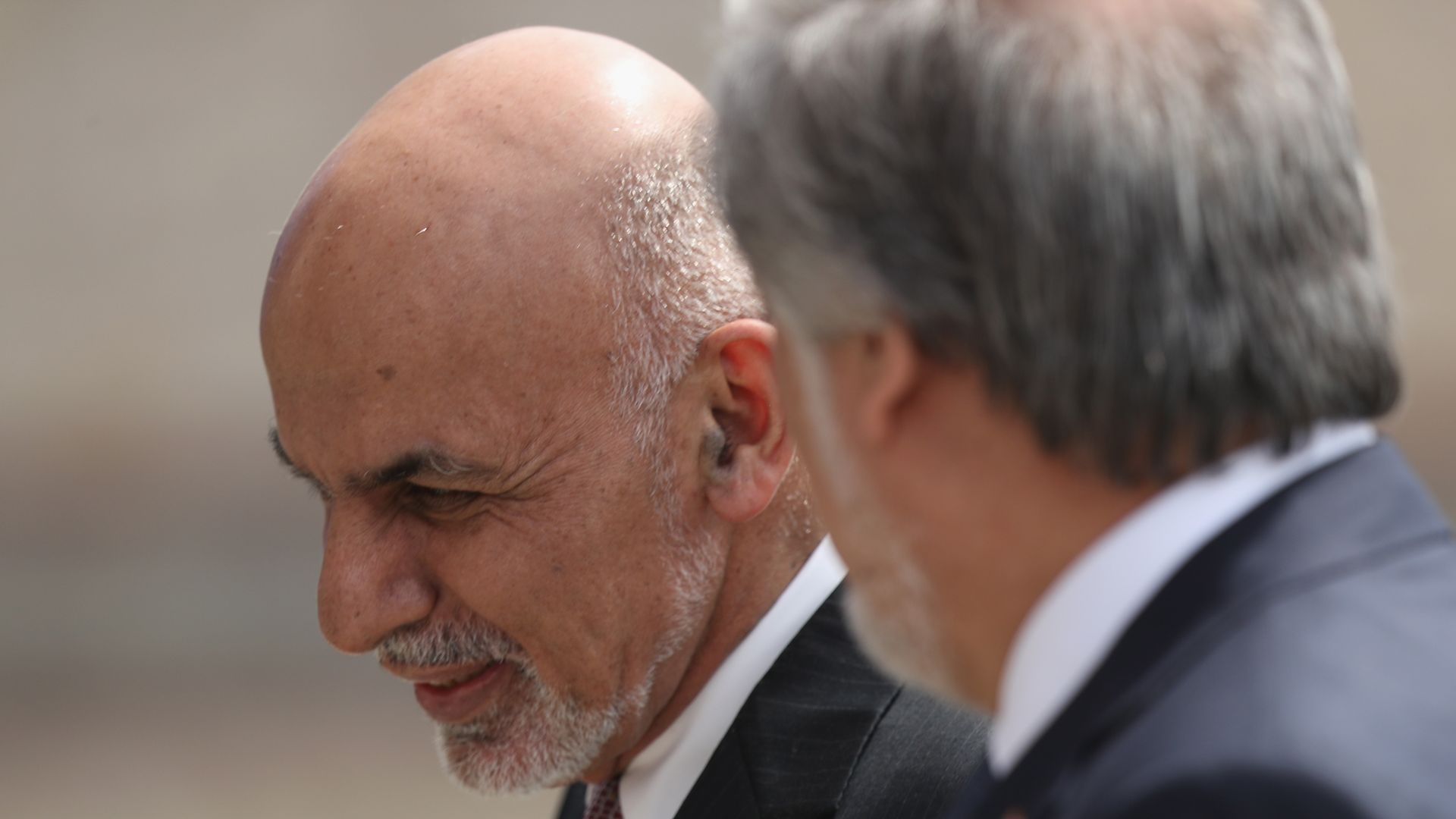 As the U.S. troop withdrawal accelerates, President Biden will welcome Afghan President Ashraf Ghani and Abdullah Abdullah, chairman of Afghanistan's High Council for National Reconciliation, at the White House on Friday.
Our thought bubble: Axios politics editor Glen Johnson, who traveled to Afghanistan while working for Secretary of State John Kerry, said inviting both Ghani and Abdullah to Washington shows the administration's respect for the delicate balance of power in the country.
The two worked out an initial power-sharing agreement in 2014 that has faltered over the years but, since renewed in May 2020, has largely provided a framework for governance and engagement with the United States and the rest of the world.
The Afghan government now faces its greatest peril as the United States withdraws its troops and the Taliban recaptures territory and asserts itself.
Inviting both leaders for talks in Washington is both a sign of respect and a means for the Biden administration to have direct engagement and give the two leaders a public sign of support back home.
Between the lines: Glen reports that Pentagon officials fear a bloodbath when the U.S. completes its troop withdrawal.
The president has set a Sept. 11 deadline, to mark the 20th anniversary of the 9/11 terrorist attacks, but Defense Department officials expect the withdrawal to largely be completed by July 4.
Afghanistan's former president, Hamid Karzai, said Sunday that the United States has failed its primary objectives to "fight extremism and bring stability" to the war-ravaged nation, the Associated Press reports.
What they're saying: "The international community came here 20 years ago with this clear objective of fighting extremism and bringing stability ... but extremism is at the highest point today. So they have failed," Karzai said, per AP.
"We recognize as Afghans all our failures, but what about the bigger forces and powers who came here for exactly that purpose? Where are they leaving us now? In total disgrace."
"The United States will remain deeply engaged with the Government of Afghanistan to ensure the country never again becomes a safe haven for terrorist groups who pose a threat to the U.S. homeland," White House press secretary Jen Psaki said in a statement on Sunday. "The United States continues to fully support the ongoing peace process and encourages all Afghan parties to participate meaningfully in negotiations to bring an end to the conflict."
Go deeper: Pakistan PM will "absolutely not" allow CIA to use bases for Afghanistan operations
Go deeper