Fed chief's second-term audition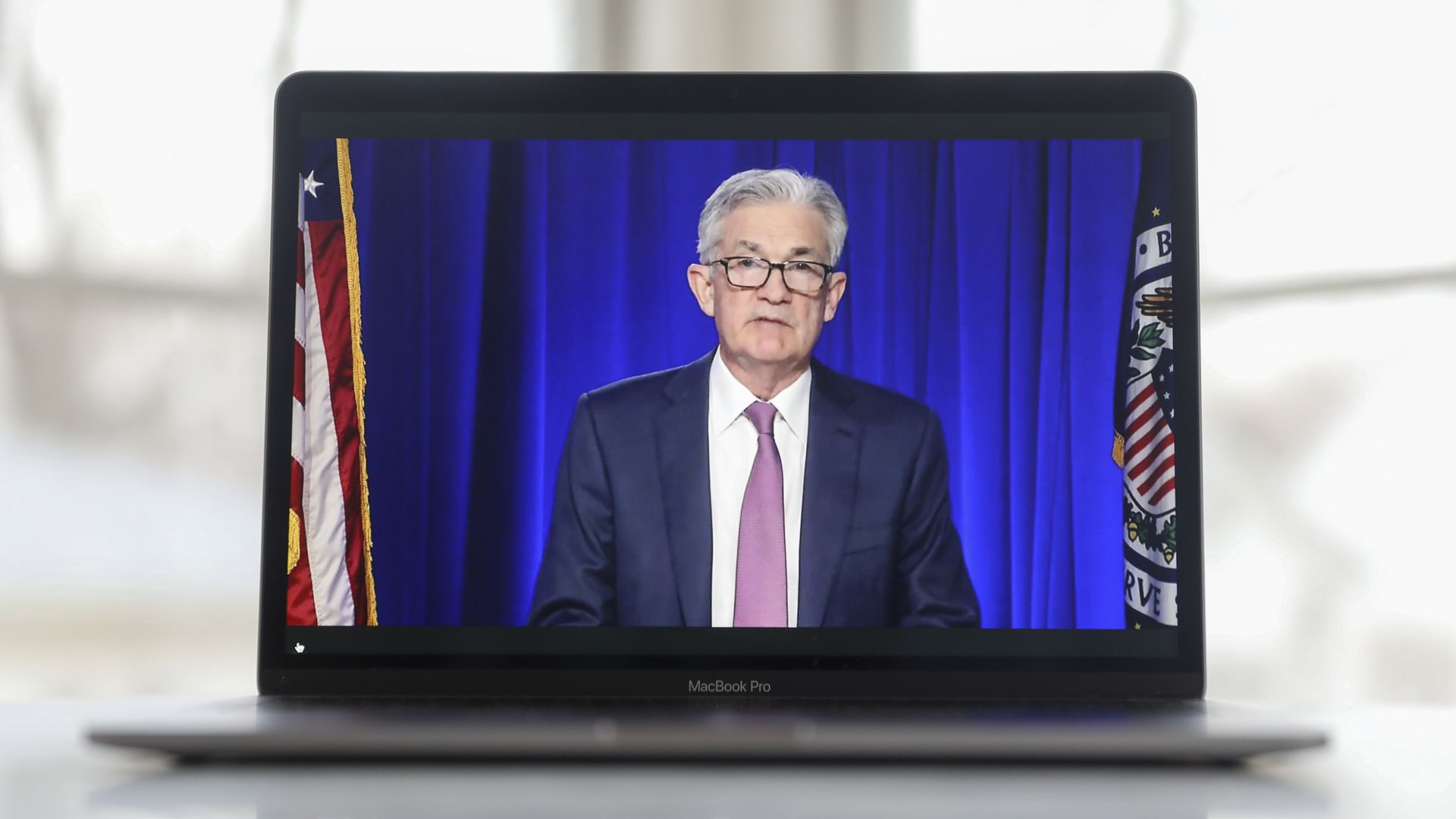 Federal Reserve Chairman Jerome Powell faces a long, hot summer audition for a second term, with senators watching and weighing his response to potential signs of inflation.
Why it matters: The financial system's chief is one of the most powerful in the world. President Biden hasn't given any public indication whether he'll renominate Powell, but Democrats close to the administration say there's a chance he'll make an announcement by Labor Day — well before Powell's term ends next February.
"Everybody's replaceable and there's good people out there," said Sen. Jon Tester (D-Mont.), a member of the Senate Banking Committee. "Biden could certainly pick somebody as good as Powell. But, you know, Powell is a proven guy."
Sen. John Kennedy (R-La.) told Axios: "He's placed a big bet right now on inflation and it worries me. And that's probably going to determine, to a large extent, whether he's reappointed."
The intrigue: Powell, a lawyer by training and former Republican Treasury official, stays in close contact with the senators who would confirm any nominee.
"I talked to him about a week ago; he called me up," Sen. Lindsey Graham (R-S.C.) told Axios. "We're going to try to put a dinner together with some other senators next week."
"He's extremely responsive," said Sen. Pat Toomey (R-Pa.), the senior Republican on the Banking Committee. "I think I am scheduled to meet with him next week."
The big picture: The chair of the Federal Reserve has enormous power to determine the pace of economic growth and must sometimes pursue policies that could hurt an incumbent president's re-election prospects.
Powell continues to argue the post-pandemic uptick in prices is temporary, though the Fed indicated Wednesday it expects interest rates will rise in 2023.
Investors have expressed confidence in Powell's approach to any potential inflation — and his ability to respond quickly, if warranted.
But congressional Republicans are seizing on last month's 5% jump in the Consumer Price Index as proof that Biden is overspending and the Fed is buying too many bonds.
What they're saying: "There is a lot of inflation out there right now," said Sen. Richard Shelby (R-Ala.). "Let's see what the Fed does and what they can do."
"He's a nice man. I've known him and I have helped him," Shelby said. "I think he has a real challenge in the making."
Inflation "is something that he has to consider, but the chair has a great deal of respect among members of Congress," said Sen. Ben Cardin (D-Md.).
Between the lines: Fed chairs are traditionally renominated for a second term, in part to reinforce the central bank and chairperson's independence from politics.
President Trump upended that model and replaced Janet Yellen with Powell in the fall of 2017.
Trump further challenged Fed norms by publicly badgering Powell to keep interest rates low and then asserting, without evidence, that he had the ability to fire him.
Biden has made a point of honoring the Fed's independence and said in April that he had not spoken to Powell.
Be smart: While a president gets to choose who to nominate, he or she also has to listen to what the markets are saying.
"Markets probably want the certainty of Powell," Tester told Axios. "There's some predictability there."
Go deeper