Democrats' high-risk, high-reward health care push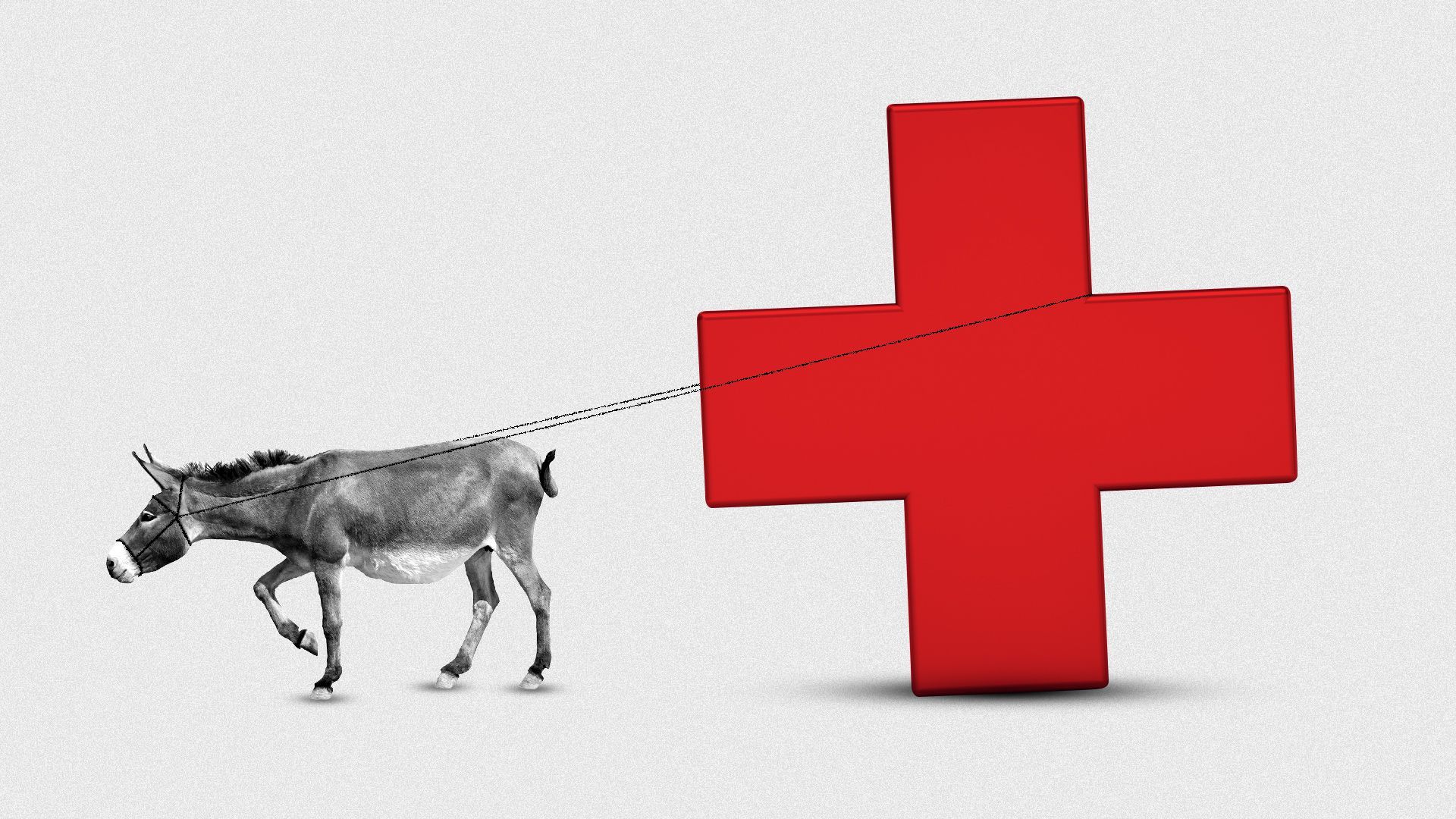 Democrats are considering including major health care reforms in a massive legislative package that could be passed without Republican votes, teeing up a grueling fight with the health care industry — and, potentially, each other.
Why it matters: Expanding coverage and lowering drug prices have long been top priorities for Democrats, and this may be their best opportunity to accomplish these goals.
Driving the news: Democrats are preparing a multi-trillion dollar package to pass through budget reconciliation, a process that allows legislation to pass the Senate with only 51 votes.
They're considering including measures that would lower the Medicare eligibility age from 65 to 60, expand the scope of benefits it offers, and lower drug prices, the Washington Post reported yesterday.
A draft document of potential measures that could be in the package included allowing Medicare to negotiate prescription drug prices, a Senate Democratic aide confirmed to Axios.
Between the lines: The prescription drug industry is adamantly opposed to giving Medicare the ability to negotiate prices. Providers and insurers hate the idea of lowering the Medicare age and thus allowing more people into the program.
Pushing these policies simultaneously means that Democrats would face an intensely negative pressure campaign from some of the most powerful industry groups in the country — at the same time.
Although Democrats projected confidence that the Supreme Court would uphold the Affordable Care Act, which it did yesterday, a death blow to the law would have made health reform much more urgent.
What they're saying: "The idea of expanding either Medicaid or Medicare doesn't sound like some socialist nightmare to most people. It sounds great to most people," said Sen. Brian Schatz, D-Hawaii.
"The pandemic has, I think, demonstrated to most people — in their actual lives, not as an abstraction, but in their actual lives — the wisdom of expanding access to health care for everybody."
The bottom line: Taking on the health care industry is never easy — nor is juggling multiple legislative priorities at once. And the party has no margin for error in the Senate.
But Democrats could easily lose control of one or both chambers next year, meaning their window of opportunity is narrow.
"On the one hand, this is an issue that is guaranteed to stir up a hornets' nest of opposition from very powerful interests. On the other hand, this may be the only opportunity to get this done," said Jim Manley, a Democratic strategist and a longtime Senate aide. "To a significant degree, it's going to depend on whether Joe Manchin will agree to this or not."
Go deeper