Expect global shipping logjams to continue this year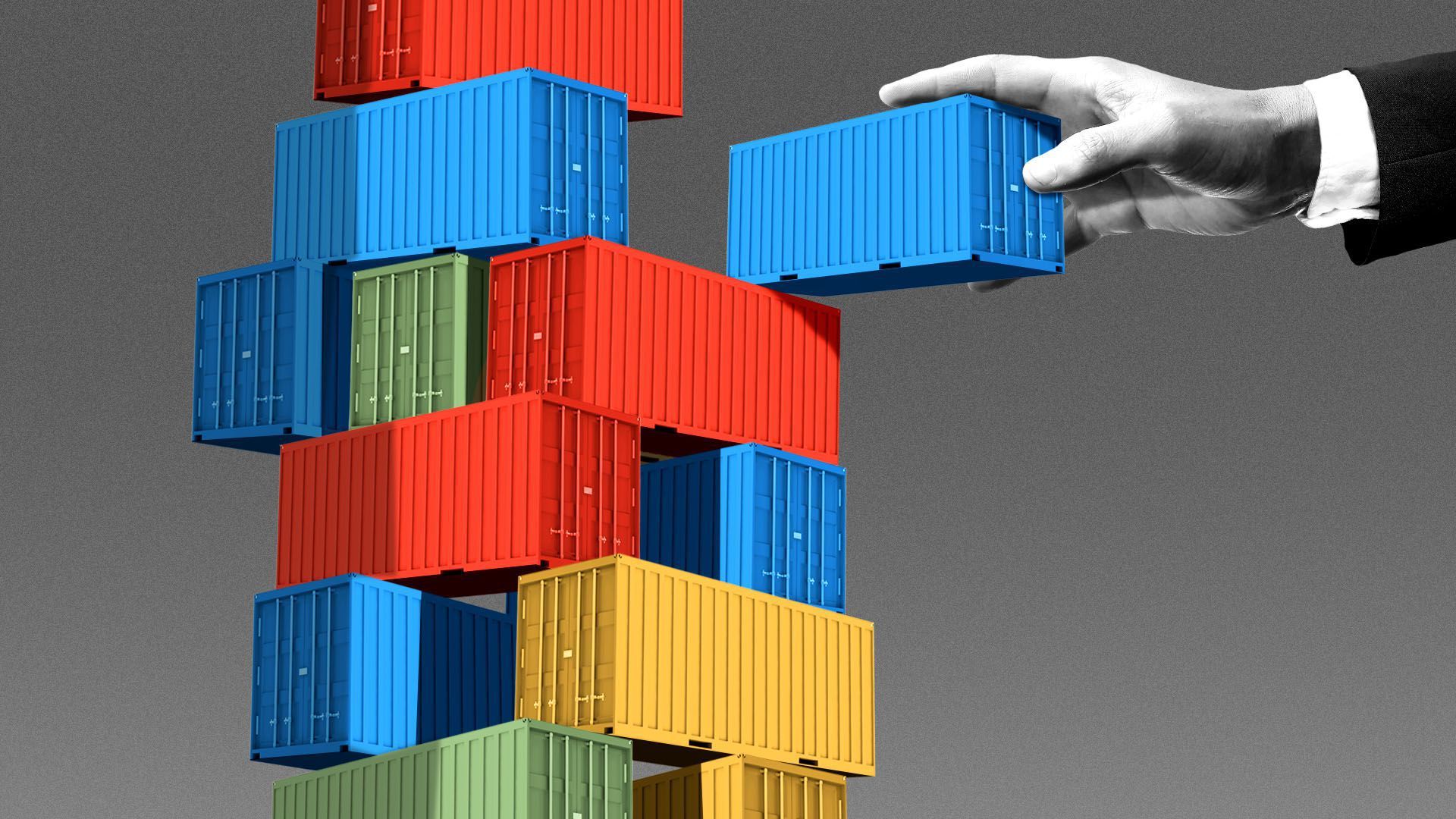 Companies are expecting to deal with more supply chain delays as the year progresses.
Driving the news: For the first time, Home Depot will run its own contracted container ship next month, as it tries to manage logistics more closely.
Why it matters: Retailers are already selling inventory faster than they can restock, and shipping demand will further intensify ahead of the holiday season.
Shipping rates are reaching record highs, with no signs of a pullback.
Maersk, the biggest container-shipping company in the world, warned customers last week to expect an average waiting time of 16-plus days across ports in southern China.
The backstory: Businesses were caught off guard by the spike in consumer demand for products during lockdowns, and are still playing catch up with record order backlogs. Meanwhile, as the economy opens up more broadly, there's even more demand for goods.
A flare-up in COVID cases in southern China has led to new delays in ports in that area, which now represent the biggest backlog in at least two years.
Elsewhere in the supply chain, warehouse and transportation capacity remain tight.
What to watch: The U.S. trade deficit reached a record $74.4 billion in March, a sign of the economy's recovery compared to the rest of the world. 
The U.S. trade deficit with China grew nearly 12%, to $27.7 billion, compared to February.
What they're saying: "[C]learly the trade balance is in favor of China, so that we are full from China and maybe two-thirds full from the U.S.," Maersk CEO Søren Skou told "Axios on HBO."
"For decades, we have been designing supply chains for cost efficiency and lowering inventories," he added. "And now, we all realize we need to have a certain amount of agility and resilience in global supply chains." 
"The biggest thing we saw in the pandemic, was that the fact that we had very little inventory very quickly became a problem."
Go deeper: Global shipping cashes in on pandemic demand
Go deeper