The next big social network: Nextdoor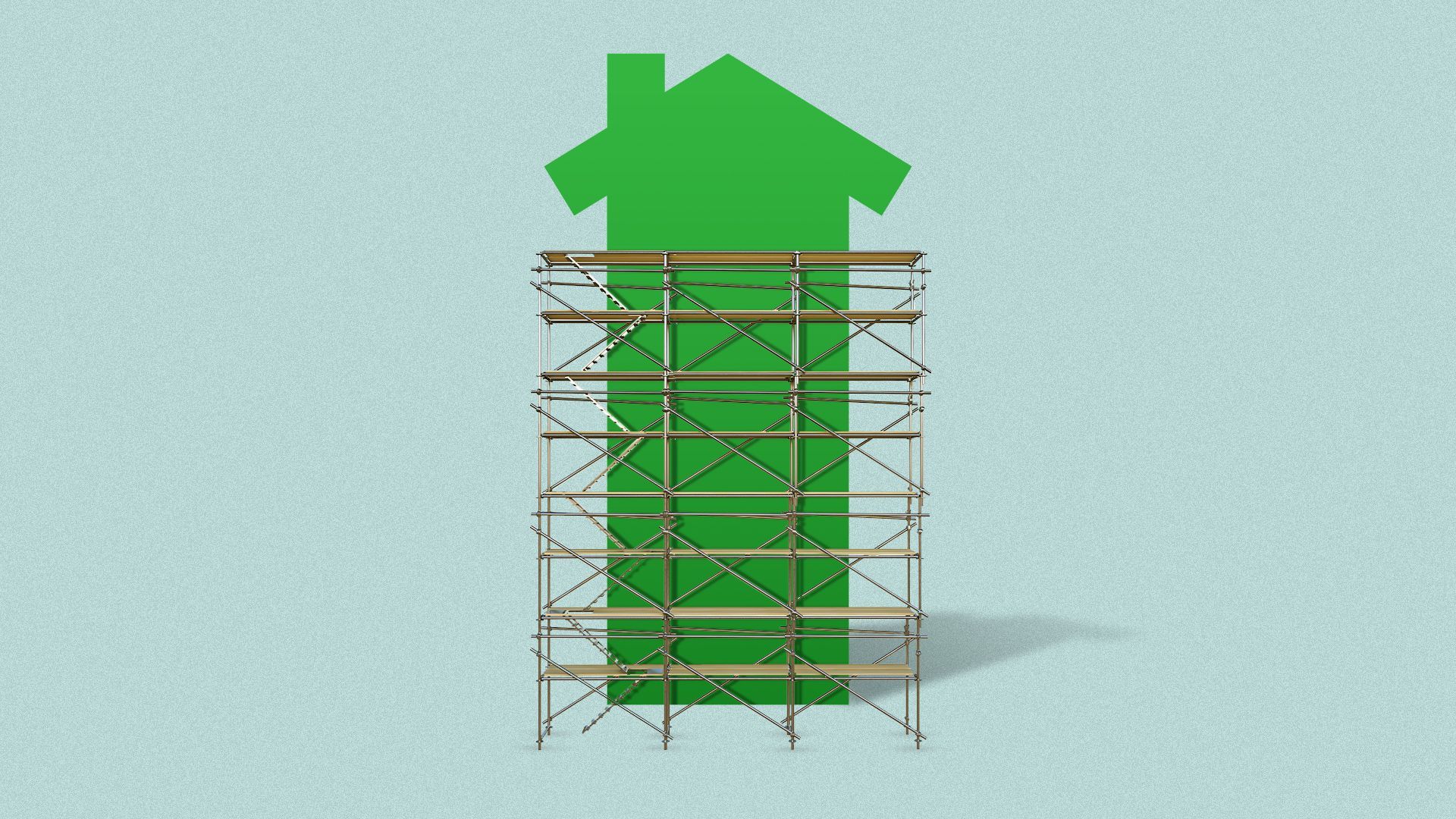 Nextdoor, the neighborhood social network, has seen explosive growth over the past two years as homebound users became more fixated on what was happening on a hyper-local level.
Why it matters: Such rapid growth comes with challenges. What was once a niche social network is now so popular that it's grappling with some of the same thorny problems plaguing Facebook and Twitter, such as content moderation.
By the numbers: Nextdoor says one in three U.S. households are on the platform, up from one in five a year ago.
Last year, the number of daily active users increased 50% year-over-year, the company said.
Worldwide app downloads peaked in mid-2019, with more than 3.4 million downloads, per Apptopia. The U.S. makes up nearly 80% of its mobile app market.
Nextdoor also operates in Canada and 10 European countries, including the U.K., Sweden, Spain, Germany and France.
The big picture: Engagement on the site grew at a fast clip during the pandemic as the social network became a hub for local information about COVID-19, school closures and vaccinations.
Because users must join using their real names and verify their actual addresses, Nextdoor has generally managed to avoid harmful content like rampant misinformation and hate speech.
The conversations tended to center around carpenter recommendations, lost dogs and music lesson offerings — more a digital local bulletin board than a heated global debate.
Then the pandemic hit, followed by George Floyd's murder. Nextdoor's neighborhood networks became microcosms of national tensions. Political divisions, racial profiling and criticism of its content moderation practices seeped in.
For example, last summer the social network came under fire when some moderators removed Black Lives Matter posts and allowed racist comments to remain on the site.
Nextdoor also pulled its controversial "Forward to Police" feature that lets users send posts directly to local police, causing concerns that the tools aided racial profiling.
The site pledged to recruit more Black content moderators and provide bias training to all moderators. There are now 120,000 community reviewers, who volunteer to monitor their neighborhood's discussions.
It also immediately removes certain phrases — such as "white lives matter" —that users have flagged as offensive.
Nextdoor CEO Sarah Friar says the social network is fundamentally different from Facebook and others because it laid out clear conversation guidelines and has had content moderators from the beginning. Friar said she's also making "tough choices" when it comes to increasing engagement on the platform.
"We don't have to go build an army of people who have no context for the conversation. Our army already exists, and it scales as the platform scales," she told Axios.
"We've made a long-term decision that we'd rather not have the spikes on engagement from toxic-type content, so we're going to moderate that, because we think in the long run it creates a much healthier platform that you don't have to go back and fix as we scale."
The diverse nature of neighborhoods means that encountering different views is unavoidable, Friar said.
To promote civility, Nextdoor uses machine learning to detect potentially offensive or guideline-violating comments. It sends users a prompt — like a "kindness reminder" or an "anti-bias notification" — to encourage them to reconsider the post.
Particularly in local news deserts, Nextdoor fills a void. In many cities, local officials and agencies deliver information and messages directly to Nextdoor users.
Neighbors post in real-time if a loud noise is heard down the street, or if a car was broken into a few blocks away. Fire departments, for example, can post updates on incidents, and mayors can send messages directly to the site.
What they're saying: Community members are good at flagging local events or figuring out what's happening on your block in real time, it doesn't replace verified news, said Elia Powers, associate professor of journalism and new media at Towson University.
"When it comes to trying to police misinformation and accuracy of content, you still need someone — preferably a paid community member at a local news outlet — who has a background in fact-checking," he said.
"A lot of what they're doing seems very much like Facebook circa 2013, using unpaid community moderators," said Powers. "It's a red flag."
Friar says Nextdoor has no intention of taking the place of local journalism, but noted the platform can bring together civically minded people.
Nextdoor has also become a big driver of traffic to both national and news outlets. Patch.com is the top site receiving traffic from the site. CBSLocal and a slew of major city media outlets are among the top 50 sites receiving referral traffic from Nextdoor, per Similarweb.
What's next: The company is trying to find ways to sustain the increased engagement — and revenue — as people emerge from the pandemic and leave their neighborhood bubbles.
For example, it is expanding the number of neighborhoods a user can belong to and encouraging participation from local businesses, schools, nonprofits and government agencies. It also revamped its classifieds to drive more engagement and trigger more ads.
"Nextdoor is the place you can plug into the neighborhoods that matter to you," said Friar. "We own the local graph, we own the utility it brings and, with that, driving toward community building."
Go deeper