Big New York hospitals dominate list of hospitals that sue a lot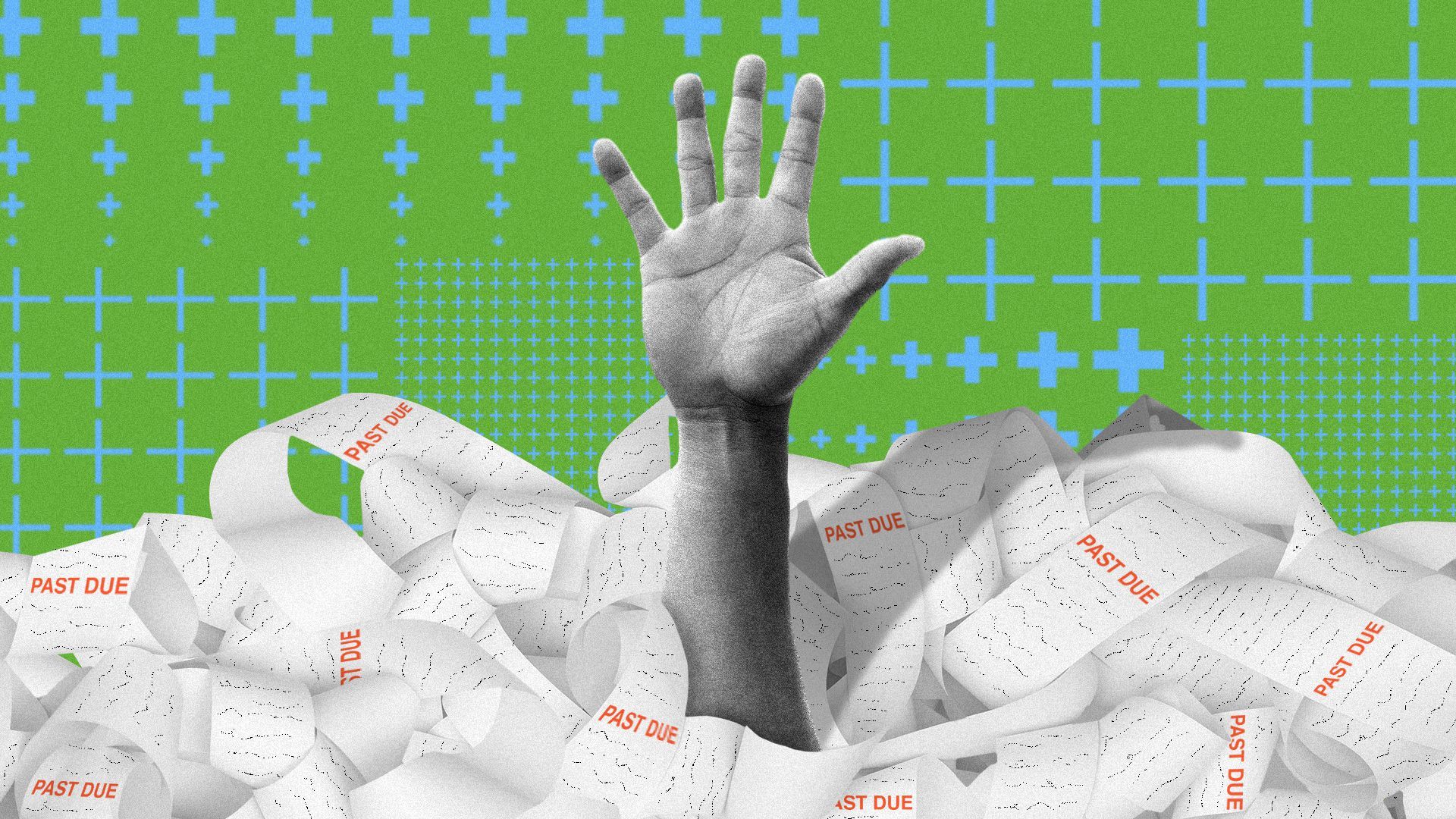 Among large hospitals that sue their patients, those in one state stand out: New York.
What they're saying: "New York was the most aggressive region in the country in predatory billing," said Marty Makary, a Johns Hopkins professor and lead researcher on a new study detailing the billing practices of the 100 largest hospitals in the U.S.
Zoom in: In February 2018, Stephen Swett was out of Suboxone — a medication used to treat opioid addiction — and having withdrawal symptoms. They got so bad that he went to the emergency room at Westchester Medical Center, seeking help.
Swett — a 44-year old truck driver who was uninsured at the time — says he then sat on a gurney until he was discharged. Then, in June of last year, the hospital filed a court summons, the beginning of its attempt to collect the $2,539.43 it said Swett owed for his trip.
Swett didn't argue the facts of the case, and ultimately agreed to a payment plan with the hospital. He'll pay around $110 a month for two years, he said. He currently makes $20 an hour.
"I went there, and it was my responsibility for going there. But at the same time — you don't even take my temperature, you don't do anything, you just basically let me sit, and then you stick me with a bill and take me to court," Swett said. "That's what I didn't feel was right."
By the numbers: Six of the 26 hospitals that JHU researchers found sued their patients were in New York.
Three of the 6 hospitals with the most court actions were in the state, and it's also home to the hospital that sought the largest amount of money: Westchester, which sued patients for a total of $24,020,283.
Between the lines: JHU researchers also looked at the overall billing practices of New York's 261 hospitals.
They found that 51 — or 20% — filed more than 18,000 lawsuits against patients between January 2018 and Dec. 15, 2020.
All but three of these hospitals were not-for-profit, and 42 of them filed lawsuits in 2020 even though many Americans were experiencing exceptional pandemic-related financial crises.
What they're saying: Swett doesn't have an issue, in general, with hospitals suing their patients.
"For the right reasons — how else would the hospitals collect unpaid bills?" he said. "But if things are looked at on a case-by-case basis like mine, how do you come after somebody who you did not help whatsoever?"
Neither Westchester nor the Greater New York Hospital Association responded to requests for comment.
Go deeper