Biden to urge G7 to take unified approach to countering China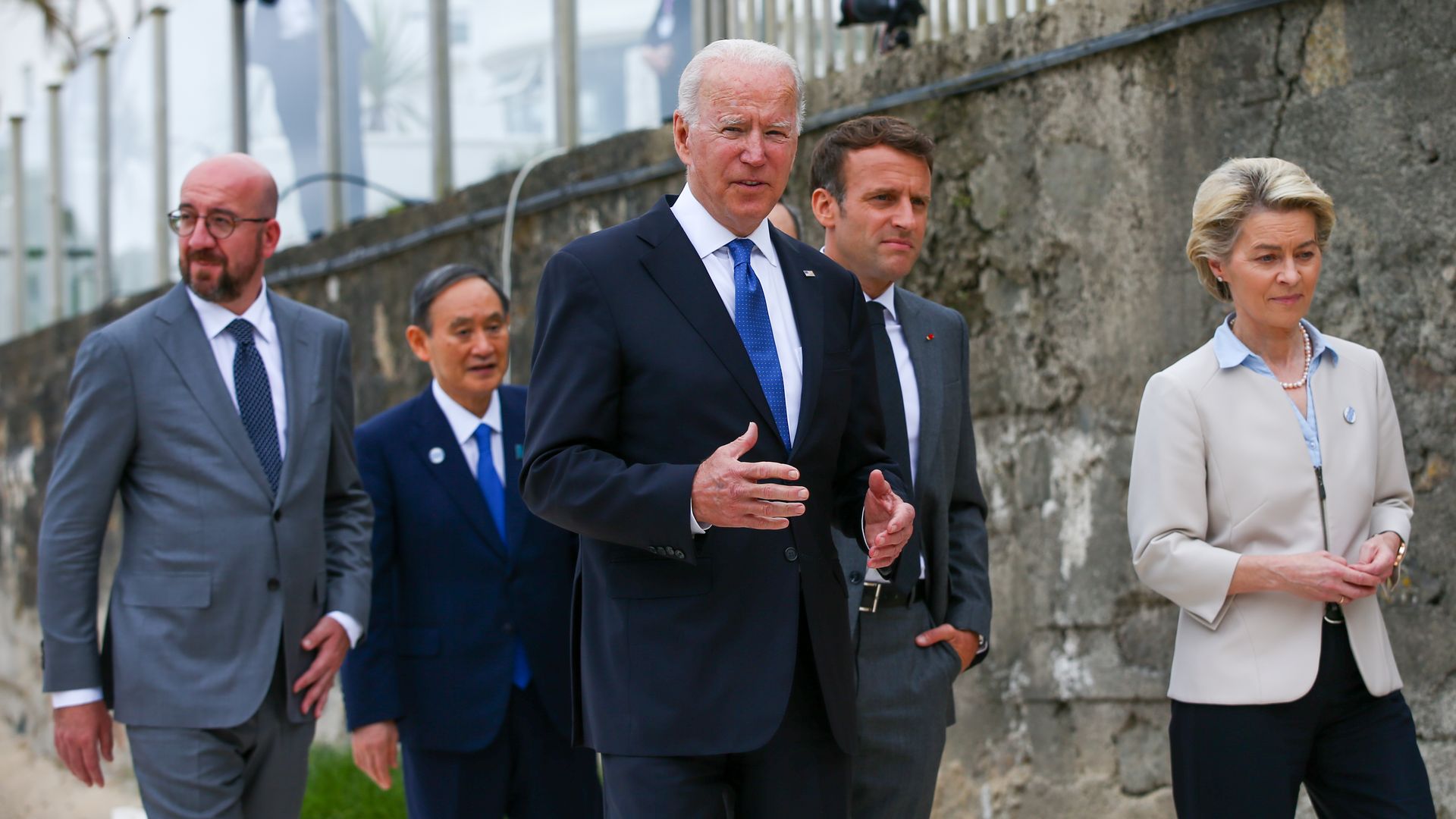 President Biden on Saturday is expected to urge fellow G7 leaders to adopt a unified approach to countering China's rising global influence, AP reports.
Driving the news: The G7 leaders are set to unveil a multi-billion-dollar global infrastructure plan aimed at rivaling Beijing's efforts in the developing world.
The infrastructure plan dubbed, "Build Back Better for the World," has been described by U.S. officials as a "higher quality" alternative to China's multi-trillion-dollar Belt and Road infrastructure project, CNBC notes.
Biden is also expected to press G7 leaders to commit to taking "concrete action" against Beijing's forced labor practices targeting Uyghur Muslims and other ethnic minorities in China, per AP.
The U.S. president will argue the practices are an "affront to human dignity and an egregious example of China's unfair economic competition."
Biden wants criticism of China to be part of the joint communique released at the end of the summit on Sunday, but it's unclear whether the United States' European allies will sign on, AP reports, citing senior administration officials who briefed reporters.
At the start of the summit on Friday, the group pledged to deliver more than 1 billion doses of the coronavirus vaccine to lower-income nations beginning this summer.
The leaders are expected to sign a global pact aimed at preventing other pandemics. "[T]o truly defeat coronavirus and recover we need to prevent a pandemic like this from ever happening again," British Prime Minister Boris Johnson said in a news release Saturday.
The big picture: This year's summit is the first gathering of G7 leaders from the U.S., Canada, France, Germany, Italy, Japan and the United Kingdom since last April.
Go deeper:
Go deeper