Swing voters fear inflation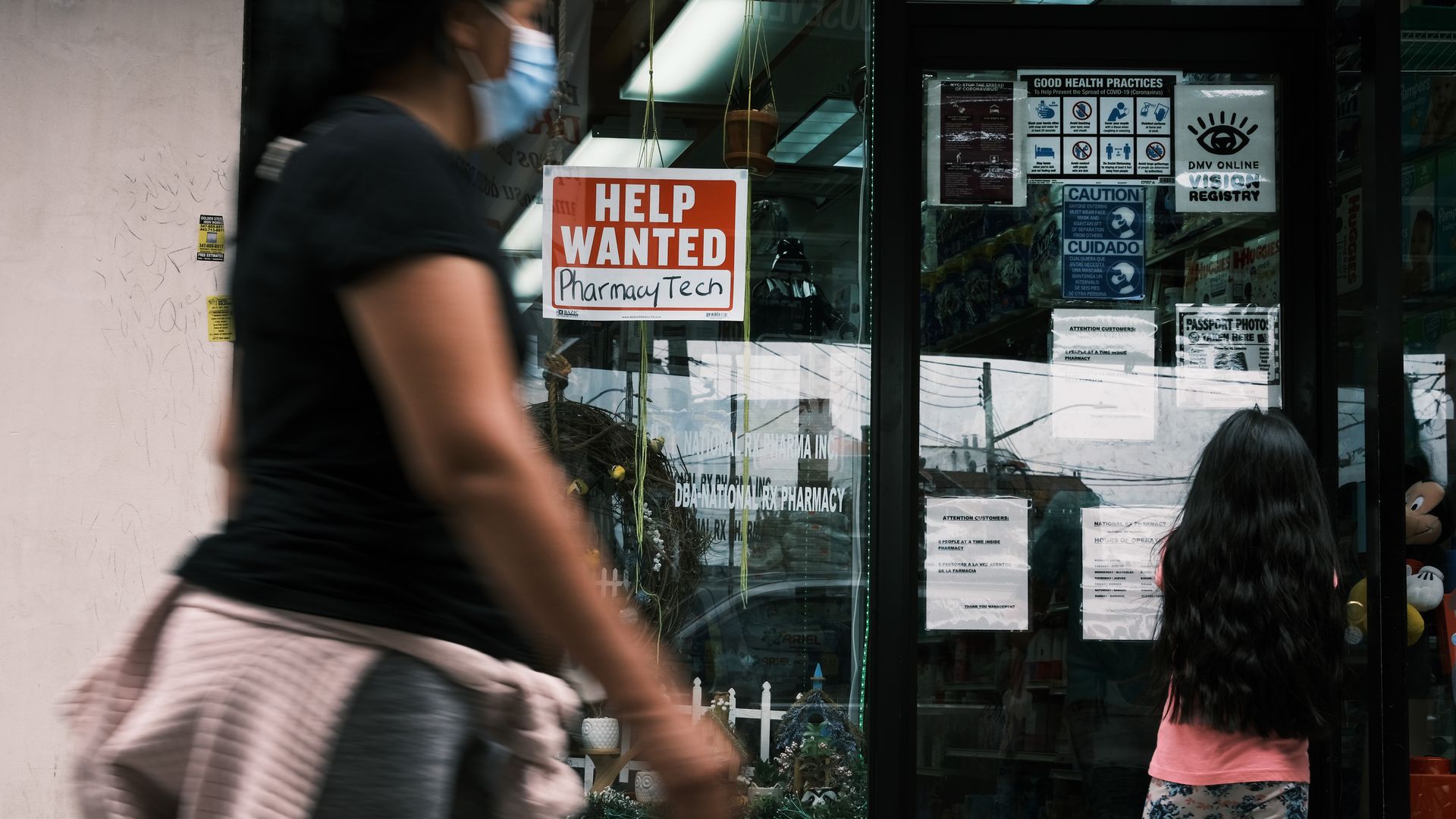 Though restaurants are bustling and signs of life are returning across a nearly post-pandemic United States, swing voters in Axios' latest Engagious/Schlesinger focus group say they feel anxious about the current state of the economy.
Why it matters: Main Street is living a debate being fought in the ivory tower and among economists. Only 3 of 13 voters said they felt the U.S. economy is "booming." The rest expressed fear of an impending crash following the injection of federal stimulus money during the pandemic.
Nearly all the voters (11 of 13) also found believable an assertion made by many businesses: that people are not looking for jobs because they make more from claiming unemployment benefits.
What they're saying: Kelli V. from Seminole County, Florida, was laid off during the pandemic. She resumed work after her employer offered her job back but said it wasn't an easy decision.
"It was really tempting to say 'no,' because I made more from unemployment than I do from my part-time job," she said.
"I know a couple people who didn't lose their jobs but were talking about how they wish they could. They were hoping they would get laid off (to collect unemployment)," said Holly M. from Gwinnett County, Georgia.
By the numbers: Some of voters' inflation concerns are born out in Thursday's data from the monthly Consumer Price Index, which showed that gasoline prices jumped 56.2% from last May.
The increase in the price of food was more modest, rising 2.2%.
The other side: The White House is arguing that most of May's inflation, with the CPI up 5% from last year, appears much scarier than it really is because of the so-called "base effect."
The theory is that today's number compares prices to what they were 12 months ago, when the country was in a pandemic lockdown and many things were cheaper.
"Controlling for base effects by smoothing across the 15 months since February 2020, the rate of CPI inflation was 3%," the Council of Economic Advisers tweeted.
The White House was more interested in touting the lowest level of jobless claims during the pandemic, with 376,000 people filing for first-time unemployment benefits last week, according to the Labor Department.
Go deeper: Two back-to-back focus groups were conducted on June 8 with 13 adults who voted for Donald Trump in 2016 — then Joe Biden in 2020 — and live in the most competitive 2020 swing states.
While a focus group is not a statistically significant sample like a poll, the responses show how some voters in crucial states are thinking and talking about current events.
Inflation and recent increases in the national debt were among most of the voters' chief concerns.
Eight of the 13 voters said they are apprehensive about inflation in their area, citing costs going up in a number of sectors, including groceries, gas, oil and real estate.
10 of the 13 voters are worried about the national debt. They fear tax hikes and believe that Social Security is at stake.
Be smart: Engagious president Rich Thau, who moderated the focus groups, said swing voters think America's economy is "artificially jacked-up, like a first-grader who scarfed down a bag of Sour Patch Kids."
Go deeper