White House confident on economy ahead of CPI report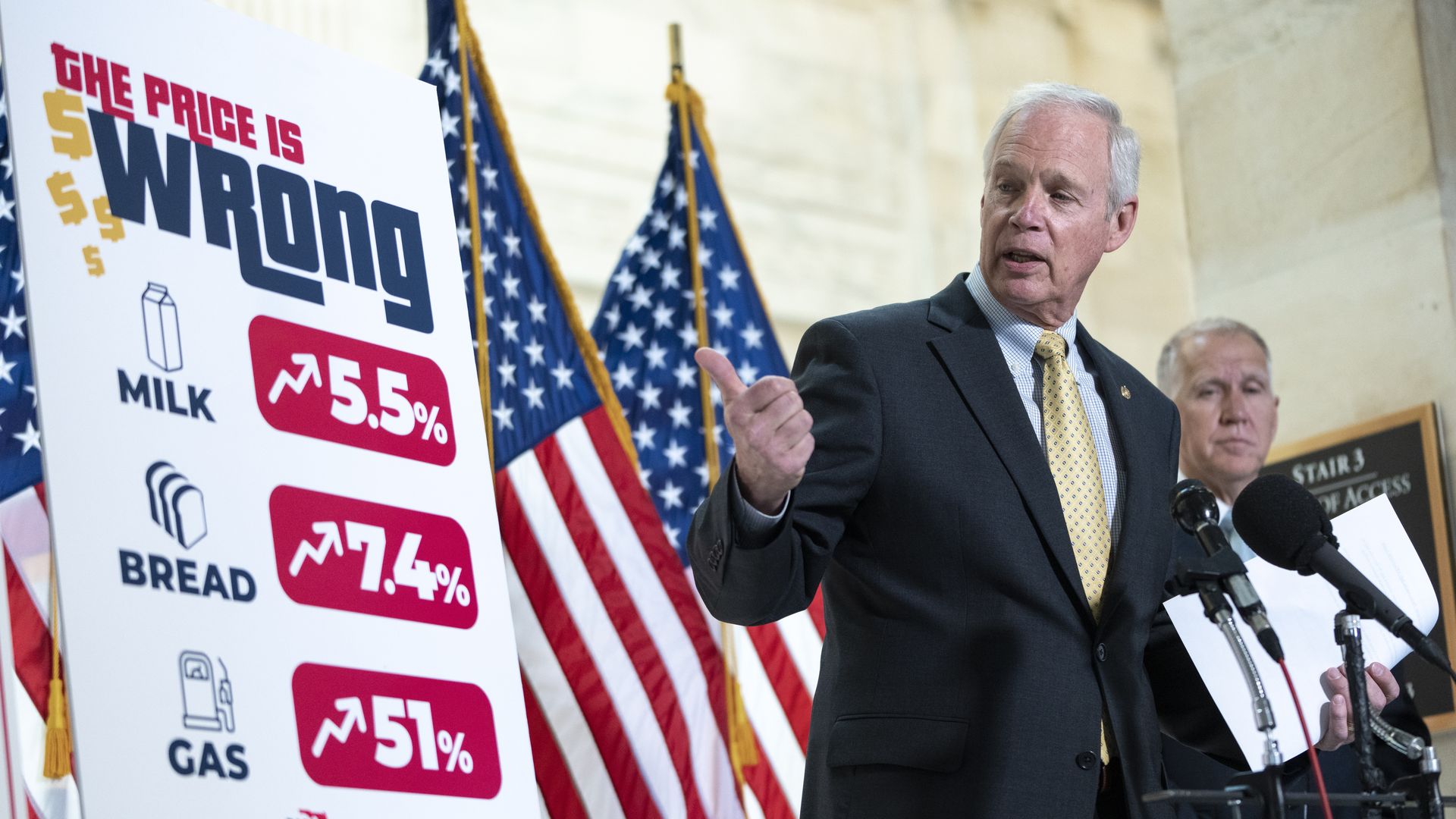 Ahead of Thursday's inflation data, the White House is confident the economic recovery will continue, with sources highlighting recent analysis — including from Goldman Sachs — that inflation will remain transitory.
Why it matters: The monthly release of the Consumer Price Index will add fresh fodder to the debate about whether inflation will be short-term or part of a long-term, and dangerous, cycle. Republican critics are already seizing on the topic.
They argue that President Biden's massive government spending is making everyday items more expensive.
Over the weekend, Treasury Secretary Janet Yellen suggested, for the first time, inflation could reach 3% on a "year-over-year" basis, though she insisted it would be "transitory."
Driving the news: For a growing number of economists, Yellen's 3% figure may be underestimating the potential risk. And inflation may be higher, some warn.
"After (Thursday's) number and the July number, we will very likely have already had 3% inflation in 2021," said Larry Summers, a former Treasury secretary and National Economic Council director for President Obama. "Perhaps at that point, policymakers will be appropriately concerned."
"So far this year, inflation is running at a 6% rate," said Jason Furman, a chair of the Council of Economic Advisers under Obama. "It is likely to moderate ... but likely to be above 3%, and 4% is completely plausible."
Go deeper: Monthly CPI data measure price increases, both on a month-to-month and year-to-year basis. One month's numbers won't settle the debate about the endurance of recent inflation.
For example, in April the cost of an airline ticket rose 10.2%, but that was compared to last April, when virtually no one was flying because of the pandemic lockdown.
Some progressive economists have argued many recent CPI numbers are reflecting that prices are snapping back to their pre-pandemic levels.
"Inflation data are particularly susceptible to cherry-picking," said Austan Goolsbee, who also was a CEA chair under Obama. "Anyone can say, 'But what about the price of salami?' — or something — if it's skyrocketing."
"The most critical thing about inflation is something that cannot be answered in one month's number."
What they are saying: The most accurate forecasters "assign only a 7% chance that inflation will be high next year," former Office of Management and Budget director Peter Orszag wrote in an article the White House highlighted.
Goldman Sachs has written that "there are strong reasons to believe the inflation pickup will … remain transitory."
After factoring in Biden's economic and vaccination plans, the World Bank has estimated U.S. GDP growth at 6.8 % — nearly double its last estimate of 3.5%.
The other side: "Higher recent inflation readings in consumer prices are a cause for concern," wrote Glenn Hubbard, former CEA chair under President Bush.
"I am more worried now than I was two months ago," said Doug Holtz-Eakin, the president of the American Action Forum and former director of the Congressional Budget Office. "So far, we haven't seen core inflation move up sharply, but that's coming."
Go deeper