U.S. shifts tactics to confront China's tech strength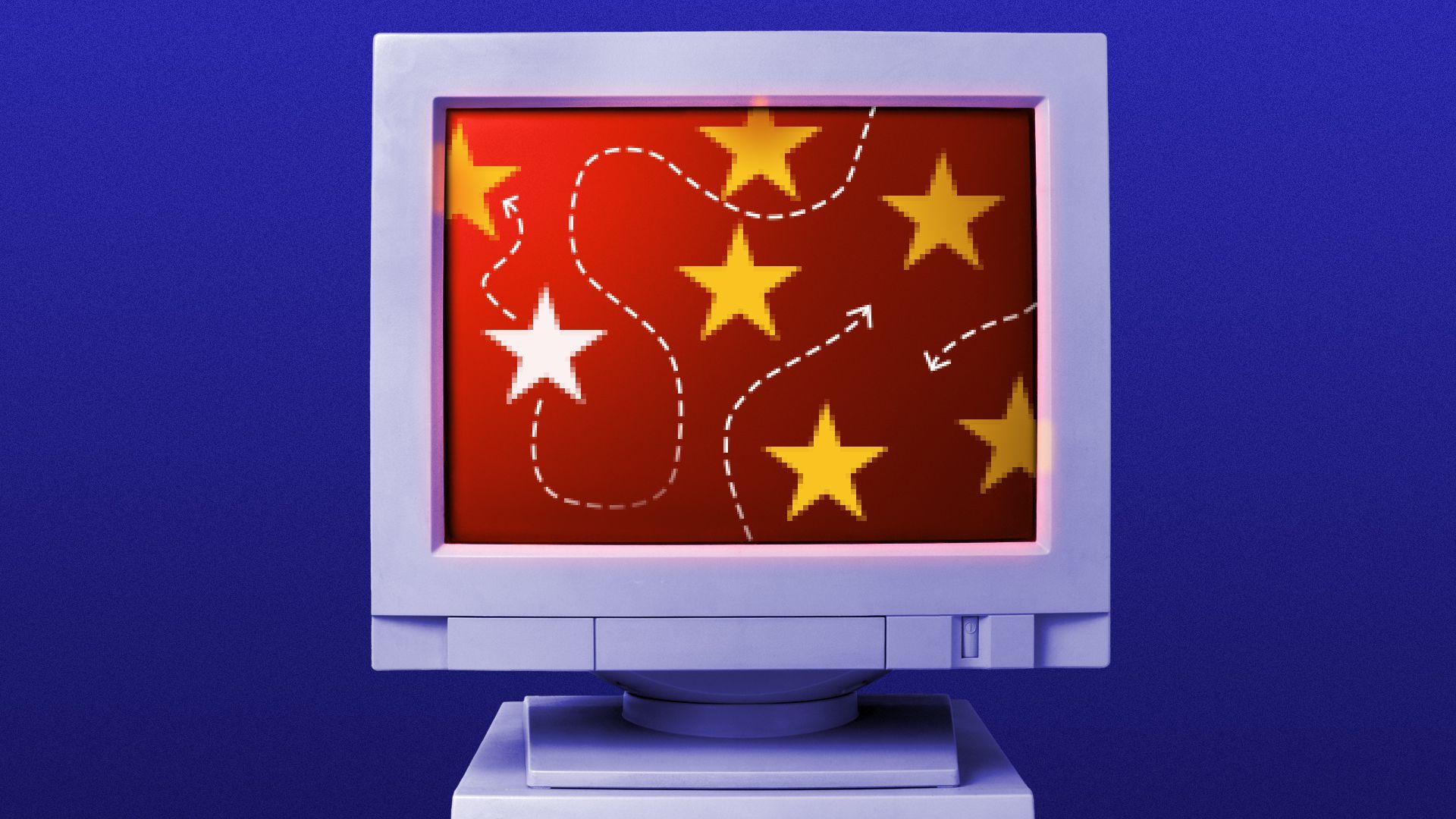 Besting China is one of the very few goals that Democrats and Republicans in Washington can agree on — as a new White House executive order and Senate passage of a new $200 billion bill, both targeting China's tech industry, show.
Yes, but: Where the Trump administration took an impulsive and haphazard approach to banning Chinese companies and products, President Biden is approaching the China rivalry in a more systematic and process-oriented way.
Driving the news:
The Biden administration on Wednesday rescinded Trump-era executive orders that threatened the ability of TikTok and WeChat to operate in the U.S. in their present form, replacing those orders with a new one ordering a wider review of foreign-owned apps under new standards.
On Tuesday, the Senate passed the U.S. Innovation and Competition Act, which authorizes $200 billion to strengthen the chip industry, bolster regional tech hubs, expand the National Science Foundation and establish a new technology directorate.
The big picture: The Biden administration knows China is one of its biggest foreign policy challenges, fraught with business and information security implications."What the administration is trying to do with this [executive order] is say, we're not just going to ban a foreign app or platform. We're going to put out clear, transparent criteria," said Samm Sacks, cyber policy fellow at the New America Foundation. 
"If you're TikTok, and you've gone to great lengths to try to meet a higher bar in terms of your data security practices, it's good news that now there will be a rigorous evidence-based analysis," she said, but there's still a lot of uncertainty for businesses trying to comply with the government's rules.
Between the lines: The Senate spending bill shows areas where the two parties agree on how to counter China's tech success. Reaction to the White House's executive order shows where they differ.
Sen. Marco Rubio (R-Fla.) criticized the new executive order for potentially letting WeChat and TikTok off the hook.
"The Biden Administration cannot ignore the serious threat to personal privacy and U.S. national security posed by high-risk foreign apps," Rubio said in a statement.
What they're saying: Experts say the Trump administration's approach lacked consistency and relied on blunt threats. The Biden White House wants to send a different message that it, too, is tough on China, but also, its actions will hold up in court and it will keep allies in the loop.
"In some cases, [the White House] may have found that the approach taken by the last administration was not legally sustainable," said Aimen Mir, a partner at Freshfields Bruckhaus Deringer and a former Treasury official. "Instead, they are taking a more technical, evidence-based approach."
China's position as a major U.S. trading partner but also as "a strategic competitor and military threat" hangs over this debate, Mir said. "With the ever increasing importance of commercial technologies to national and economic security, is any real competition from China not going to be viewed as a national security threat? That is a difficult basis for maintaining a productive economic and stable security relationship."
Chinese tech equipment firm Huawei, which has been at the center of U.S. sanctions, has bemoaned fluctuations in rules for doing business in the U.S. over the last four years. The company also blasted what it sees as the U.S. government's conflation of economic and national security issues.
"I'm not convinced that this has much to do with sensitive data, rather than just restrictive practices to try and limit the growth of other applications in other countries," Huawei's John Suffolk said in a briefing with reporters Wednesday.
Go deeper