Team Biden tiptoes around vaccine-for-migration cooperation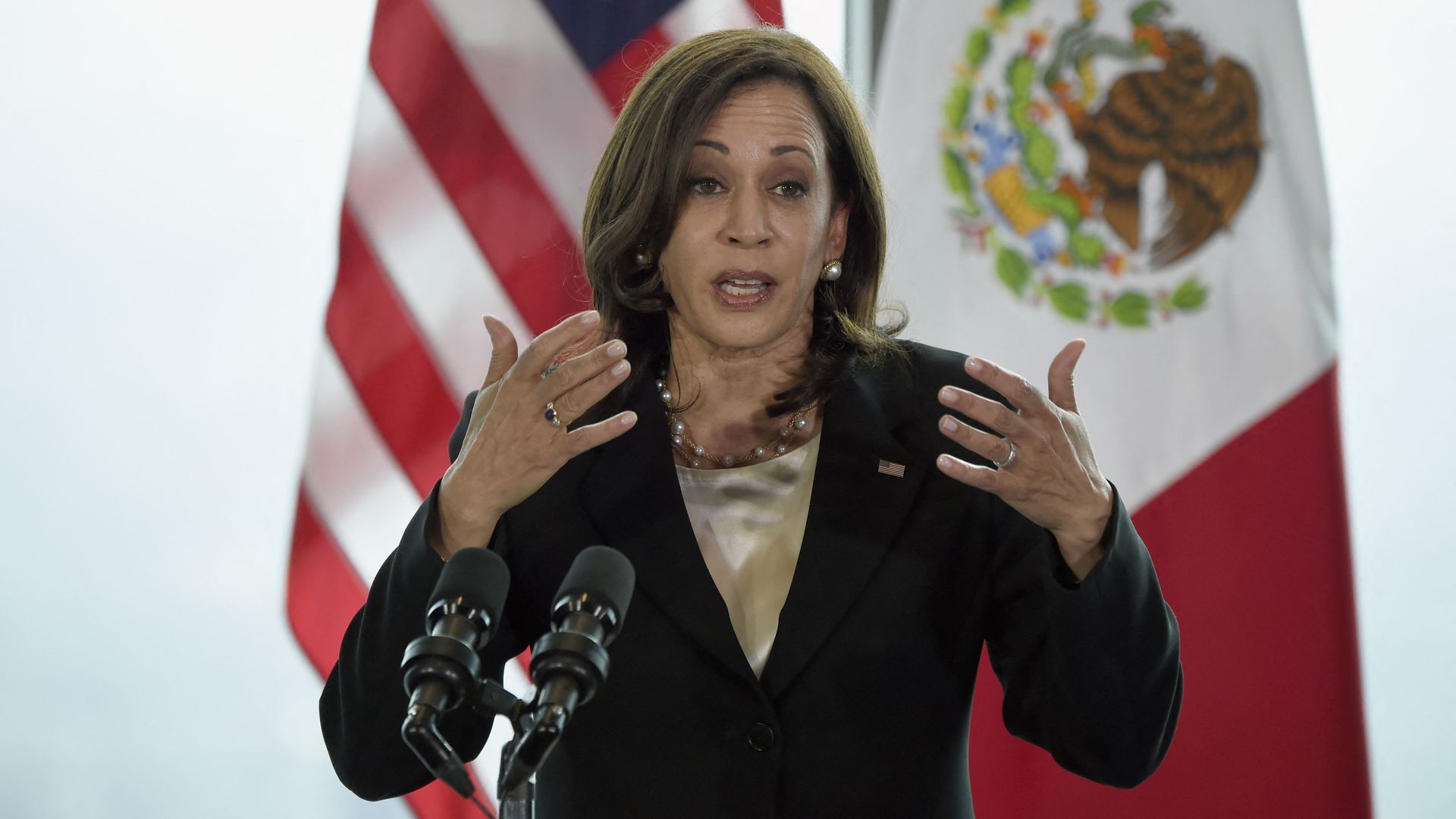 Vice President Kamala Harris headed back to the U.S. after two days of high-level meetings in Guatemala and Mexico about corruption, human trafficking and migration, but one subject was only briefly touched upon: coronavirus vaccines.
Why it matters: Migrant apprehensions at the U.S.-Mexico border remain near 20-year highs. Harris is charged with trying to resolve the root causes for people leaving Central America, issues oftentimes exacerbated by COVID-19 in recent months.
Nonetheless, the administration has been careful to avoid the appearance of a vaccine quid pro quo that critics suggest is being used by China, Russia and other vaccine producers.
"It's important to mention here that when we're talking about vaccine distribution, it is something that has been done by the public health professionals, and it's not being done in exchange for some sort of political agreement," Mazin Alfaqih, special adviser to the vice president for the Northern Triangle, told reporters traveling with Harris.
A former Trump administration official who worked in the region told Axios it's a missed opportunity. Vaccines could be hugely effective in leveraging cooperation, he argued.
"If you're serious about stopping migration, they should give these countries vaccines to allow their people to go back to work," said Carlos Trujillo, who served as U.S. ambassador to the Organization of American States.
In his conversations with Mexican and Central American officials, they most often complain about the need for vaccines, Trujillo said.
What they're saying: President Biden announced last week his administration would dole out 25 million vaccine doses to South and Central America, Asia, Africa and other countries before the end of the month.
Three quarters will be distributed through the United Nations-backed COVAX program, while the remainder will be shared through direct, bilateral arrangements.
During her trip, Harris mentioned 500,000 doses being provided to Guatemala.
Her spokesperson, Symone Sanders, also told reporters "vaccines are on the table for discussion" before the vice president met with Guatemalan President Alejandro Giammattei, a pool report said.
Between the lines: While the administration has tried to avoid appearing to use vaccine distribution to coerce cooperation on migration, cause and effect can be hard to discern.
Shortly after the U.S. announced in March it would provide 2.5 million vaccine doses to Mexico, additional Mexican troops were sent to its southern border and the country to stem the flow of illegal migrants.
Mexican officials also announced Friday they would use 1 million vaccine doses provided by the U.S. for people at the country's northern border "with the aim of getting border transportation back to normal."
In some cases in which the U.S. has been slow to provide vaccines, China has stepped in.
The president of El Salvador publicly thanked China for supplying doses in April.
Last month, despite his country's ties to Taiwan, the president of Honduras said he would consider opening a trade office in China to get coronavirus shots, Reuters reported.
Nearly every country in Latin America has already ordered doses from Russia, China or both. Only now are doses from the United States starting to become available.
Go deeper