Free music streaming app Trebel going public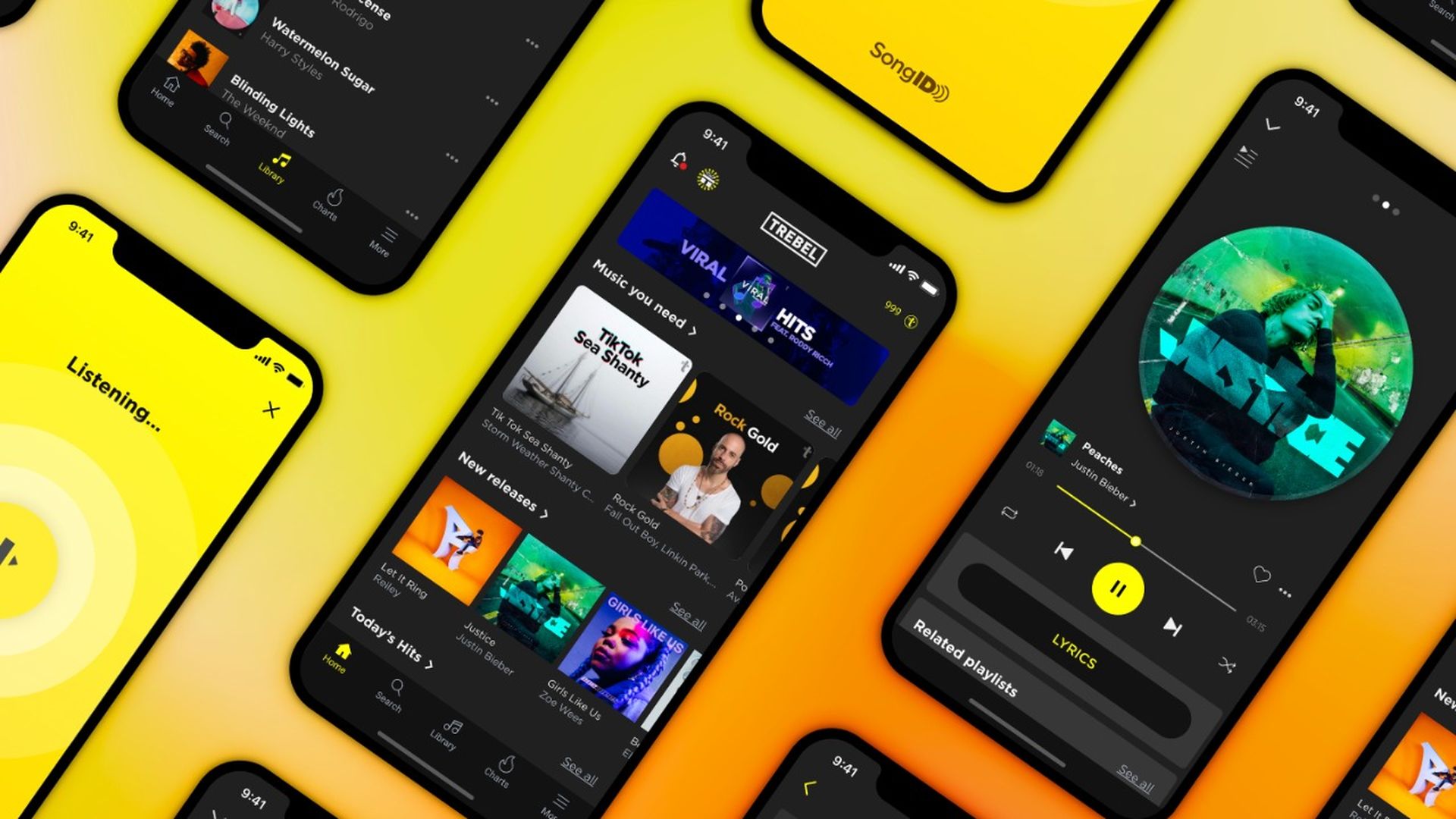 Three-year-old music startup Trebel, whose app allows users to listen to music for free on-demand and offline, is going public via a Regulation A+ offering, according to a new SEC filing.
Why it matters: The company differentiates itself from other music streamers by letting consumers listen to music for free on-demand and offline with ads — a game-changer for people in developing markets.
How it works: Trebel makes money off advertising and shares that revenue with artists and record labels, explains Trebel CFO Bob Vanech.
It's also starting to build a business where brands can sponsor an ad-free, premium music listening session for a user in exchange for consensual data from the user, often shopping data.
Trebel currently works with Uber Eats in Mexico to give users a certain amount of ad-free listening days sponsored by Uber Eats in exchange for giving Uber Eats information about users' food orders, with their consent.
The company has a patent that allows it to market itself as the only music service globally in which users can download music and listen to it on-demand and offline for free.
Driving the news: Billionaire fashion retailer Chris Burch will commit to an investment of $250,000 to Trebel as it goes public. Burch tells Axios that after meeting with the team's leadership, "I came to believe that they had the experience, intuition and drive to succeed in an ever more complicated world."
Be smart: Right now the company is focused on serving users who are not likely to pay for a premium paid music subscription, which differentiates it from the likes of Spotify or Apple Music.
"We're going after a market that is five times the size of the paid subscription market," said Kevin Mills, Head of Latin America Operations at Trebel.
"Goldman Sachs estimates that by 2023 there will be 690 million subscribers. That leaves some 4 billion people looking for an alternative ... Our total addressable market is enormous," he said.
The big picture: Trebel hopes to bring a new business model to the music streaming industry.
Executives tell Axios that Trebel has struck relationships with all three of the largest record labels — Sony Music, Warner Music Group and Universal Music Group — to offer 100% of their catalogs at no cost to users in exchange for a cut of the revenue that Trebel makes from ads and promotional partnerships.
By the numbers: The company currently has more 3 monthly active million users, most in Mexico. It's currently in talks with record labels to expand to countries in South America, including Brazil, Colombia, and Argentina.
In May, Trebel surpassed Spotify as the #1 app in Mexico's Google Play store in the free music category.
Based on December 2020 revenue, the company's annual revenue run rate is $4 million, executives say. It's not yet profitable. The company is putting most of its earnings into growing the company, including marketing.
It currently has about 50 employees worldwide.
What to watch: Sources say that a current c-suite level executive at one of the three major record labels will be joining Trebel full time as president in July.
The bottom line: "We developed a system and a patented business model to address the needs of billions of music listeners for whom music is medicine and having access to their music on-demand and offline is not a luxury, but a necessity," says co-founder and CEO Gary Mekikian in the new SEC filing.
Go deeper