Scoop: Illegal border crossings most in over decade — with four months to go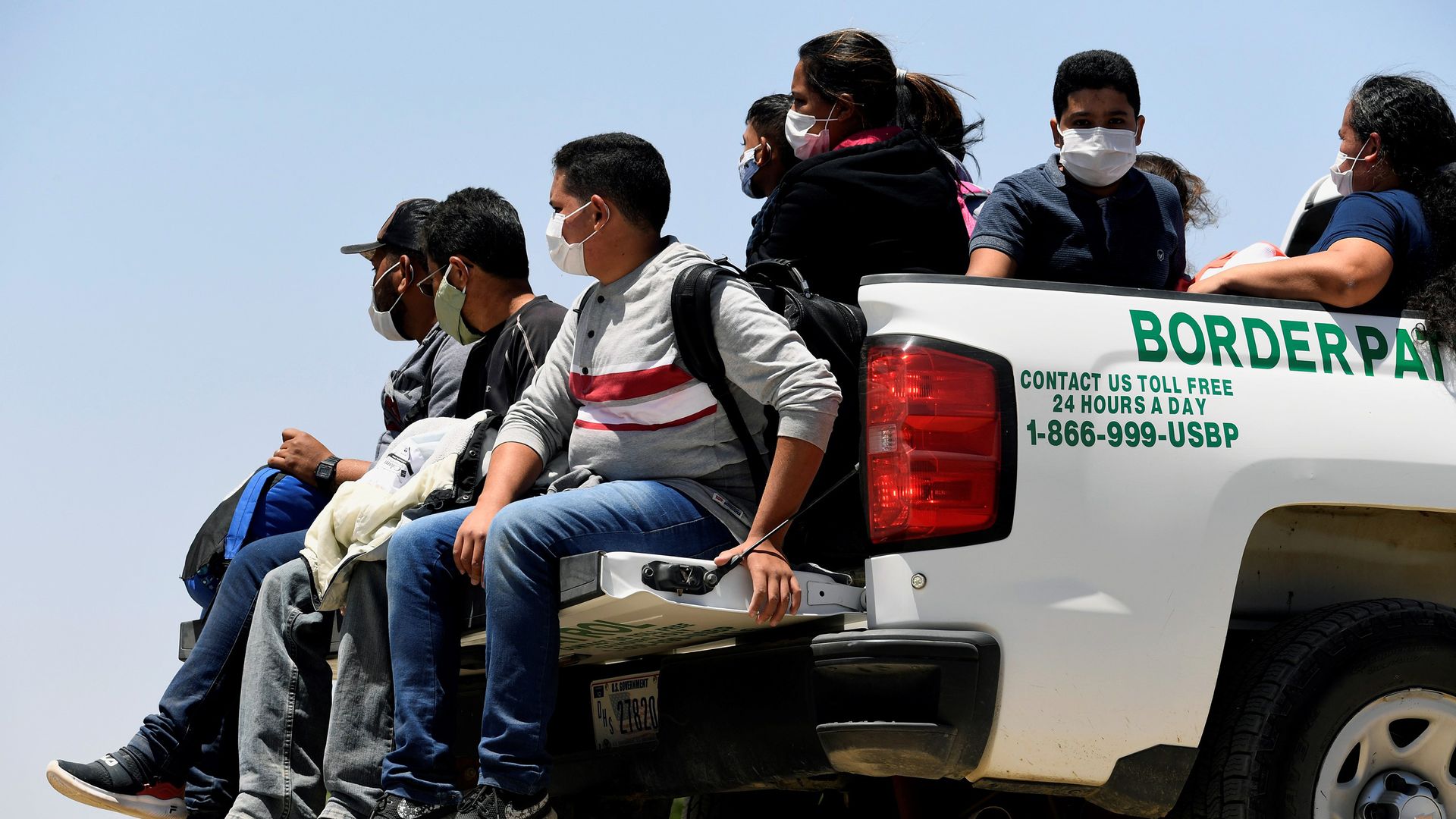 The number of migrants illegally crossing the U.S.-Mexico border this fiscal year is already the most since 2006 — with four months left to go, according to preliminary Customs and Border Protection (CBP) data obtained by Axios.
Why it matters: The numbers quantify a lingering problem. Nearly 900,000 migrants were stopped by the Border Patrol from Oct. 1 to May 31. There also were more than 170,000 apprehensions last month — in line with 20-year records set in March and April.
In addition, there continue to be significant numbers of migrants from more distant nations such as Ecuador, Venezuela, Cuba and Haiti, the data show.
The big picture: The Biden administration has successfully managed to quickly release unaccompanied minors from Border Patrol stations after a backup forced thousands to wait for days earlier in the year.
It also has managed to slowly decrease the total number of kids being held in shelters run by the Department of Health and Human Services.
Still, despite these efforts and the continued use of a Trump-era public health order to quickly turn back families and adults to Mexico, migrants continue to flock to the border.
Some migrants make multiple attempts to illegally cross the border — especially those kicked back to Mexico under the public health order. They are counted each time they are apprehended by Border Patrol.
By the numbers: The majority of border-crossers continue to come from Mexico (more than 40%) and the Northern Triangle countries of Guatemala, Honduras and El Salvador.
That said, some Border Patrol sectors in the southwest United States are seeing far more people from other, more distant nations.
In just five sectors, more than 32,000 Ecuadorians have been encountered at the U.S.-Mexico border this fiscal year. About 13,000 Brazilians have been stopped in the Yuma, Arizona, sector alone, on top of about 7,000 in two other sectors, according to the data.
There were fewer than 40,000 migrants not from Mexico, Guatemala, Honduras or El Salvador encountered by border officials for the entire fiscal year of 2018.
Between the lines: It's unclear from the preliminary data the exact number of migrants who attempted to cross the border originating from countries other than Mexico and the Northern Triangle, but it could be more than 50,000.
What to watch: Vice President Kamala Harris was in Guatemala on Monday before traveling to Mexico for meetings Tuesday as she leads the administration's effort to address the root causes of this migration.
They include crime, government corruption and lackluster responses to natural disasters and the coronavirus pandemic throughout the Northern Triangle.
The administration also is asking Mexico to ramp up its own migration enforcement and take in more families rejected by the U.S. under the public health order, BuzzFeed reported.
Go deeper