May jobs report to frame debate on Biden's spending plans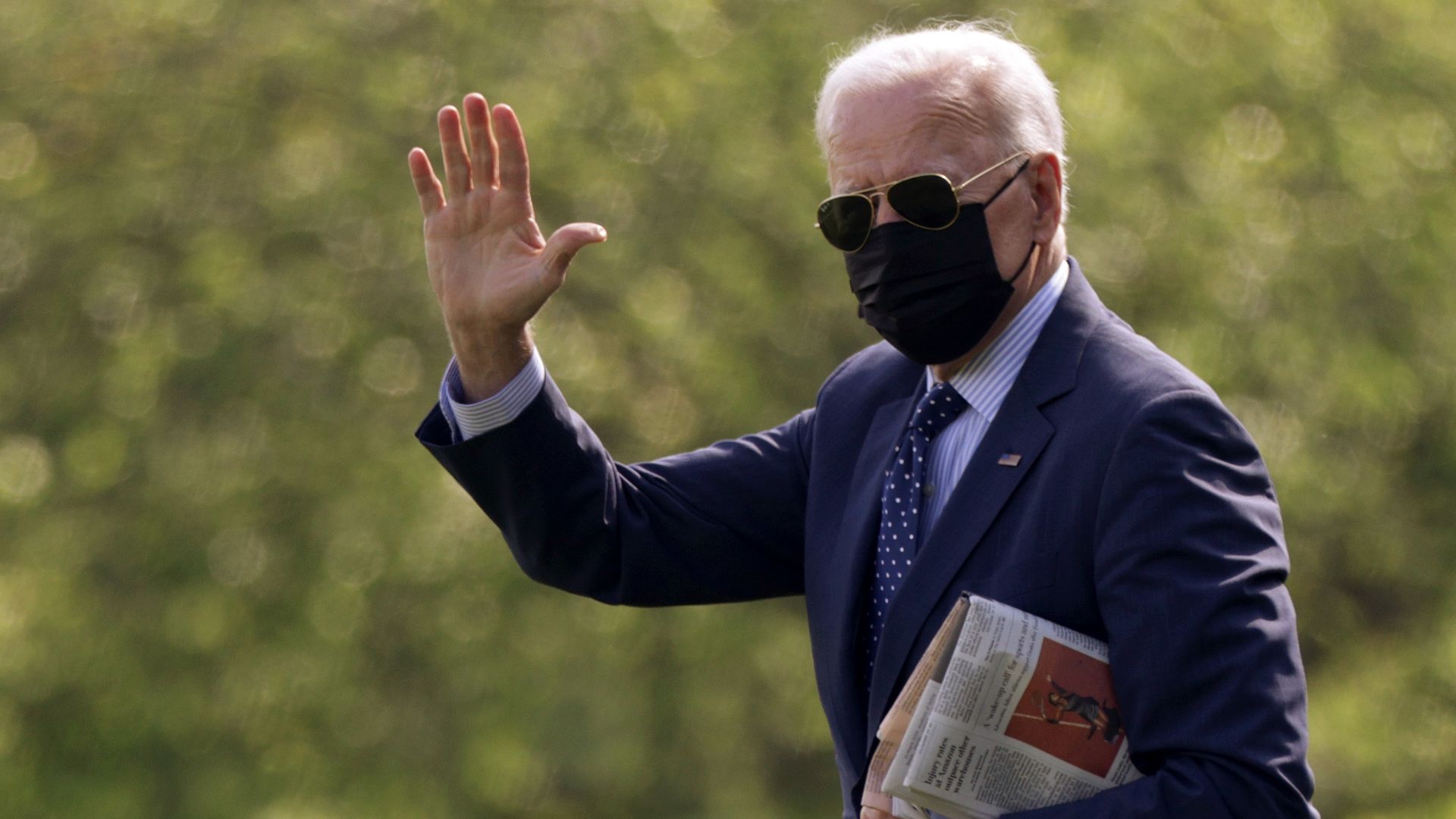 Democrats and Republicans are preparing to seize on today's jobs numbers to argue for — or against — Biden's proposal for $4 trillion in infrastructure and social safety net spending.
Why it matters: Like early in the Obama administration, the job report is serving as a monthly assessment of the president's economic policies.
In Biden's case, the efficacy of his $1.9 trillion relief bill will be on the line, with economists estimating an increase of 671,000 jobs, after last month's disappointing 266,000.
Biden raised expectations for the report Thursday afternoon when he touted the latest weekly jobless data, tweeting: "Unemployment claims are down 50% and 64% of adults are vaccinated since I took office. That's progress."
Behind the scenes: The jobs report includes the total number of jobs added or lost, as well as the unemployment rate. It's typically delivered to the president the night before its 8:30 a.m. release, with a crisp memo prepared by the Council of Economic Advisers, highlighting trends and flagging warning signs.
President Obama tended to avoid appearing in public on Thursday night ahead of jobs day, lest his demeanor betray either positive or negative news.
President Trump wasn't as disciplined and rarely followed a regulation that forbids government officials from commenting on market-moving data for 60 minutes.
In June of 2018, Trump jolted financial markets with a pre-release tweet at 7:21 a.m.: "Looking forward to seeing the employment numbers at 8:30 this morning."
Biden officials follow the regulations and won't appear on the financial news networks before 9:30 a.m.
Between the lines: Biden himself said he consumed some of the cable commentary on last month's numbers while "I was getting dressed."
Flashback: In response to those less-than-stellar April numbers, Biden himself went to the cameras and pleaded for more time.
"When we passed the American Rescue Plan, I want to remind everybody, it was designed to help us over the course of a year — not 60 days, a year. We never thought that, after the first 50 or 60 days, everything would be fine," he said from the East Room.
What to watch: The political conversation will focus on the headline jobs number and the unemployment rate, which is estimated to drop to 5.9% from 6.1%.
Republicans will jump on any number that misses expectations as evidence that Biden's $1.9 trillion infusion didn't actually bolster the economy.
Economists will want to look under the hood for any signs of inflation and will eye how much average hourly wages increased. Estimates are for a 0.2% increase.
Investors will try to view the jobs report through the lens of the Fed, and may assume that a stronger-than-expected number could lead the central bank to accelerate its timetable for tapering asset purchases. That would likely lead to a drop in the stock market.
The bottom line: May's number — like all jobs reports — will look backwards.
But it will help frame the debate for how effective Biden's first tranche of spending was — and how much more spending the economy needs.
Go deeper