Facebook sets Trump ban at two years in response to Oversight Board ruling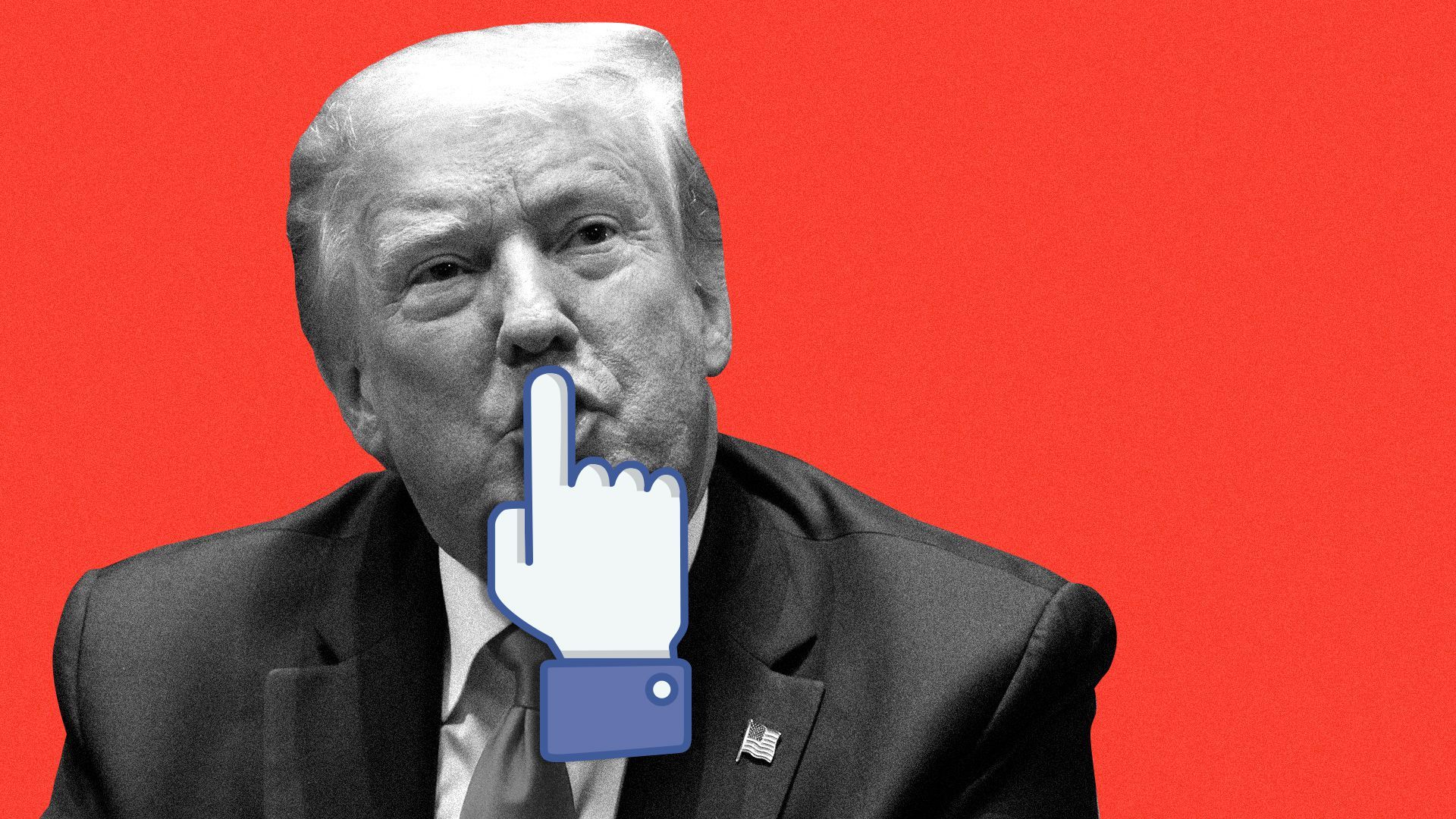 Facebook on Friday said it will ban former President Trump from its platform for two years, and announced new policies for how it will handle speech from prominent politicians moving forward.
Why it matters: The decision will bar Trump from using the platform for the next two years as he prepares to launch a potential 2024 presidential campaign.
Catch up quick: The decision comes in response to guidance from Facebook's Independent Oversight Board, which criticized the tech giant last month for using an arbitrary punishment to penalize the former president.
Facebook's policies call either for limited timed suspensions or permanent account removals, not indefinite suspensions.
Facebook asked the Oversight Board to evaluate its decision to indefinitely ban Donald Trump following the Capitol siege on Jan. 6.
The Board said last month that Facebook needed to either ban Trump's accounts on Facebook and Instagram permanently, or set a time limit for which they would be suspended.
Details: In a blog post responding to the Board's policy recommendations, Facebook's head of global policy Nick Clegg said the company would suspend Trump's accounts for two years, effective from the date of the initial suspension on Jan. 7 of this year.
Clegg said that the company decided to implement a two-year suspension for severe policy violations because it needs to be long enough "to allow a safe period of time after the acts of incitement," and "significant enough to be a deterrent to Mr. Trump and others from committing such severe violations in future."
He also said Facebook thinks the two-year timeline needs to be proportionate to the gravity of the violation itself.
What to watch: At the end of the two-year period, Clegg said Facebook will look to experts "to assess whether the risk to public safety has receded."
Clegg said the tech giant will evaluate external factors, "including instances of violence, restrictions on peaceful assembly and other markers of civil unrest."
"If we determine that there is still a serious risk to public safety, we will extend the restriction for a set period of time and continue to re-evaluate until that risk has receded," he added.
When the suspension is eventually lifted, Clegg said Facebook will implement a strict set of "rapidly escalating sanctions" that will be triggered if Trump "commits further violations in future, up to and including permanent removal of his pages and accounts."
Between the lines: Facebook also said it would implement some of the Board's broader policy recommendations around handling speech from politicians.
Facebook on Friday said it will no longer give politicians special exemptions from its content rules, a huge departure from its years-long policy of treating politicians' speech differently from everyday users.
It will for the first time make public its "strikes system" for policy violations so that users understand how close they are to being penalized by the platform.
It will also start disclosing when it uses a "newsworthiness" exemption in its quarterly transparency reports.
The Verge first reported some of Facebook's new policies Thursday, a day before they were announced.
The Oversight Board said Friday that it's reviewing Facebook's response and will offer further comment once that review is complete.
Be smart: Facebook wasn't expected to deliver a decision on Trump's ban Friday, as the deadline for the tech giant to decide was Nov. 4. It was, however, required by Friday to respond to policy recommendations by the Oversight Board around politicians and free speech.
Trump called Facebook's ruling Friday "an insult" to the people who voted for him.
"They shouldn't be allowed to get away with this censoring and silencing, and ultimately, we will win. Our Country can't take this abuse anymore!" he said in a statement.
The bottom line: These new rules will make it much harder for politicians to get away with controversial posts. As Clegg noted, they are also meant to serve as a deterrent against politicians violating Facebook's policies in the future.
Go deeper:
Editor's note: This article has been updated throughout.
Go deeper