Report: Prosecutors investigating whether Gaetz obstructed justice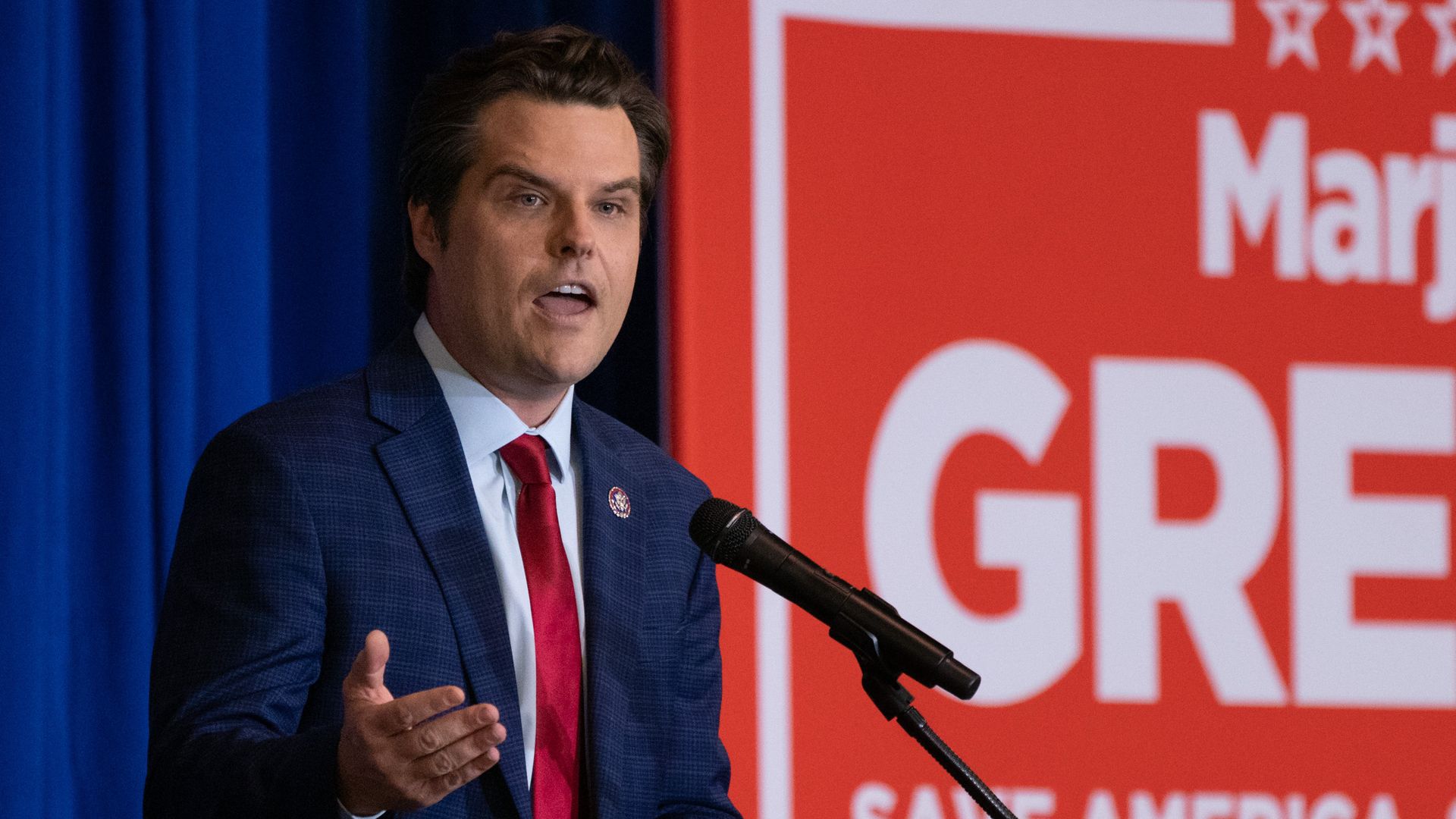 Rep. Matt Gaetz (R-Fla.) denies he's obstructed justice after Politico reported late Wednesday that federal prosecutors are looking into the allegation as part of a sex crimes investigation.
Driving the news: Per Politico, the obstruction of justice inquiry centers on a call Gaetz had with a witness in the Department of Justice case against Joel Greenberg, a former associate of the congressman, who's pleaded guilty to charges including sex trafficking a 17-year-old girl and wire fraud.
At some point during the conversation, Gaetz's former girlfriend "patched" him into the call with the witness, Politico reports, citing sources familiar with the case.
"While it's unknown exactly what was said, the discussion on that call is central to whether prosecutors can charge Gaetz with obstructing justice, which makes it illegal to suggest that a witness in a criminal case lie or give misleading testimony," according to Politico.
For the record: Gaetz has not been charged with any crimes and has repeatedly denied allegations of being sexually involved with a 17-year-old and claims that he shared naked images of women with other Congress members.
He told Axios' Jonathan Swan in March that the investigation is "rooted in an extortion effort against my family for $25 million."
What they're saying: "Congressman Gaetz pursues justice, he doesn't obstruct it," a spokesperson for Gaetz said in a statement to Politico in response to the latest report.
"The anonymous allegations have thus far amounted to lies, wrapped in leaks, rooted in an extortion plot by a former DOJ official. After two months, there is still not a single on-record accusation of misconduct, and now the 'story' is changing yet again."
Representatives for Gaetz and the DOJ did not immediately respond to Axios' request for comment.
Go deeper: Rep. Gaetz declares he's "not going anywhere" amid sex trafficking probe
Go deeper