Biden eyes 15% minimum corporate tax rate to pay for infrastructure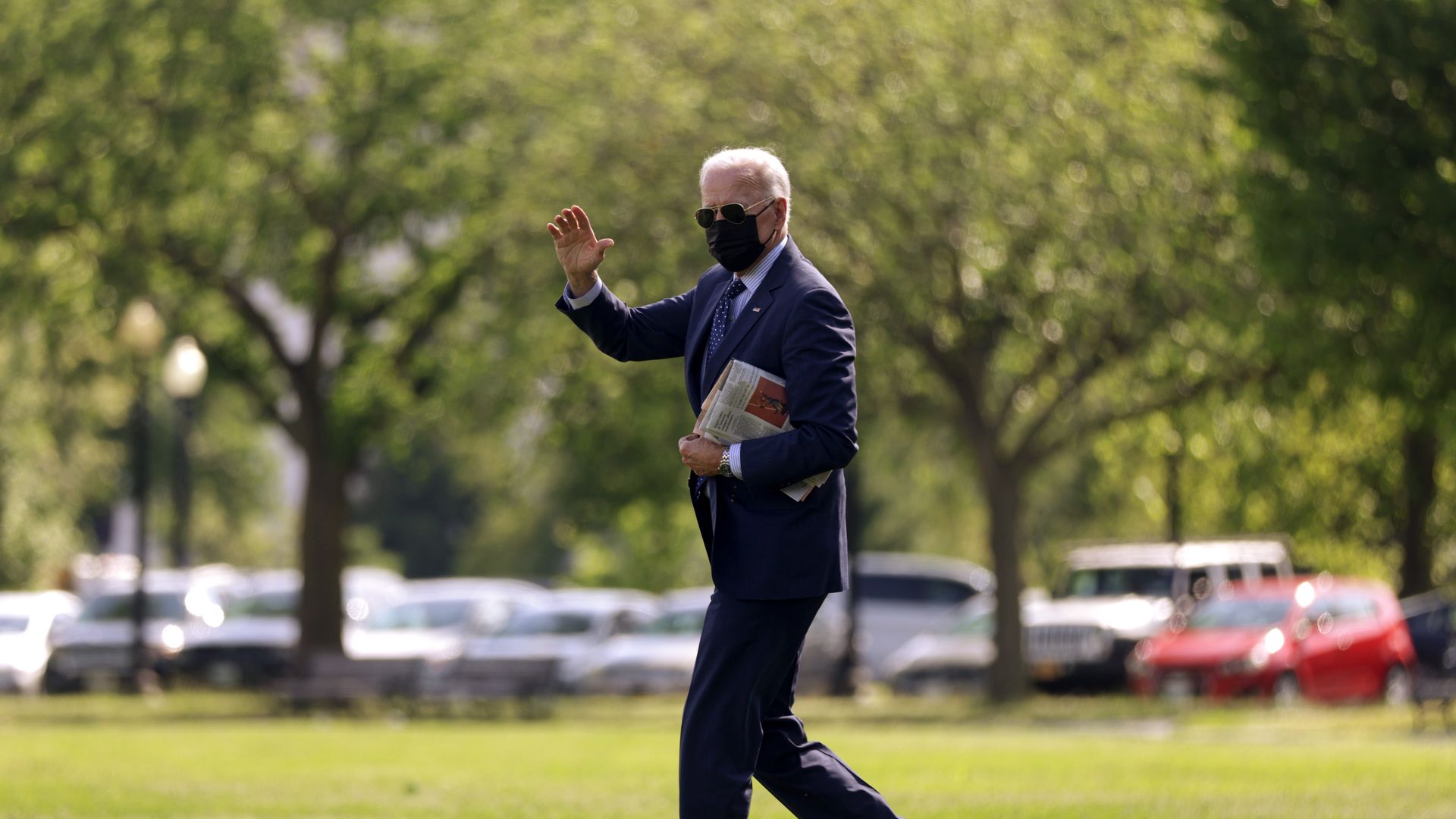 President Joe Biden has proposed focusing on a minimum corporate tax rate of 15%, as well as increased Internal Revenue Service funding, as a way to to pay for a possible infrastructure package, White House press secretary Jen Psaki confirmed Thursday.
Driving the news: The proposal could could help negotiations with Senate Republicans. Biden made the offer in his meeting yesterday with Sen. Shelley Moore Capito (R- W.Va.) who is leading a group of GOP centrists trying to find a compromise on infrastructure spending.
The Washington Post first reported Biden's new offer, couching it as a concession to Republicans who are unwilling to touch any of the 2017 tax cuts signed into law by former President Trump.
Biden and Moore Capito are trying to find an agreement between Biden's initial $2.3 trillion plan the would fund traditional infrastructure projects as well as billions for caregivers and other expanded social programs and the GOP's $1 trillion counter offer that focuses on infrastructure projects.
The White House is giving the bipartisan talks until June 7, and then officials will shift the focus to passing a bill only with Democratic votes.
The big picture: While Biden proposed his 15% minimum tax when he unveiled his American Jobs Plan in April, as one of several revision to corporate tax structure, he is giving it renewed attention because Republicans haven't explicitly opposed it.
Treasury Secretary Janet Yellen is working to convince other Group of seven finance ministers in London to adopt a minimum rate to avoid a tax competition among western democracies.
By the numbers: Biden's original plan to increase the corporate tax rate from 21% to 28% is estimated to raise roughly $1.5 trillion over ten years, according to the University of Pennsylvania Wharton Budget Model.
Raising the international minimum from 10.5% to 21% would raise an addition $1.2 trillion.
But both of those proposals would fiddle with Trump's 2017 corporate tax rewrite and are therefore non-starters for many Republicans.
The 15% minimum tax rate that Biden focused on in the meeting would bring in roughly $340 billion.
Biden also wants to capture an addition $700 billion through increased tax enforcement from the Internal Revenue Service, a suggestion that some Republicans are open to, although they question the amount of revenue it would raise.
The bottom line: Biden and Republicans are still far apart on any deal, but both sides are working to find common ground ahead of a June 7 deadline that could easily be pushed back.
Go deeper