U.S. COVID booster shots study tests mixing vaccine brands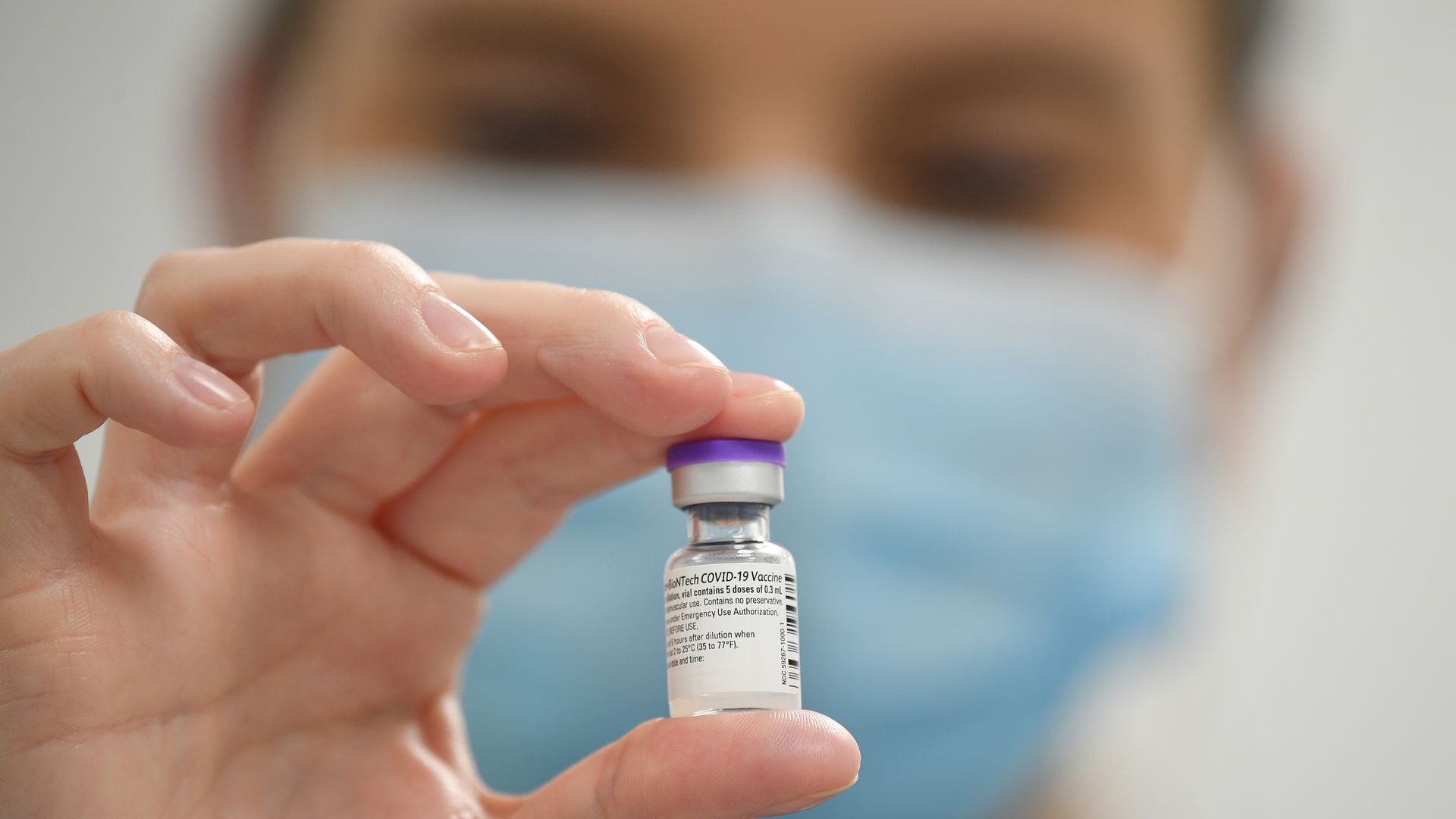 U.S. health officials have begun a clinical trial with adults fully vaccinated against COVID-19, administering a booster shot of a different vaccine brand to the one they've already received, the National Institutes of Health announced Tuesday.
Why it matters: The study will examine immune responses and the safety of mixing different vaccines. Scientists will also measure the shots' efficacy in staving off emerging variants, according to a statement from the NIH.
Per a statement from NIAID director Anthony Fauci: "Although the vaccines currently authorized by the U.S. Food and Drug Administration offer strong protection against COVID-19, we need to prepare for the possibility of needing booster shots to counter waning immunity and to keep pace with an evolving virus."
If booster shots are required, this study could help health officials decide which vaccine combinations are best.
Details: The study will examine 150 volunteers who've received one of the three COVID-19 vaccines authorized for use in the U.S. — Johnson & Johnson's, Moderna's and Pfizer-BioNTech's.
Each vaccine group will have enrolled some 25 people between the ages of 18 and 55 and about 25 people in the 56 years and older age group.
"Twelve to 20 weeks following their initial vaccination regimen, participants will receive a single booster dose of the Moderna COVID-19 vaccine as part of the trial," according to the NIH.
Another aspect of the study will see volunteers who've yet to receive a coronavirus vaccine enrolled. Initially, they'll receive the two-dose Moderna vaccine before receiving a booster dose of a vaccine about 12 to 20 weeks later. 
The big picture: Research indicates that all three vaccines authorized for use in the U.S. protect against variants, to varying degrees.
The Public Health Agency of Canada updated its coronavirus vaccine guidance on Tuesday to permit Canadians to receive a different dose for their second shot, though it still recommends using the same brand.
Health officials in the United Kingdom are expected to release initial results this summer of a clinical trial testing the effectiveness of mixing COVID-19 vaccines.
Go deeper: Vaccine boosters could be necessary as soon as September
Go deeper