Egypt takes diplomatic spotlight amid Gaza reconstruction push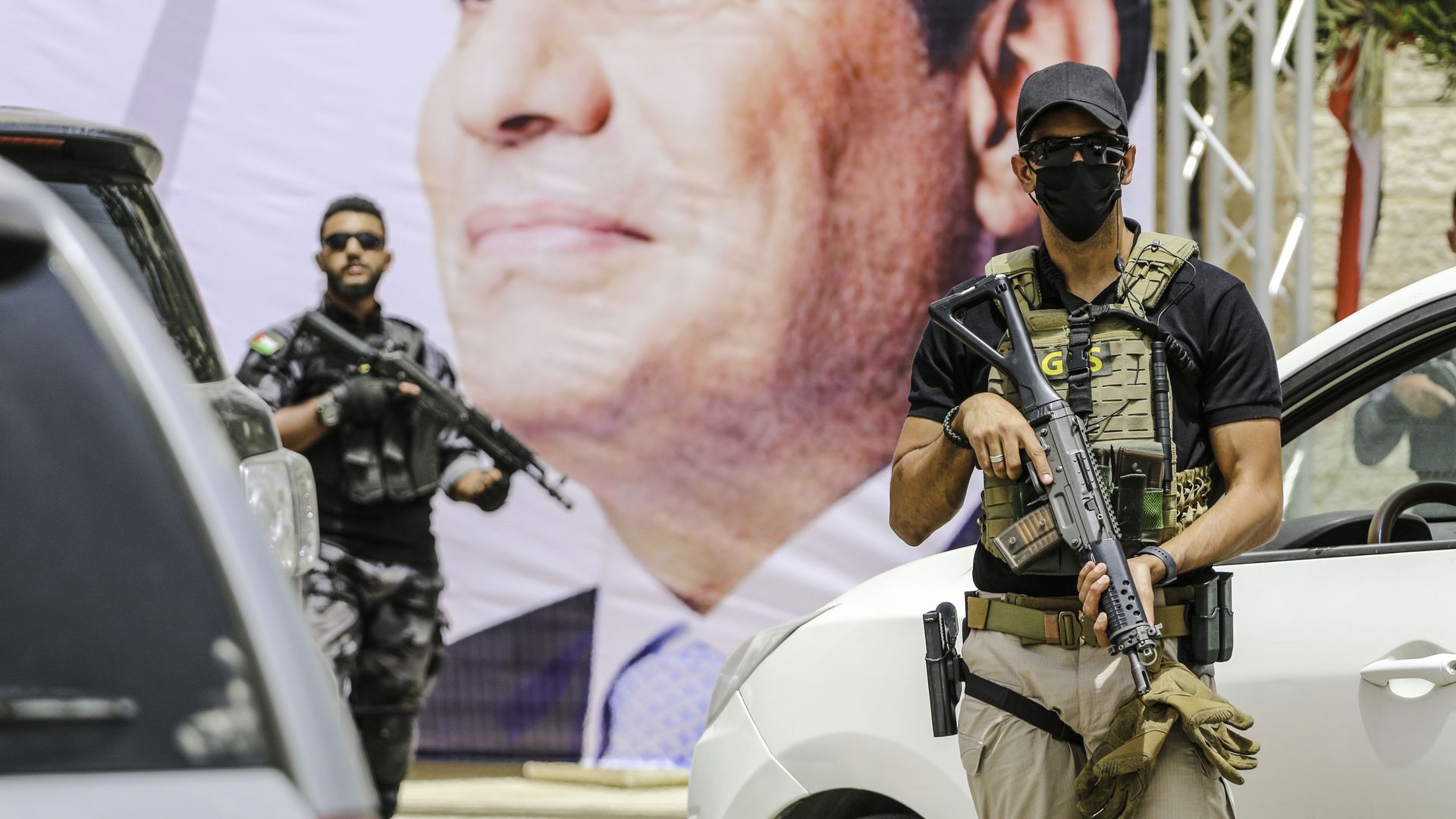 Egypt launched a diplomatic push this week for the reconstruction of the Gaza Strip and the stabilization of the fragile Israel-Hamas ceasefire.
Why it matters: Egypt played a key role in mediating the ceasefire in Gaza and is attempting to use that momentum to recapture its regional role and improve relations with the Biden administration.
Driving the news: Egyptian intelligence chief Abbas Kamel made a highly publicized visit to Israel, the West Bank and Gaza on Sunday and Monday for talks on the ceasefire and reconstruction.
He met with Prime Minister Benjamin Netanyahu, Minister of Defense Benny Gantz, Palestinian President Mahmoud Abbas and Hamas' leader in Gaza, Yahya Sinwar.
Back in Cairo, Foreign Minister Sameh Shoukry hosted his Israeli counterpart, Gabi Ashkenazi, for talks on Sunday — the first visit of an Israeli foreign minister to Cairo since 2008. The Egyptians also chose to give that visit a major public profile.
The state of play: The Egyptians are aligned with the Biden administration on the need to start the reconstruction of Gaza as soon as possible.
But Israel has said it won't allow the reconstruction to start without progress on the returning of the bodies of Israeli soldiers and the release of Israeli citizens held in Gaza.
Kamel is trying to start a process that will include progress on both issues in parallel in order to soften the Israeli position, sources familiar with the matter say.
The rift between Hamas and the Palestinian Authority poses another problem. Egypt and the U.S. both want the PA involved in the reconstruction efforts, but Hamas rejects that idea and wants to form a nongovernmental body to deal with the reconstruction.
What they're saying: "We have a strategic opportunity. The Egyptians told us they want to turn Gaza into Dubai on the shore of the Mediterranean," Sinwar said on Monday.
Between the lines: The reconstruction of Gaza gives Egypt both diplomatic and economic opportunities.
Egypt wants Egyptian companies to be in charge of the reconstruction process, Israeli officials say, and has already proposed building plans worth $500 million, with most of the funding coming from Saudi Arabia and the UAE.
That would allow Egyptian companies to benefit and the Egyptian government to monitor the reconstruction and make sure no building materials go to Hamas.
What's next: Israeli officials say Egypt is also considering closing down its current border crossing with Gaza and opening a new one in Rafah with better monitoring systems to prevent the entry of dual-use goods that can have a military benefit for Hamas.
One factor making it harder to reach decisions on reconstruction at the moment is the political uncertainty in Israel, Israeli and Egyptian sources say.
Go deeper