Movies make Memorial Day comeback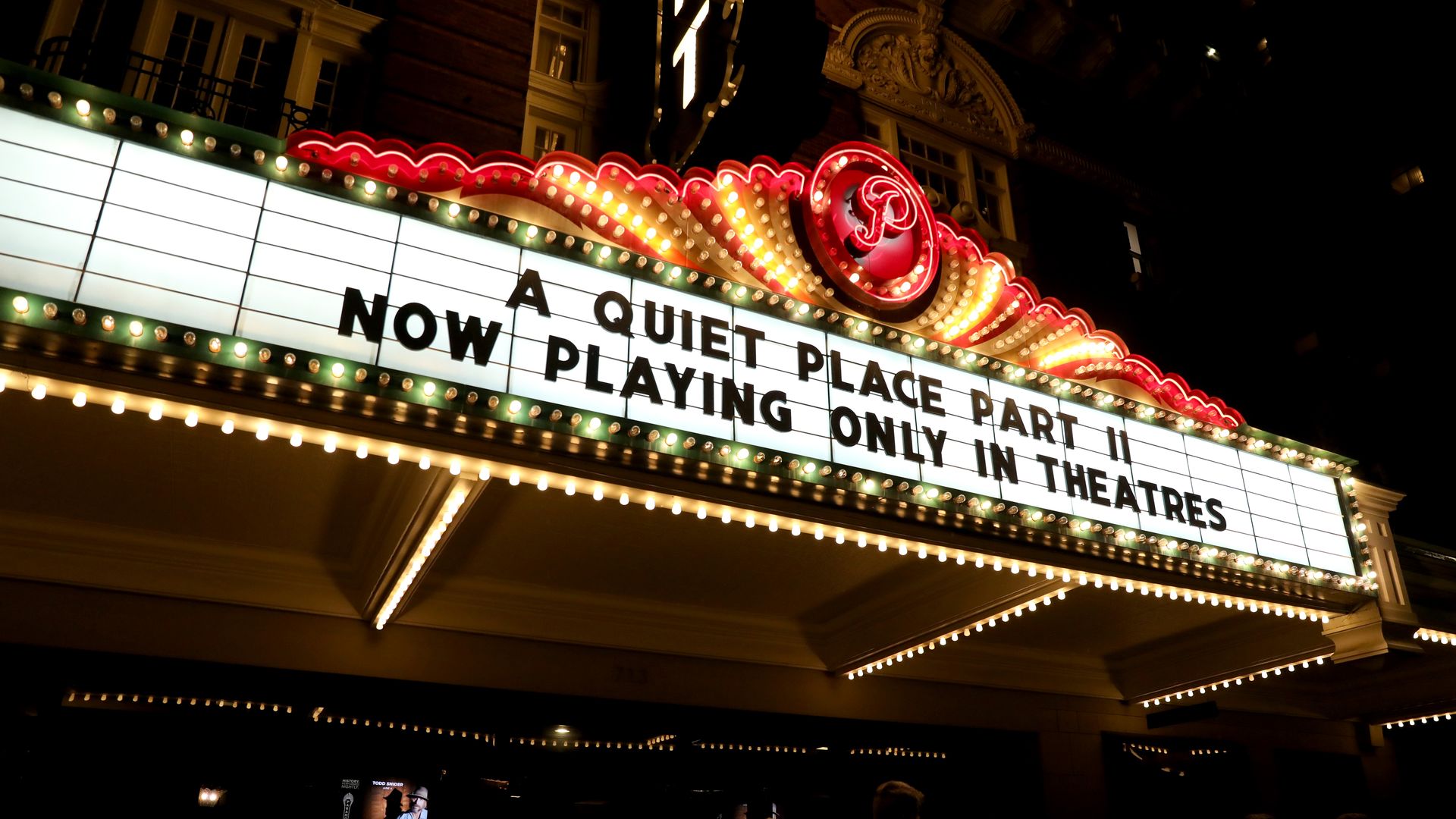 The holiday weekend saw a resurgence at the box office, breathing new life into an industry that barely survived the pandemic.
Why it matters: "There may not be enough adjectives to describe the importance of this weekend's box office performance to movie theaters," Comscore senior media analyst Paul Dergarabedian tells Axios.
The "numbers supplied indisputable proof that the allure, prestige and continued importance of the cinema experience is undeniable," said Dergarabedian.
Driving the news: Paramount's horror-thriller "A Quiet Place Part II" blew past expectations this past four-day weekend, bringing in an estimated $57 million from box office ticket sales across North America, per Comscore.
By the numbers: Disney's "Cruella" also did well in theaters, considering viewers could stream the film online on Disney+ for $30 the same day it opened in theaters.
In total, "Cruella" brought in an estimated $26.5 million at the box office over the four-day weekend, making it the second-highest earner over the weekend. Disney hasn't said how many people watched the film on-demand.
Overall, the box office is expected to top over $100 million over the four-day holiday weekend, the most it's made since March 2020.
Be smart: These numbers were especially strong considering 72% of all North American theaters are currently open, per Comscore. But the numbers are still far off from pre-pandemic levels.
While this past Memorial Day weekend set a pandemic record, it still brought in about half of the roughly $230 million in box office sales in 2019.
While "A Quiet Place Part II" beat expectations, Disney's "Aladdin" made nearly double at the box office over the same four-day holiday weekend in 2019.
The big picture: It's unclear whether the box office will ever fully revert back to pre-pandemic highs, but given how much movie consumption habits and business models have changed due to the pandemic, it seems unlikely.
Most movie studios have experimented with shortened theatrical windows over the past year, letting consumers view their films at home via streaming much sooner than the traditional 90-way window.
"A Quiet Place II," for example, will be available to stream on Paramount+ in 45 days, which is about half of the typical 90-day window of exclusivity that used to be granted to theaters before the pandemic.
Go deeper: Movie theaters eye summer box office rebound
Go deeper