Bennett tells party members he is headed for a "change government" that will oust Netanyahu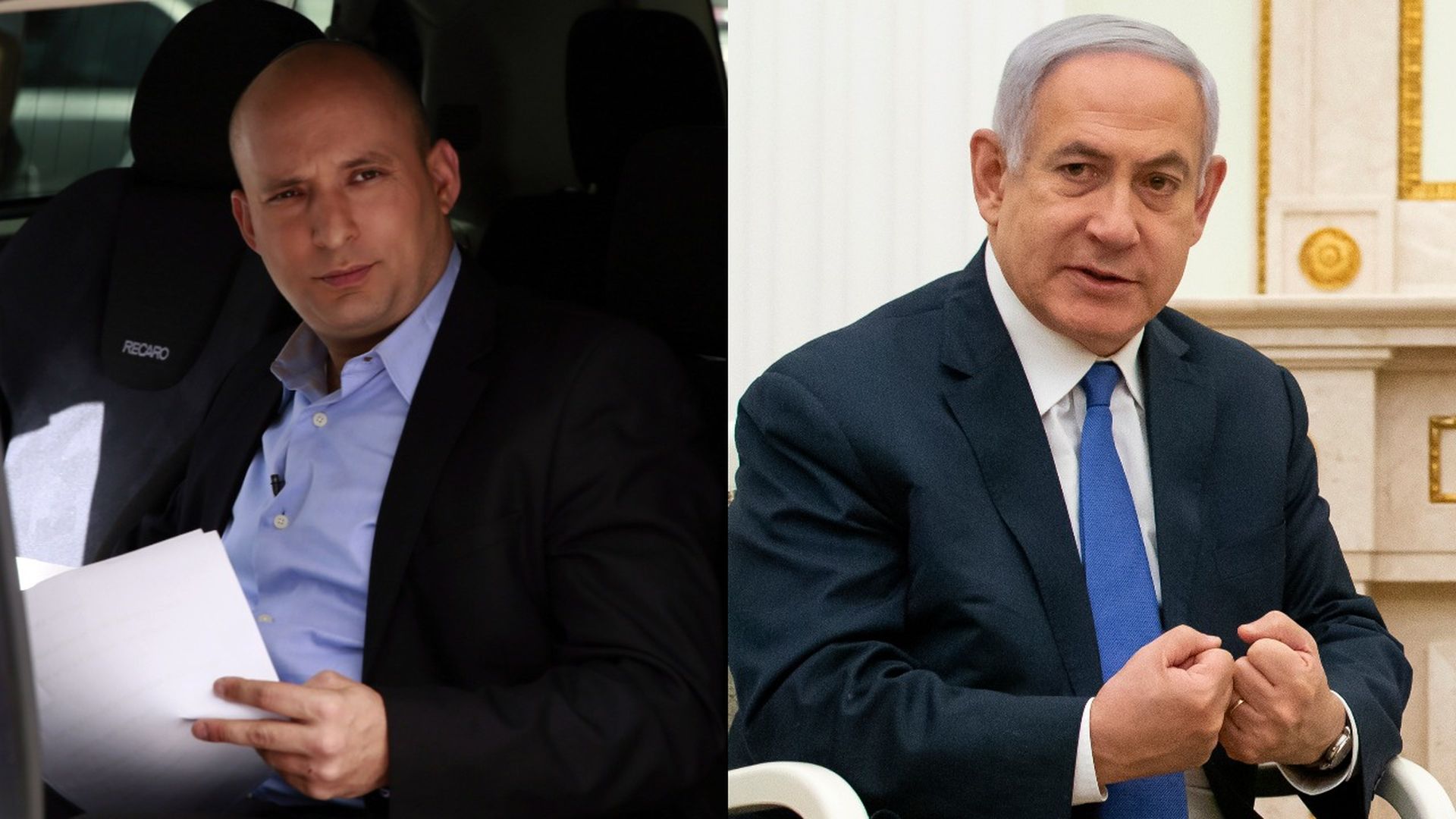 The leader of Israel's right wing Yamina party, Naftali Bennett, told members of his party at a meeting Sunday he's moving forward with joining opposition leader Yair Lapid to form a power sharing government that would oust Prime Minister Benjamin Netanyahu.
Why it matters: A new "change government" would make Bennett prime minister and bring an end to 12 years of Benjamin Netanyahu's rule. The development could end the political crisis that has led to four elections in two years.
What he's saying: Bennett told the members of the legislature from his party Sunday that Netanyahu has no ability to form a government, and that his claims that he can get members of the center-left bloc to defect and join the right-wing bloc are false.
Bennett added that the only alternative to a "change government" with the center-left would be a fifth election.
"Netanyahu will not be able to get a majority again and then we will go to a sixth election. The country can't continue like that", Bennet said according to press reports about the meeting.
A statement by the Yamina party said all members of the legislature who attended the meeting backed Bennett's effort to form a government and avoid a fifth election.
Worth noting: Under a "change government", Bennett would serve as prime minister for two years before Lapid rotates into the job. It would be the most wide-ranging coalition ever formed in Israel.
Between the lines: Such a government would be highly fragile, avoid controversial issues, take all decisions in consensus and focus on the economy, post-COVID-19 relief and stabilization of the Gaza ceasefire.
Even such an agenda would be very hard to implement, and the government could fall apart within months.
What's next: The new government could be sworn in next Monday — giving Netanyahu a week to try and sabotage it to prevent Lapid and Bennett from acquiring a majority.
What to watch: Bennett will announce his intention to form a government with opposition leader Yair Lapid during a speech at 8 p.m. local time, or 1 p.m. ET.
Go deeper