How we'll memorialize COVID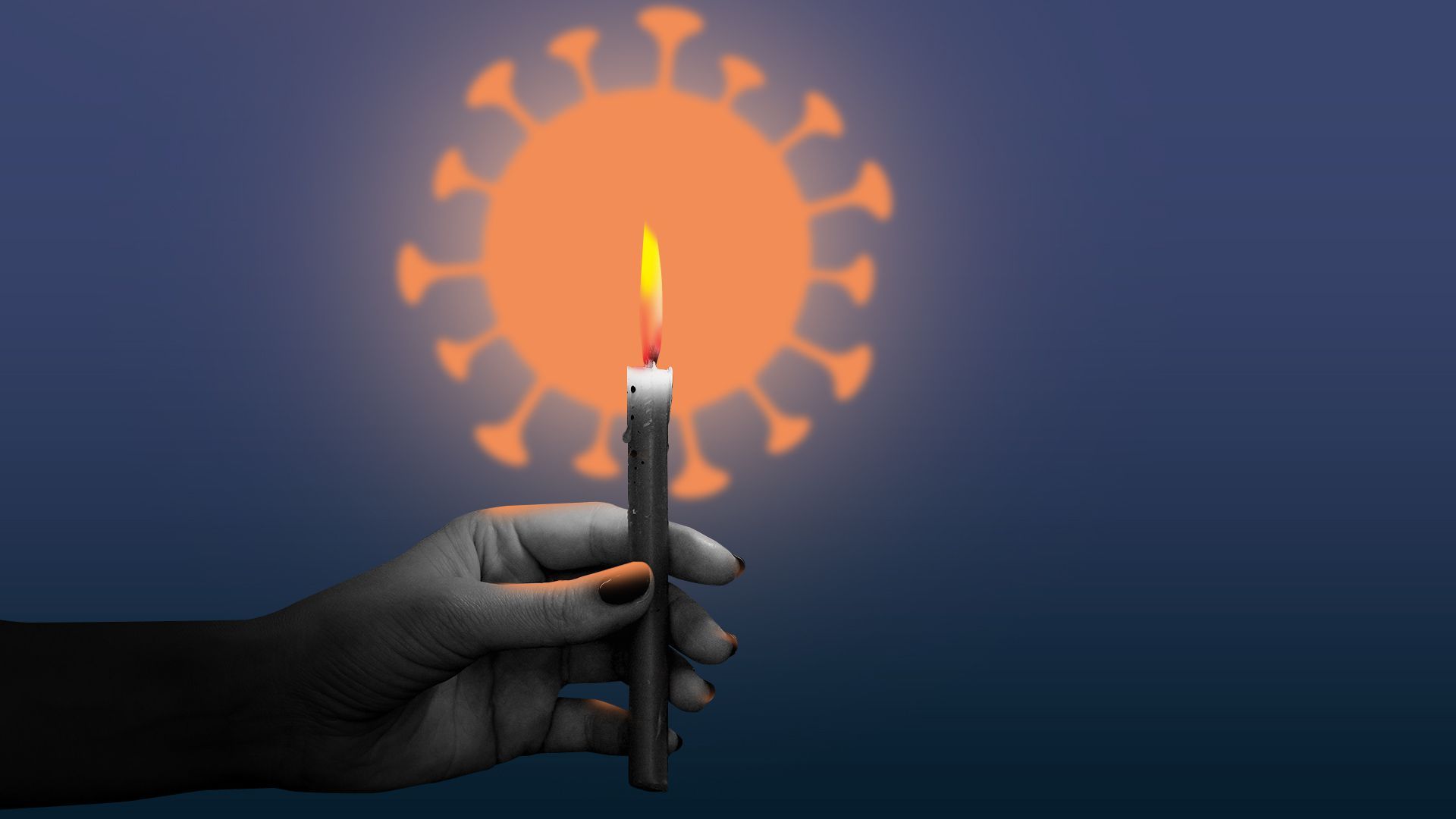 A pandemic that has killed 3.5 million people globally — and perhaps far more — is beginning to be publicly memorialized.
Why it matters: COVID-19 is a global pandemic, but the experience of it has been fractured by where people live, their race, their age, where they work and what their politics are — creating a challenge for those tasked with memorializing it.
Driving the news: Last week, officials from New York's Department of Sanitation unveiled what they said is the city's first permanent memorial to victims of COVID-19: a statue dedicated to the nine sanitation workers lost to the virus last year.
Details: New York City — the first U.S. epicenter of the pandemic — is considering a permanent memorial on Hart Island, the site of the city's public graveyard.
"We're looking for breadth, compassion and understanding of the ways in which the pandemic is experienced," says Anthea Hartig, director of the National Museum of American History in Washington.
But they're also interested in moments where communities came together — either in allyship or in conflict —that are critical for historians, she adds.
The backstory: Given the sheer toll that diseases of all kinds have taken throughout human history, there are surprisingly few memorials to pandemics and outbreaks.
More than 600,000 Americans died during the 1918 flu pandemic — and the global death toll may have been as high as 50 million — yet a granite bench in Vermont installed in 2018 is one of the few U.S. memorials to the dead, while monuments for WWI are everywhere.
That's due in part to fears that objects during the pandemic could be contaminated and because a death in combat was seen as far more valiant than succumbing to a disease, says Hartig.
"We lost so many people around the world. But we don't count it as we should, as a great rupture in the continuum of history. I think we need to see that with COVID 19 — what is on the other side of that rupture and loss?"
— Anthea Hartig
Between the lines: While few people around the world have been completely untouched by COVID-19, some communities have suffered disproportionately as others escaped the full toll of the virus.
Trying to unify that range of experiences and emotions in a single memorial may be beyond the skill of any architect, especially at a moment when a fractured American society is struggling to come to any collective understanding of its own past.
"There's no reason to expect that commemorating the pandemic will be any less political than managing it has been," Jeffrey Olick, a sociologist at the University of Virginia told New York magazine recently.
What's next: In the U.K., the nonprofit social history initiative Augr will launch an effort next month to collect a million British life stories of the pandemic times using an AI-driven device that can help conduct biographical interviews.
"This is a perfect way for people to memorialize themselves and those who they have already lost in the pandemic," says Justin Hopkins, Augr's director.
What to watch: "Memories change over time," says Susan Crane, a historian at the University of Arizona. "There may be other stories we want to tell ... that involve losses but also other events that haven't happened yet."
Editor's note: The name of the National Museum of American History was corrected.
Go deeper