"A new bargain": Biden's 2024 tease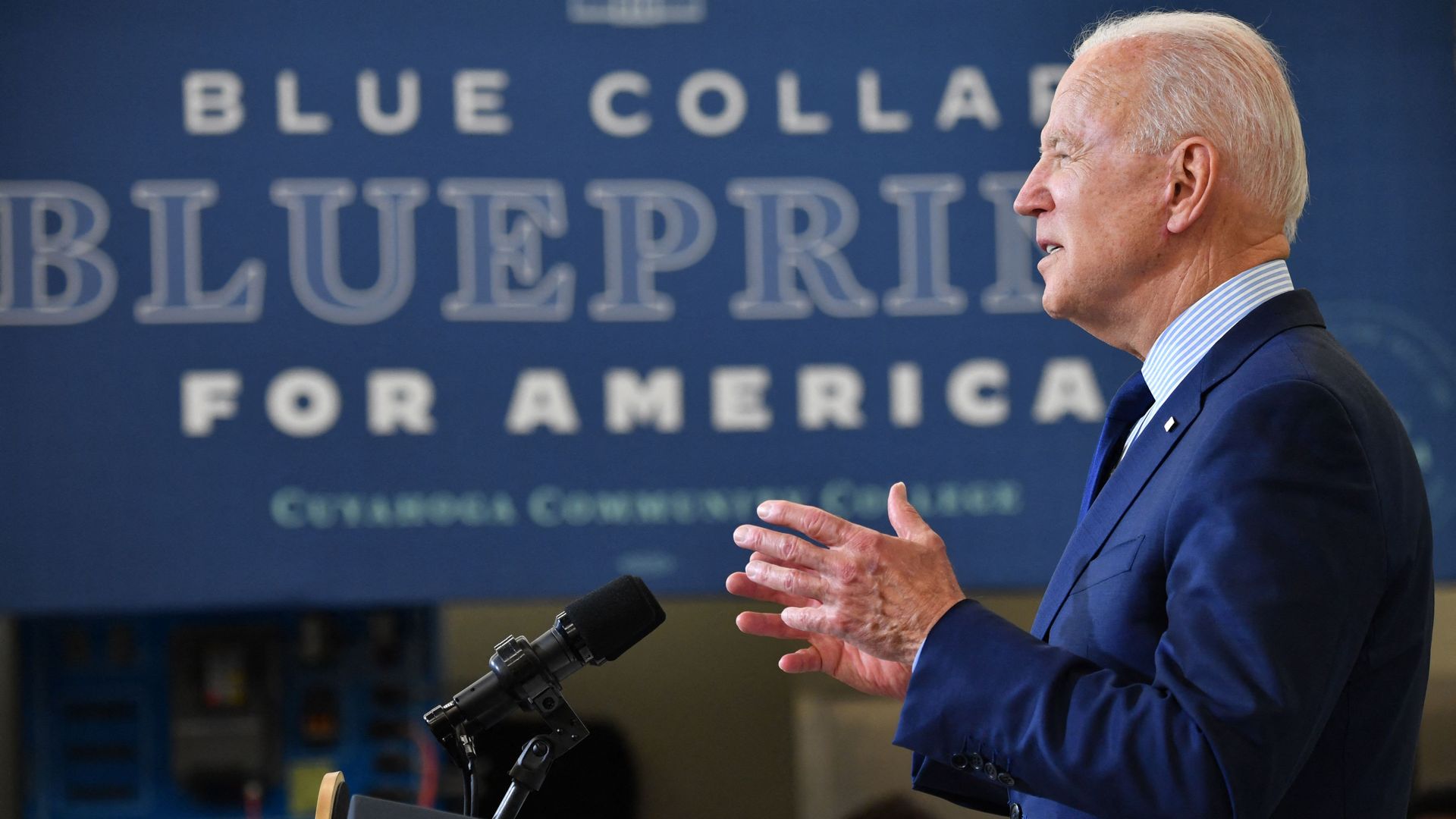 President Biden's speech in Ohio on Thursday captured his own take on "Make America Great Again" — a populist appeal, minus the racial dog whistle, for the U.S. to reclaim its post-World War II glory.
The big picture: Biden invoked long-ago works projects, as well as China's rise on the world stage, to make the case for tax increases and deficit spending that would, he argued, reset the balance between the wealthy and the working class.
"There's a new bargain," Biden told the audience at Cuyahoga Community College in Cleveland. "Everyone is going to be in on the deal this time."
"We're going to take back some of that 1% money and make 'em pay for it," he said — a reference to Trump-era tax cuts for the wealthy and corporations.
"This time...we have to bring everybody along, regardless of their background, regardless of their religion, regardless of their race."
Why it matters: Rallying more Americans around this argument is Biden's best chance to enact elements of a $6 trillion budget plan he's unveiling today and keep pressure on Republicans to commit to at least $1 trillion in infrastructure spending. "We have to start investing in ourselves again," he said.
He recalled the U.S. bringing electricity to the masses in the 1930s and connecting the interstate highway system in the 1950s.
He said the pandemic exposed how "we've neglected that kind of public investment for much too long."
Over three decades, he said, the U.S. slipped from the top to No. 9 for research and development spending worldwide, while China rose from No. 8 to No. 2. "We're in a race to see who wins the 21st century," he said. "We must be No. 1 in the world to lead the world."
Between the lines: The president is using the early success of his COVID stimulus as evidence that he knows what he's doing, despite critics' serious concerns about inflation and the mounting national debt.
Republicans are "bragging about" the American Rescue Plan after voting against it, the president said, displaying a list of offenders for comic effect. "Some people have no shame, but I'm happy. I'm happy they know that it benefitted their constituents."
Go deeper