A lost season: Lacrosse, minus the Ivy League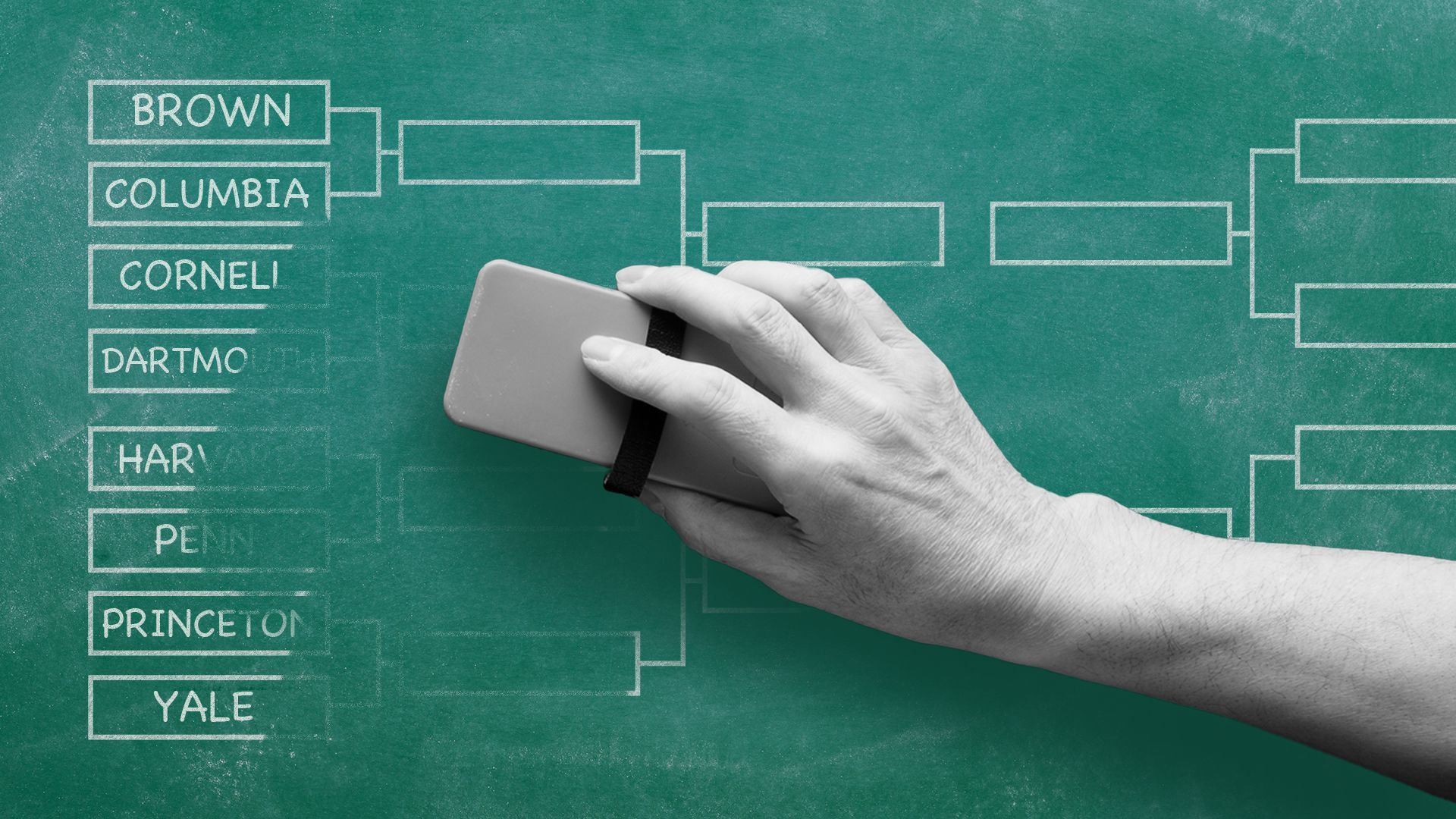 When the Ivy League announced in February that it was canceling its spring sports seasons, thousands of athletes were impacted.
Between the lines: Lacrosse being called off for the second straight year was a particularly tough blow, as it is one of the few team sports where the Ivy League routinely competes for national championships.
Men: Princeton has six national titles, Cornell has three, and Yale won in 2018 and finished runner-up in 2019. Penn, Harvard and Brown were routinely ranked in the top 25 over the last decade.
Women: Princeton has three national titles, Harvard has one, and Penn has been one of the country's best programs this century.
🎙 Interview: With the men's and women's Final Fours taking place this weekend, I spoke with Penn men's lacrosse coach Mike Murphy about the lost season. (Full disclosure: I played for him at Penn.)
Take us inside this season. What has it been like?
It's been very challenging emotionally. You go back and forth from feeling like a victim to being like, "Well alright, these are Ivy League lacrosse kids, and there are people dying and losing jobs." So once you put it in perspective, you tend to relax a little bit about it.
The season certainly wasn't what we hoped, but I think we made the most of it. All the guys get their year of eligibility back, we played one game against Cabrini [2019 D-III national champions], which was a lot of fun. So it was a productive spring.
Walk us through the fall.
To our seniors' and captains' great credit, they basically ran the whole fall. We couldn't do anything on campus, so they had to find fields in Philadelphia to practice ahead of what we thought would be a season.
And they did an unbelievable job. The first time we saw them practice in mid-February, they looked great. Our theme as a program this season was to be entrepreneurial, and we did that.
How did things change in the spring?
The cancellation news in late February was the low point emotionally. Guys couldn't really leave their apartments, classes were virtual, we were losing people to positive tests and contract tracing. It was tough.
But around mid-March, we started to have a lot more fun with things like intra-squad scrimmages. And I'll tell you: We improved as much this semester as any team I've been a part of because we were focused on ourselves, rather than our opponents.
Could this lost season have a long-term impact on Ivy League lacrosse?
When sports got shutdown last March, Princeton, Yale and Cornell were all in the top five and I think we were ranked 11th or 12th. So we had four teams in the top 15.
If we can get back to that, great. But if this hurts recruiting and we don't have as much success in 2022, then it could definitely have a long-term negative effect on lacrosse.
When they look back on this bizarre time, how do you think your players will remember it?
For the people who are successful in life, most of the time they've become successful because of their ability to fight through adversity. We talked about that a lot this year.
This is not going to be the worst thing that our guys go through. Athletically, it might be, but they're going to experience much harder things in life — and I think this year taught them a lot about resiliency and grit.
And how will you remember it?
This was my most challenging experience as a coach. Getting our team to land on May 1 in a positive emotional state was more difficult than going 8-0 in the Ivy League in 2019. There's just no playbook for it.
But the way our staff and players responded, I'm just so proud and have so much respect for them. We didn't play any games, but we developed a passion and perseverance that will live on through Penn Lacrosse.
Go deeper