Beneath the hood of Biden's budget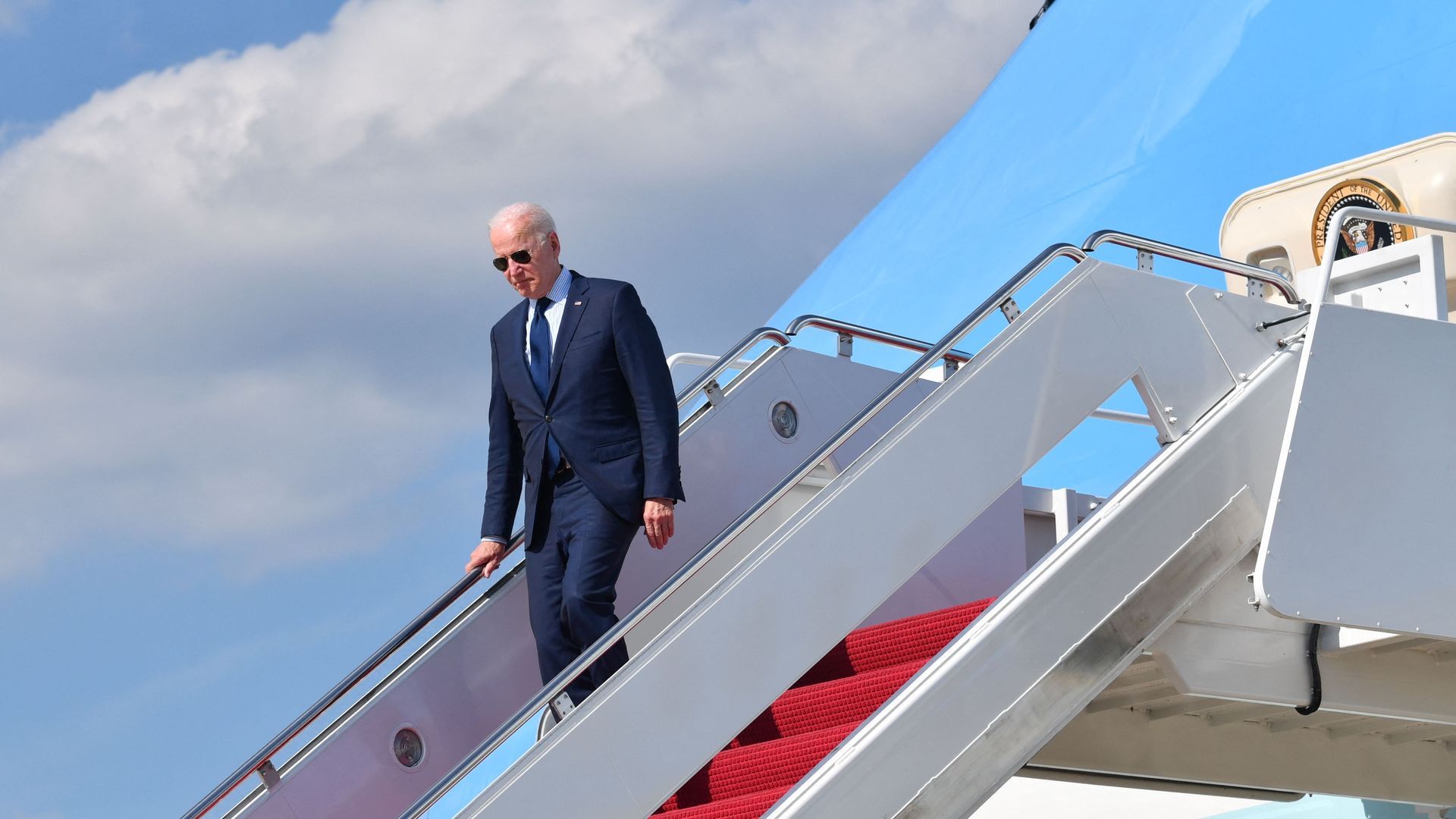 President Biden is asking Congress to spend $6 trillion next year, as part of a sweeping budget proposal that incorporates some, but not all, of his campaign promises, including the $4 trillion for infrastructure, social and education spending he announced this spring.
The big picture: Presidential budgets are aspirational and rarely survive first contact with Congress, but they help the White House articulate its priorities and amplify its agenda.
"Where we choose to invest speaks to what we value as a nation," Biden said. "This year's budget, the first of my presidency, is a statement of values that define our nation at its best.
Biden's proposal largely hews to the $2.3 trillion American Jobs Plan and his $1.9 trillion American Families Plan, which call for new investments in hard infrastructure, as well as $400 billion for caregivers, extended tax breaks for families and a commitment to provide another four years of free education to all Americans.
Why it matters: Biden's budget doesn't shy away from embracing the federal government as a robust force to achieve his stated policy objectives. And he's clearly comfortable with deficit spending for the next 10 years.
At the end of Biden's budget window in 2031, he expects federal spending to increase to $8.2 trillion with annual deficits never dipping below $1.3 trillion, and ending at $1.6 trillion in 2031.
Total taxes raised will nearly double, from $3.4 trillion in 2021 to $6.6 trillion in 2031, which would be approximately 20% of GDP.
While deficits would persist, annual deficits as a percentage of GDP will decline, coming down to around 5% of GDP.
In President Trump's final year in office, the deficit ran at $4.2 trillion after Congress passed several COVID relief packages and the economy cratered after nationwide lockdowns. Deficit as as a percentage of GDP climbed to 16% in 2020.
The intrigue: While Biden will call on Congress to lower the eligibility for Medicare to age 60, his budget won't make a specific dollar request for the expansion, a policy proposal that Biden adopted under pressure from Sen. Bernie Sanders.
By the numbers: The budget projects real GDP growth of 5.2% this year and estimates that it will decline to 3.2% in 2022, before leveling off at, or below, 2% for the remaining eight years.
It predicts an unemployment rate of 4.1% for next year and then 3.8% through 2031.
Interest payments to service the public debt will rise from 1.6% of GDP in 2020 to 2.9% of GDP in 2031, with publicly held debt around 120% of GDP.
Go deeper: By increasing the corporate tax rate, both at home and abroad, Biden hopes to capture an additional $2 trillion over 10 years.
What we are watching: Biden is proposing a Pentagon budget of $715 billion, a modest increase from this year's $704, but below the $722 that Trump offered in his final budget.
It also includes $8.7 billion for the Centers for Disease Control and Prevention to help prepare for emerging global threats.
Most of the federal workforce will grow, with the Commerce Department taking a 7.4% decrease next year and the Labor Department expecting a 13.5% increase.
The bottom line: Biden is asking Congress for a lot of money and explaining how he'll raise taxes to pay for his priorities.
Now it's Congress's turn.
Go deeper