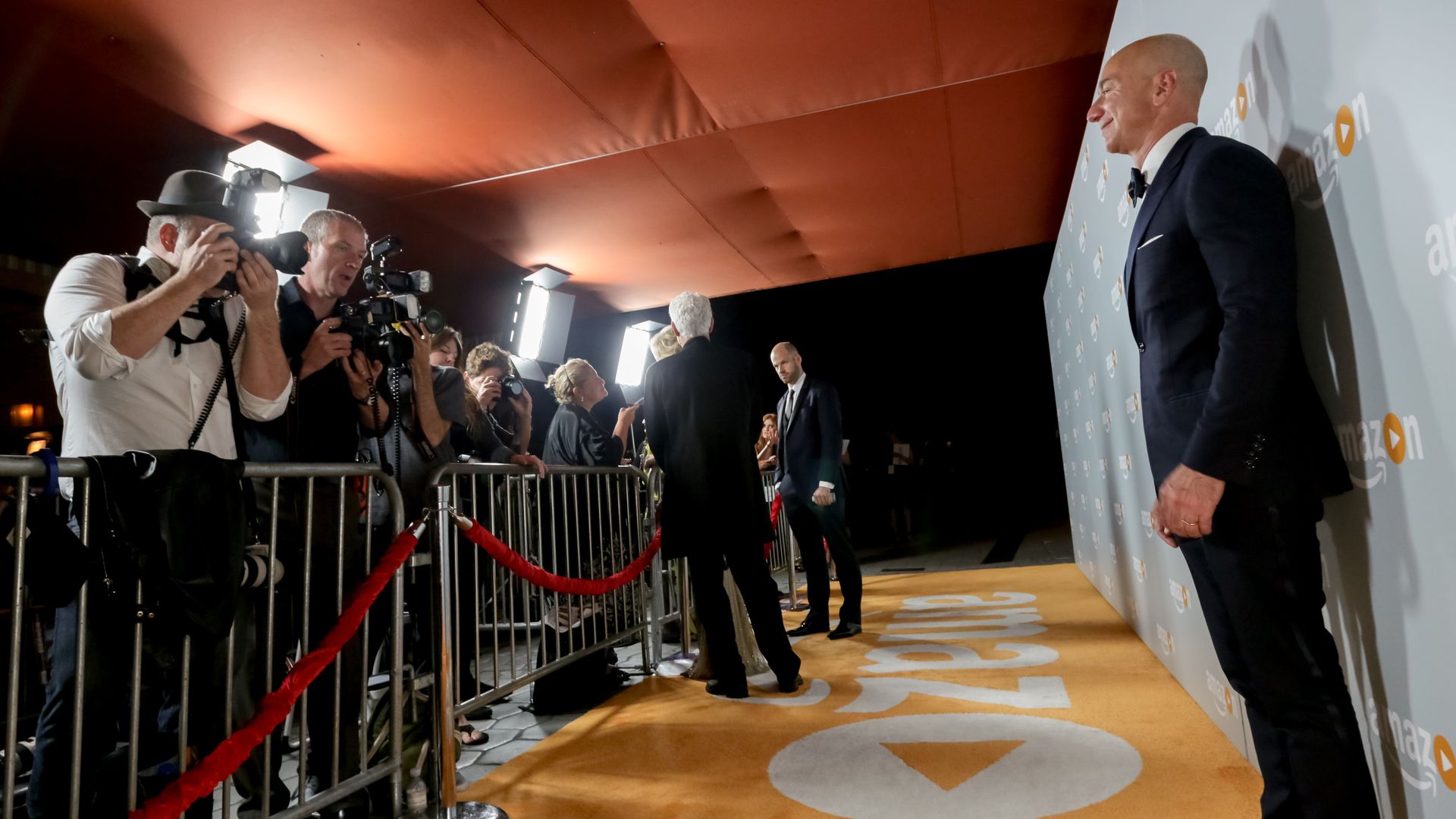 Jeff Bezos isn't just one of the richest men in the world — he has also become one of the most influential executives across an array of industries beyond online retail, including aerospace, newspapers, and now movies.
Why it matters: Bezos' splashy and far-reaching investments distinguish him from other tech leaders who are trying to lay low as regulatory pressures mount.
The big picture: Bezos preserved his reputation as a quirky, efficiency-obsessed engineer during the years he spent building Amazon into an empire.
As he prepares to step down as Amazon's CEO — he'll leave that role on July 5, the company said yesterday — his personal hobbies and penchant for the spotlight are an increasingly visible element of his business ambitions.
Bezos' fondness for red carpet appearances has media insiders questioning whether Amazon's costly MGM Studios acquisition, announced Wednesday, is about bolstering Prime subscriptions or scratching Bezos' Hollywood itch. MGM is the home to several blockbuster franchises, including James Bond.
His personal ownership of The Washington Post, one of the biggest news outlets in the country, complicates his relationship with Washington D.C. at the same time he's seeking special financial carveouts for his space company, Blue Origin, and as Amazon seeks regulatory approval for acquisitions like MGM.
His high-profile divorce — one of the most expensive in history — was precipitated by the revelation that Bezos had begun secretly dating Lauren Sanchez, a former TV news anchor.
Be smart: Until relatively recently, Amazon had largely avoided the regulatory spotlight and Bezos was rarely the story himself. But lawmakers have become wary of the tech giant's power and Bezos' influence.
The MGM deal doesn't immediately set off anti-competitive alarm bells for legal observers, but lawmakers from both parties are already voicing concerns, arguing that it gives Amazon too much power over yet another industry.
Amazon announced the deal just one day after Washington, D.C.'s attorney general filed a major antitrust lawsuit against the e-commerce giant, alleging anticompetitive pricing practices in the online retail market.
Yes, but: On Wall Street, these concerns have barely registered to shareholders, who are happy to take risks on Bezos' passion projects or new business lines.
MGM, for example, is considered by many to be a distressed asset. Although the pressure to consolidate in the media may put a small premium on the studio, it's been passed over by other major tech giants, including Netflix, for far less money.
The $8.5 billion price tag for MGM would raise eyebrows and drive investor skepticism were anybody else to make the offer. But Amazon's announcement didn't try to make a case for the business value of the deal, simply citing the quality of the MGM catalog.
The bottom line: As Bezos enters the next chapter of his life, his appetite for risk and new challenges seem to be broadening. While Wall Street doesn't seem to mind, Washington seems more skeptical.
Go deeper