Employers dangle rewards for vaccination despite legal hurdles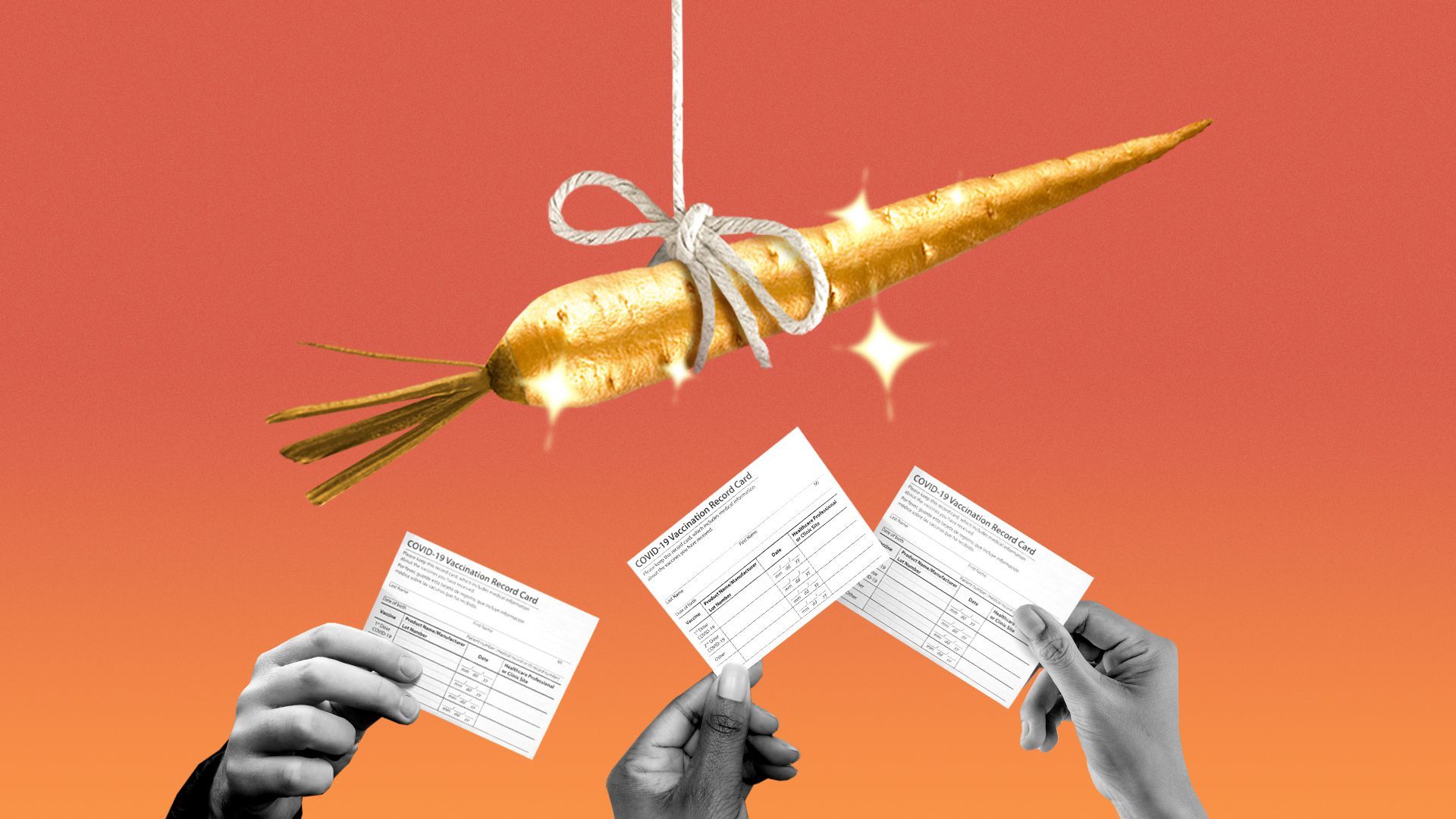 Instead of mandating COVID-19 vaccination, more companies are offering employees cash, paid time off, and other financial incentives to get the shot.
The big picture: Employers are favoring "carrots" over "sticks" in the push to get more people vaccinated. But those carrots could run afoul of federal law — if the rewards are too big.
The buzz: Dollar General, Houston Methodist, Kroger, Petco, Target, Walmart, the Maryland state government, and numerous other companies have offered various-sized cash stipends to workers who get vaccinated. The bonuses usually don't exceed $500.
Yes, but: There is no clear standard for how large those rewards can be without violating federal disability, anti-discrimination, and privacy laws, as the U.S. Equal Employment Opportunity Commission continues to lag on issuing guidance.
The EEOC previously said rewards involved with employer wellness programs could equal up to 30% of someone's health insurance premium without being too coercive or invasive. But a federal court invalidated that rule.
The EEOC under the Trump administration then said companies could offer "de minimis" incentives, but the agency withdrew that guidance once the Biden administration took over.
Earlier this year, employers begged the EEOC to "define what qualifies as a permissible incentive."
The EEOC told Axios the update on "COVID-19 employer vaccine incentives and other issues is ongoing."
One interesting example: Anthem is offering a credit to vaccinated employees that can be used to lower their health insurance premiums (Anthem provides Anthem insurance to its employees).
Anthem originally said the credit was worth $50, but later retracted that press release and removed how much the credit was worth.
"We aren't sharing the dollar amount ... and we've designed the program so it does not 'run afoul' of EEOC rules on wellness programs and vaccinations," an Anthem spokesperson said.
The bottom line: "Until the EEOC issues updated guidance, it's a bit risky to offer vaccination incentives," said Meghan O'Brien, an attorney at the law firm Archer who tracks this issue and recommends any vaccine incentive equal no more than one day's pay. "Reasonable minds can vary as to what can be considered too much of a monetary incentive."
Looking ahead: Vaccine requirements from employers are rare, but more employers may consider them if voluntary bonuses don't help reach national vaccination goals.
"I think we will see a very important role for employer mandates to move the needle," said Emily Largent, a medical ethicist at the University of Pennsylvania who has written about paying people to get vaccinated.
Go deeper