Sen. Coons says bipartisanship on climate policy is still possible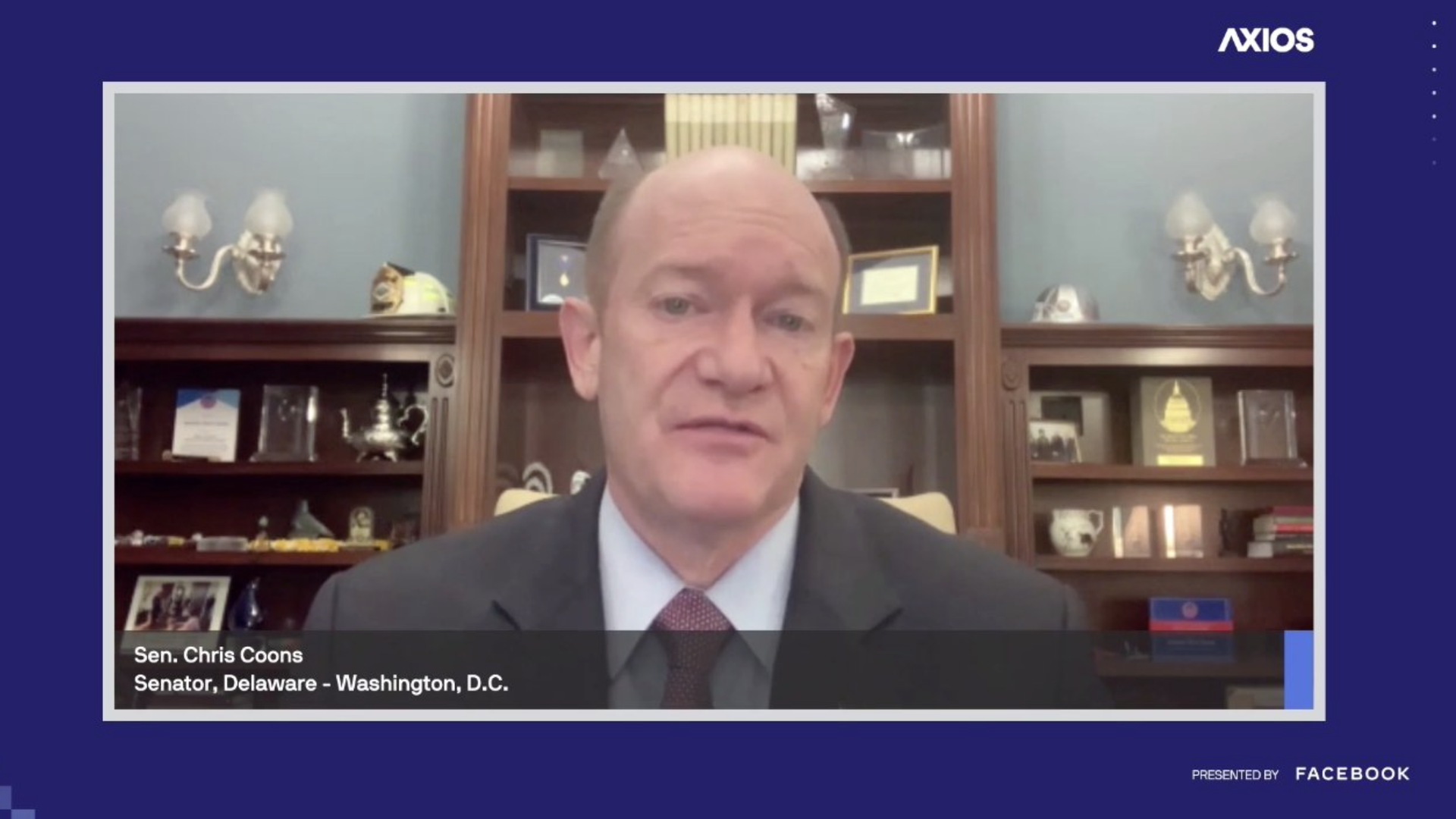 Bipartisan cooperation on timely climate legislation is still possible in a deeply divided Washington, Sen. Chris Coons (D-Del.) said during an Axios event on Friday.
Why it matters: President Biden's American Jobs Plan, a $2 trillion infrastructure plan unveiled in March, contains multiple provisions meant to slow the growing climate crisis, though many Republicans have hammered the legislation as a "far left wish list."
Senate Republicans also released a $568 billion counterproposal in April that is significantly narrower than anything congressional Democrats or the White House would agree to, but it serves as a marker for what Republicans want out of a potential bipartisan deal.
The parts of Biden's bill that Republicans largely consider a "progressive wishlist," however, include provisions meant to tackle climate change and promote racial equality, per Axios' Alayna Treene.
What he's saying: Coons said that climate change denialism among Republicans in the chamber has significantly decreased over the years, and certain GOP senators now seem more open to working on climate-related legislation.
As an example of bipartisanship climate change policy, Coons pointed to the Financing Our Energy Future Act, which he has worked on with Sen. Jerry Moran (R-Kan.).
"It takes an obscure capital formation tool ... and makes it available to renewables," Coons said. "It actually would be one of the biggest new capital access opportunities for renewables in our tax code in a long time because it would be permanent."
The bill passed the House in the last Congress, and Coons said Friday he's confident it will pass during the 117th Congress.
The big picture: Biden's American Jobs Plan includes $621 billion for transportation-related programs to encourage mass transit and widespread adoption of electric vehicles.
It also contains investments in high-voltage transmission lines and climate-related research and demonstration projects, as well as tax credits for renewable power and carbon capture projects.
Go deeper