Biden's Korean War diplomacy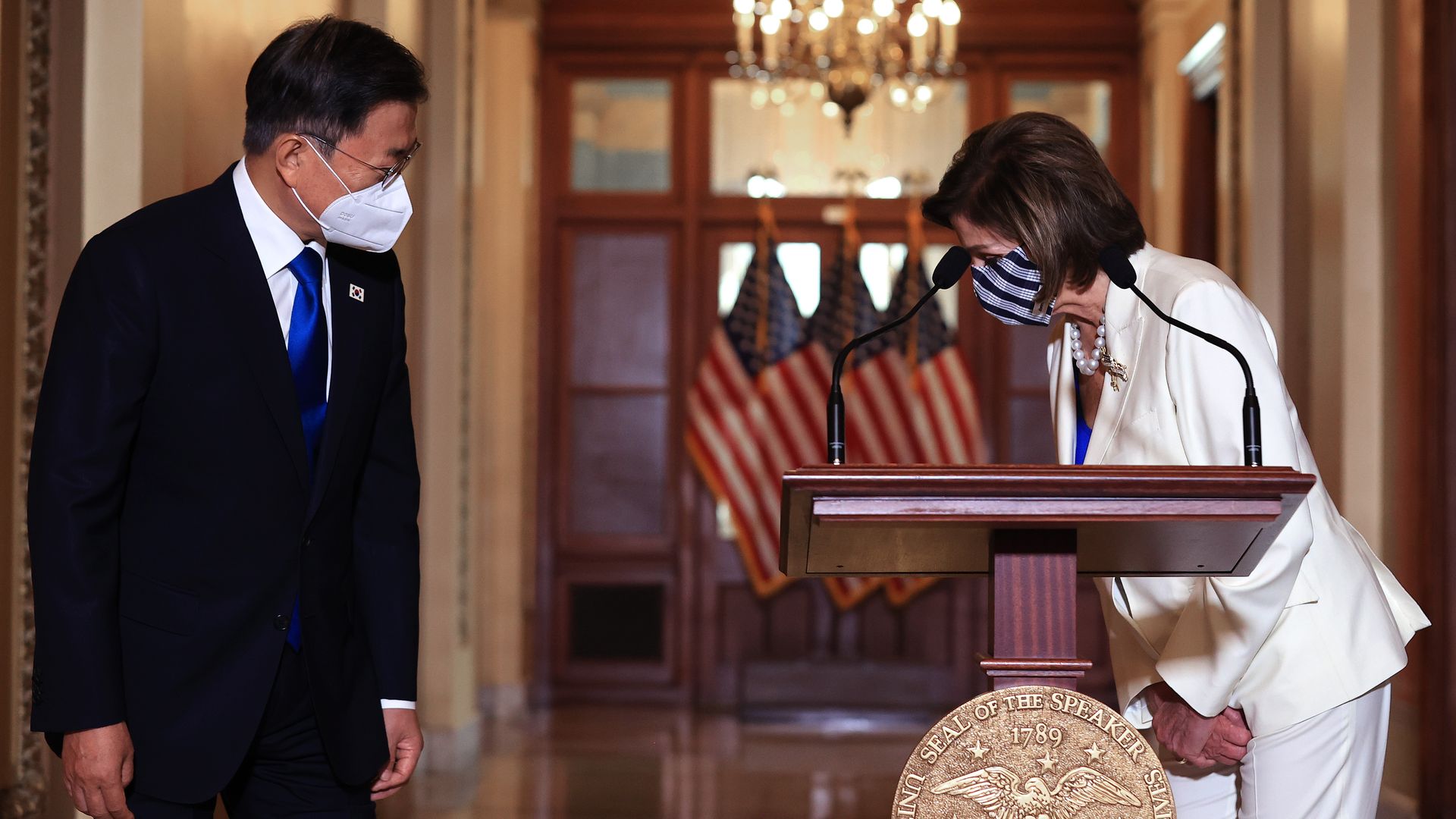 South Korean President Moon Jae-in's visit Friday to the White House includes a high honor: a foreign head of state's participation in a Medal of Honor ceremony.
Why it matters: The decision to include Moon in the honoring of Ralph Puckett Jr., 94, of Georgia, a retired Army colonel and Korean War hero, says a lot about President Biden's approach to diplomacy, the military and domestic politics.
Moon, 68, was born months before the end of the Korean War, to parents who fled the North during the war. He later served in South Korea's special forces and as a human rights lawyer.
This month is Asian American and Pacific Islander Heritage Month — and on Thursday, Biden signed an anti-Asian hate crimes bill into law. Last month, he also hired an AAPI adviser.
AAPI issues also have been in the national spotlight since a series of shootings in March killed six women of Asian descent in Atlanta.
Between the lines: Puckett's age and the recent decision by the Centers for Disease Control and Prevention to relax restrictions on masks and in-person gatherings made the timing of his ceremony a priority — and a possibility.
Nobody at the White House wanted the Medal of Honor to happen via Zoom if they could help it.
But it's not by accident that Moon will be present. The ceremony could just as easily have been Wednesday or next week.
Instead, the occasion gives Biden a way to showcase the longstanding U.S. commitment to South Korea's security as well as U.S. veterans, including hundreds of thousands of surviving Korean War vets now in their 90s.
It also gives Moon a way to show South Koreans and Americans his own relationship with Biden, and the endurance of the alliance and historical connection.
Last November, then-President-elect Biden made a surprise visit to the Korean War Memorial in Philadelphia for a wreath-laying on Veterans Day.
Details: Puckett is being recognized for his "acts of gallantry and intrepidity above and beyond the call of duty" over two days in November 1950.
He was serving as a first lieutenant and his unit attacked Hill 205, as described in a White House statement:
First Lieutenant Puckett mounted the closest tank, exposing himself to the deadly enemy fire. Leaping from the tank, he shouted words of encouragement to his men and began to lead the Rangers in the attack.
Almost immediately, enemy fire threatened the success of the attack by pinning down one platoon. Leaving the safety of his position and with full knowledge of the danger, First Lieutenant Puckett intentionally ran across an open area three times to draw enemy fire, thereby allowing the Rangers to locate and destroy the enemy positions and to seize Hill 205.
... The enemy launched a counterattack which lasted four hours. ... Five human wave attacks by a battalion strength enemy element were repulsed. ... First Lieutenant Puckett was wounded by grenade fragments, but he refused evacuation. ... Two enemy mortar rounds landed in his foxhole, inflicting grievous wounds. ... Puckett commanded the Rangers to leave him behind. ... The Rangers refused the order. ... They moved to the bottom of the hill, where First Lieutenant Puckett called for devastating artillery fire.
Puckett, who also served in Vietnam, retired from active duty in 1971.
He served as national programs coordinator for Outward Bound Inc. and established the leadership development program Discovery Inc.
Go deeper