The prison phone kickback game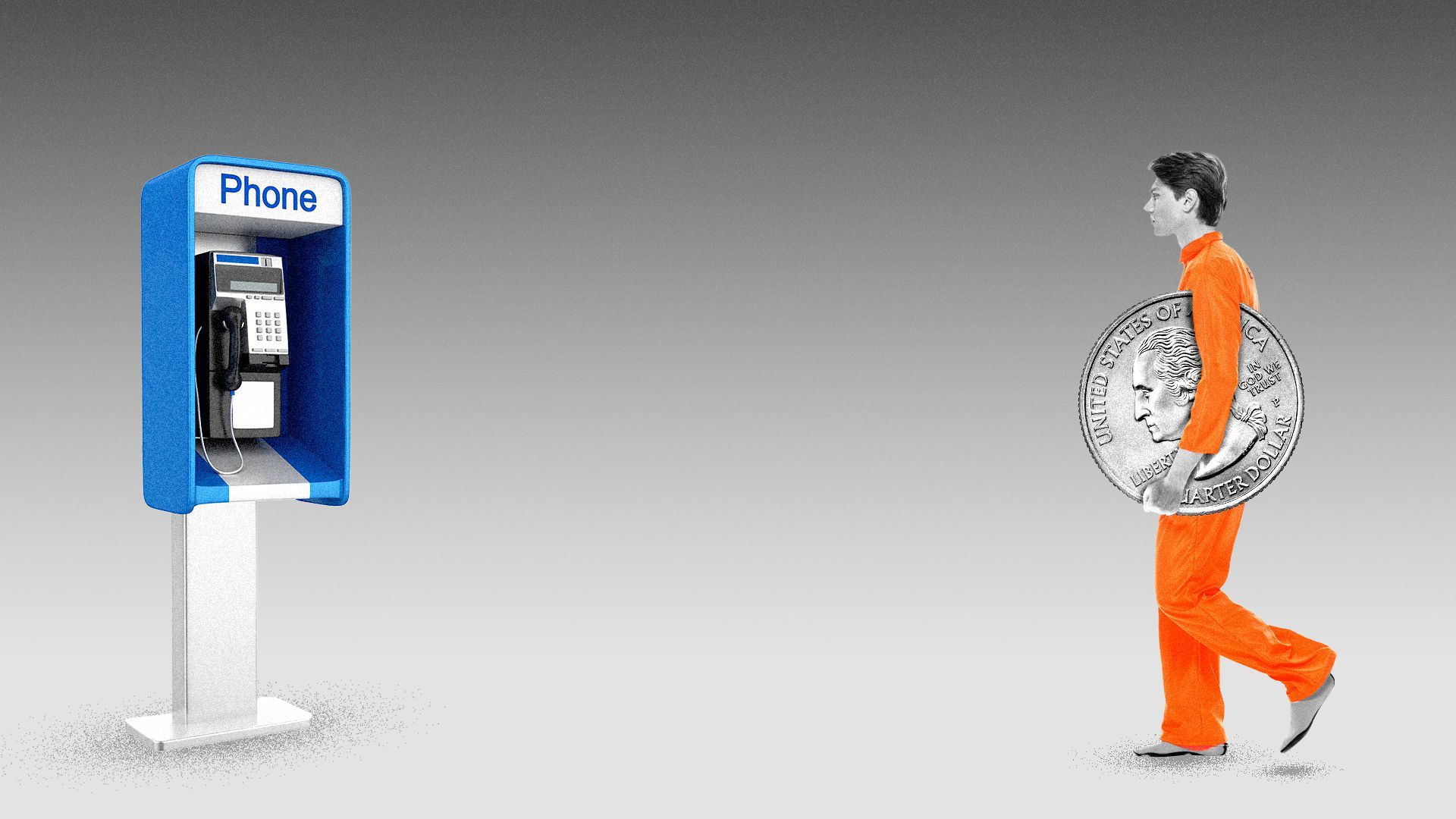 Incarcerated people and their families pay high rates to talk by phone in part because the deals phone companies cut with prisons and jails drive the prices up — and the Federal Communications Commission is looking to lower them.
Why it matters: People who stay in contact with friends and family while in prison are more likely to succeed once they're out.
How it works: Phone service providers pay prisons and jails so-called "site commissions," usually based on revenues, when competing to win the sole contract to provide phone service at the facilities.
These payments are used for a variety of purposes — sometimes related to the cost of providing phone service. But in some cases they are used for operating expenses or other programs.
The providers recoup the cost of the payments in the rates they set for calls, which family and friends must pay to accept calls from incarcerated individuals.
Driving the news: The FCC will vote Thursday to impose lower limits on the prices phone service providers can charge for some calls at prisons and large jails.
The FCC's order focuses on calls made from one state to another because the agency doesn't have the power to set rates for calls made within states.
According to a public draft, the FCC order would also set a 2-cent-per-minute cap on the costs phone providers can pass through to callers to recover the payments they make to secure contracts.
What they're saying: "Site commissions drive up the already exorbitant rates that the incarcerated and their families pay just to keep in touch," Acting FCC chairwoman Jessica Rosenworcel said in a statement. "With [Thursday's] vote, the FCC is poised to take action to limit these fees consistent with judicial precedent and initiate a new rulemaking to go even further to curb these charges."
Between the lines: The kickback structure means that phone providers, rather than competing by providing the lowest prices, try to provide prisons with the highest payments.
"The site commissions have become the leading cause of the phone rates, because the cost of providing service is relatively low," said Peter Wagner, executive director of the Prison Policy Initiative. "But when the facility starts demanding money in exchange for awarding that company a contract, the incentive is for the companies to offer higher and higher commission amounts."
The draft of the FCC's order attempts to curb they way these costs are passed through, but would allow for higher costs when state laws or regulations require site commission payments.
"That's just a loophole, and it's going to create a mess," Al Kramer, senior fellow at advocacy group Public Knowledge, told Axios. "It's going to motivate states to just pass a statute to get around this."
The other side: Major phone providers Securus and Global Tel*Link have argued that paying site commissions are a cost of doing business and they should be allowed to recover those costs. 
GTL said in a statement it responds to "competitively bid procurements to provide services at correctional facilities," and noted that it provided more than 85 million free calls as part of a free weekly calling program it began during the pandemic.
Flashback: During the Obama administration, the FCC tried to do more to lower the costs but lost a D.C. Circuit Court case brought by the phone providers that limited the agency's authority to act in the area.
For example, former FCC Chairman Ajit Pai noted in a 2020 letter that the rates for in-state calls — which the FCC can't regulate — "substantially exceed" those for interstate calls, and make up roughly 80% of the calls from incarcerated people.
The Prison Policy Initiative finds that costs for in-state phone calls are even higher at local jails, where the average cost of a 15-minute phone call was $5.74 in 2018.
Meanwhile, a bipartisan group of senators led by Sens. Tammy Duckworth (D-Ill.) and Rob Portman (R-Ohio) re-introduced legislation last week that would expand the FCC's powers to lower phone rates.
What's next: The FCC is also voting on a proposal that would explore other ways of taking on the costs, including further limiting site commissions.
Bianca Tylek, executive director of advocacy organization Worth Rises, said she's excited by the moves the FCC could make in the future, but warns that the high cost of calls goes beyond site commissions.
"Even if you took out commissions, many of these calls would still be completely predatory," Tylek told Axios. "It's not that if we didn't have commissions we would solve the problems of predatory rates."
Go deeper